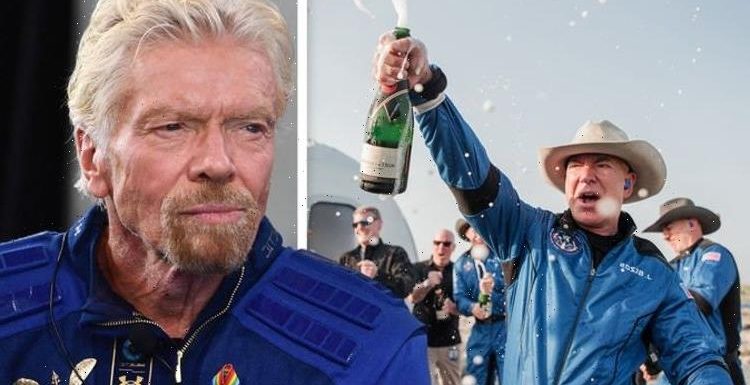 Blue Origin: Jeff Bezos and crew float around in capsule
We use your sign-up to provide content in ways you've consented to and to improve our understanding of you. This may include adverts from us and 3rd parties based on our understanding. You can unsubscribe at any time. More info
Billionaires Richard Branson and Jeff Bezos may have promised to open up space to the masses, but not everyone appears enthused by the idea. According to a recent survey carried out by Piplsay, a global consumer research platform, only 55 percent of Britons are excited about the space tourism industry. The pollster surveyed a total of 8,800 Britons and 30,470 Americans to gauge their opinions on spaceflight.
The results were published more than a week after Mr Bezos's company, Blue Origin, flew to the edge of space on its first crewed missions.
And nine days earlier, on July 11, Sir Richard became the world's first billionaire to fly into space with Virgin Galactic.
According to both tech moguls, the world is not standing on the brink of a spaceflight revolution.
In a post-flighted conference, the newly-minted astronaut, Mr Bezos, said going into space has been a life-changing experience and that he was struck by the planet's beauty.
He added: "If you go into space and see how fragile it is, you'll want to take care of it even more."
And yet, public opinion appears to be split by the prospect of Virgin Galactic and Blue Origin taking to the skies.
The Piplsay survey asked whether people whether the recent missions were a positive or negative development.
Only 36 and 37 percent of Britons said they were "positive" or "indifferent", respectively.
About 10 percent said they were "not sure" while 17 percent expressed negative attitudes.
The American audience painted the missions in a much more generous light, with 55 percent responding positively and 10 percent negatively.
Virgin Galactic: Richard Branson launches space flight
The survey then asked which of the two companies they would rather pick for a jaunt into space.
Only 16 percent of Britons picked Blue Origin, compared to 29 percent of Americans, and 25 percent picked Virgin Galactic, compared to 26 percent of Americans.
About 39 percent of Brits also said they would pick none because they were not interested and 22 percent said they would pick none because "it's too big a risk".
Compared to the US figures, 26 percent said they were not interested and 19 percent considered space tourism too risky.
The pollster then asked whether people were "somewhat excited", "quite excited" or "not excited" about space tourism.
The British audience was split fairly evenly with people voting 36 percent, 33 percent and 31 percent respectively.
The majority of US surveyees, however, voted 45 percent for "not excited".
When asked why space tourism has failed to capture their imagination, the majority in both cases said it's because "it's just a joyride for the uber-rich".
Another 27 percent of Britons said "it's disastrous for the environment" and 30 percent said "it's a waste of money and resources".
About 41 percent of the American audience said space tourism is just an escapade for the rich.
And about 27 percent of those surveyed considered it a waste of money.
The Piplsay survey was conducted online in the US and the UK between June 24 and June 26, 2021.
The pollster said: "We received 30,470 and 8,800 online responses respectively from individuals aged 18 years and older."
Source: Read Full Article