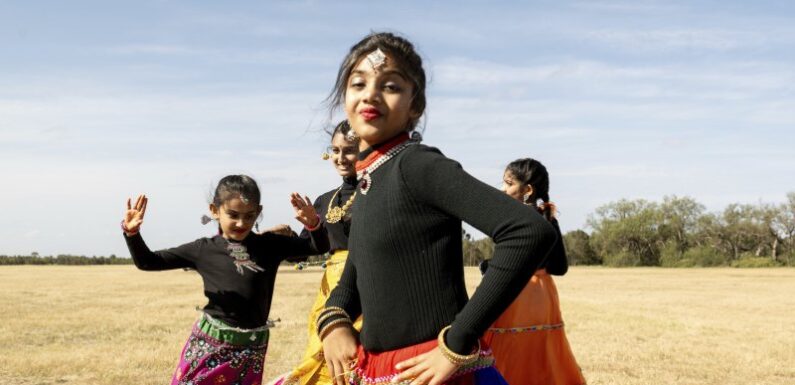 Save articles for later
Add articles to your saved list and come back to them any time.
There was dancing in the sunshine, eating and rejoicing as Melbourne's Indian community gathered to celebrate the festival of lights, Diwali – but there was a sombre note as the crowd paused to remember five locals killed in a car crash in Daylesford.
Hundreds attended the Wyndham Diwali event on Saturday at the Presidents Park Reserve in Wyndham Vale.
Melbourne's outer west is home to 50,000 Indian-Australians, including the five killed in the crash at the Royal Daylesford Hotel when a BMW ploughed through the packed beer garden last Sunday.
The Diwali event began with a minute's silence to remember Pratibha Sharma, 44, her daughter Anvi, 9, and husband Jatin Chugh, 30, from Point Cook, and Vivek Bhatia, 38, and his 11-year-old son Vihaan from Tarneit. Bhatia's 36-year-old wife, Ruchi, and six-year-old son Abeer were also injured in the crash.
Organisers said the tragedy had affected the wider community and offered their condolences to the families.
"In this moment of grief, our thoughts extend to loved ones," one said. "We share a collective sorrow."
The minute of silence was also extended to fallen Australian troops, as the event coincided with Remembrance Day.
Local music teacher Madhuri Vasa, who teaches classical Indian music, said there was still a lot of confusion among her community about the circumstances of the tragedy.
"It's shocking, it's very sad to hear sad news of families going on a holiday and being killed," Vasa said. "The community has a lot of questions."
While the sorrow of last week's tragedy was apparent, the event proceeded to uplift the spirits of the community through traditional dance and song.
The Oznatyam Dance Group from Wyndham Vale dancing at the Diwali festival in Presidents Park.Credit: Penny Stephens
Vasa, who performed classical Indian music, said the music brought people together.
"Music and dance always bring together, that's the strongest part of India," Vasa said.
Members of the South Indian Mastani dance group from Glen Waverley performed a medley of south Indian dances, incorporating five languages into their routine including Hindi, Kannada, Tamil, Malayalam and Telugu.
Dancers Lakshmi Esarapu, Sahana Rudrappa and Sahlini Mendu – all IT professionals – said they enjoyed performing for the crowd on what is India's biggest holiday festival, celebrated by Hindus, Jains, Buddhists and Sikhs.
Sahana Rudrappa, Sahlini Mendo and Lakshmi Esarapu from the Mastani Dance Group from Glen Waverley preparing for their performance backstage at the Wyndham Diwali festival.Credit: Penny Stephens
"We are very busy mothers," Mendu said. "Dance is part of a culture and it feels nice representing a part of our culture."
The dancers, who moved to Australia about a decade ago, said it was a joy to see the wider community taking an interest in what the festival meant to the Indian community.
"Diwali is getting bigger in Australia. I explain it like, 'You celebrate Christmas, we celebrate Diwali'," Mendu said.
Another dancer, 10-year-old Sahasra Chayanam, travelled from Ballarat with her family to perform her first solo dance.
"When I performed, everybody came to the front to watch me, it felt good," she said.
Sahasra Chayanam, 10, from Ballarat, performing at the Wyndham Diwali festival. Credit: Penny Stephens
Her mother, Sudha Purnima, who is Hindu, said Diwali was an important time to worship Lakshmi, the Hindu goddess of wealth and good fortune.
"On Diwali we invite all the happiness and for all the happiness most of the time we need money," Purnima said.
For young children, the day was made all the better with rides, henna tattoos, sweets and carnival games.
Rajbeer Kaur, one of the organisers of the event, said the event was also celebrating its 10-year anniversary and was being live-streamed to viewers in India.
"We want people back in India to see what we are doing all the way in Australia," Kaur said.
Get the day's breaking news, entertainment ideas and a long read to enjoy. Sign up to receive our Evening Edition newsletter.
Most Viewed in National
From our partners
Source: Read Full Article