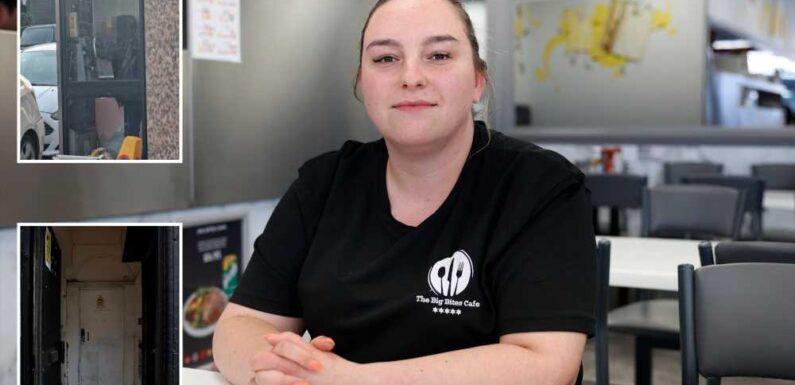 LOCALS in a "lawless" town say they have to police it themselves because the cops are not on the streets.
Ealing Council describes Hanwell in West London as a "hidden gem" with a "very good community spirit."
But now residents and business owners have said the area has been ruined by drugs. There are claims of addicts defecating in the street and screaming vile abuse at children.
Police have launched a fightback, raiding drug dens and targeting dealers. But locals feel a lot more could be done to save their town.
Two local woman launched an online resource named Help for Hanwell to highlight issues in the area.The friends regularly post photographs of addicts and suspected drug dens.
They now feel it up to like minded locals to tackle the issues on the streets because the police do not seem to have a presence.
Speaking to My London , the women said that they had both been threatened. One said: "There is no visible sign of any community policing in this area whatsoever."
The women said they area had gone downhill over the last 30 years due to issues around drugs and crime.
One of them said: "I have lived here 30 years and it wasn't like this when I moved in and it's beginning to make me feel scared to go out, because they are getting violent.
"We need more police presence, we need more deterrents, it shouldn't be that the police only act when someone is being threatened with a knife or a golf club."
Most read in The Sun
Sky Sports legend QUITS just hours before Soccer Saturday relaunch
Heartbreaking details emerge about S Club's Paul's struggles before death at 46
How posh UK resort became rowdy teen hangout – with drugs & underage sex
BBC star signs up for Strictly after quitting news job for music career
One said: "I've had my daughter who is 9 years old have a junkie scream in her face that she was gonna kill her in her sleep."
They praised some of the local police team but argued more could be done to help locals.
One of them said :"There's a PCSO and his name is Josh and he's absolutely amazing. He actually communicates with me, and comes when I call him, but he's on his own."
Traders in the area also expressed concerns. Raj, who runs a computer repair shop in the town, said: "I get so annoyed, people coming in and out, shouting, banging [the] door. I have had to call the police so many times, maybe 20 times already."
Moniker Solinska, who works in The Big Bites Cafe near Hanwell Clocktower, said: "I have seen people pulling up outside [the flats] and shouting up to the windows [for drugs].
"You see people walking up and down trying to steal from the stops, you see it every day. It's not like Hanwell was before, now every time you leave home you have to watch your bag.
"I head to work at 7am and I normally walk on my own and it is scary sometimes, especially in the winter."
She added: "I'm not happy here. I'm moving out of the area. It's too dangerous, there are muggings, there are drug dealers. We don't feel safe."
A joint letter signed by Cllr Polly Knewstub, Cllr Yoel Gordon and Cllr Monica Hamidi was also sent out recently to residents saying there are "no quick fixes" to improve the Hanwell Broadway area.
In the letter they wrote: "We understand the distress that antisocial behaviour causes, and we want everyone to feel safe in Hanwell.
"There are no quick fixes to the issues of street drinking, homelessness and addiction.
"It is only by getting people the support they need (as well as deploying the penalties available to the police) that we will truly make a difference for all our residents."
The Met has acknowledged the "particular concern" surrounding street drinking and antisocial behaviour in the area, adding that "enforcement action is ongoing and has led to numerous arrests, issue of fixed penalty notices for various offences ranging from drunk and disorderly, public order offences to breach of criminal behaviour orders".
A spokesperson added: "Early intervention scheme warnings, Community Protection Notice Warnings and Community Protection Notices are regularly issued to persistent street drinkers causing antisocial behaviour.
"Regular joint partnership work with outreach teams to conduct needs assessments on individuals with the aim of providing appropriate support for housing, [and] support to help with alcohol dependencies is also key to our plan, vision and ongoing community work."
The Met argues its local policing plan for Hanwell consists of a "vision for both the short and medium to longer terms".
Short term measures include high-visibility patrols while in the medium to long term the Met aims to "look at licensed premises in the area to ensure they comply with objectives of prevention of crime and disorder"
Read More on The Sun
Inside Paris Fury's relatable life – from days out with her 6 kids to B&M trips
EastEnders legend unrecognisable 25 years after shock soap exit
Inspector Leigh Ballard from the Ealing Safer Neighbourhoods team's strand on West Area, said: "My team of police officers and staff on the Safer Neighbourhoods team in Hanwell work tirelessly to support and deliver for the local community and all the residents.
"We work in partnership with Ealing Council and have had some really positive results showcased on social media recently, however we take on board there is still concern and still work to be done. I strive to deliver results for Hanwell."

Source: Read Full Article