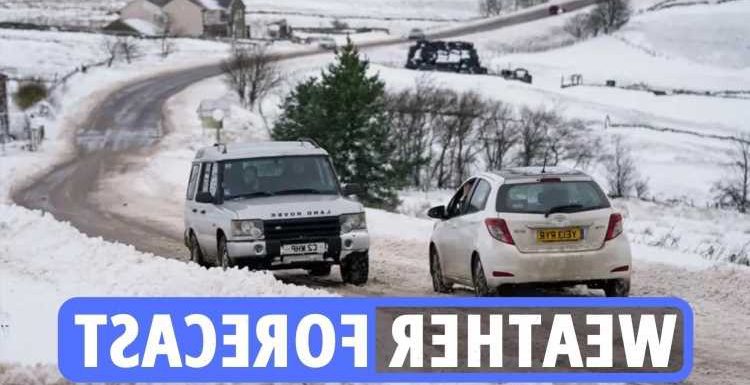 SCHOOLS across the country have been forced to close today due to severe weather conditions at the weekend – and will likely remain shut on Tuesday.
The issue has affected schools in Derbyshire, Lancashire, the Midlands and other parts of the country due to dangerous and icy roads after Britain experienced it's coldest night of the year with plummeting temperatures as low as -10C,.
Weather warnings for ice are in force around the country, with drivers urged to take extra care when heading out.
It comes as wind gusts of almost 100mph caused transport disruption, power cuts and damage to buildings, while heavy snow led to lorries getting stuck and ploughs being used in a number of areas.
Northern Powergrid, the company responsible for the electricity distribution network across the North East, Yorkshire and northern Lincolnshire, worked through the night to restore power to people affected as a result of Storm Arwen.
By 11pm on Sunday, the network operator restored power to around 208,000 of the 240,000 customers affected.
Read our weather live blog for the latest forecasts and updates…
Adriana Elgueta




The stranded pub-goers reportedly having a great time

The Tann Hill Inn is completely snowed under

Credit: SWNS

The manager of the Tan Hill Inn, Britain's highest pub where customers have been snowed in since Friday, spoke to The Chris Moyles Show this morning.

Nicola Townsend said that the stranded customers had "really gelled" and some are having such a good time that they don't want to leave. She also said the group are planning a reunion next year and that everyone has been "helping wash-up, collect glasses, clear tables, they've just all had a really good time."

Nicola also joked she'd quite like to hear some Blur songs after being stranded with Oasis tribute act Noasis, who have been playing 'acoustic bits around the pub' for customers.

Adriana Elgueta




Insurers could be paying out £250million after the storm

The repair bill from Storm Arwen could cost insurers more than £250 million, according to an expert.

Mohammad Khan, general insurance leader at PwC UK, said on Monday: "Insurance companies have been fielding a high volume of calls over the weekend and today on Storm Arwen.

"Most of the calls have been in relation to home and car damage – predominantly home, however, as is usual with a major storm; the claims from businesses take longer to be reported and to assess.

"Based on the breadth of Storm Arwen and the damage seen so far, we estimate the insurance losses could be between £250 million to £300 million.

"Storm Ciara and Storm Dennis last year both had high wind speed but also featured significant flood losses as well."

Adriana Elgueta




A herd of sheep got LOST under mounds of snow for days – and were dug out ALIVE

The sheep at a Peak District farm got totally engulfed by the blizzards, reaching up to many feet high, this weekend.

A farmer at Herdwicks of Highfields farm said: "We started searching in the drift in front of the barn entrance. Prodding the drift every so often with our crooks. You can see how difficult the conditions were & how deep the sheep had become buried. Such a whirlwind of emotions, you have to dig deep literally and stay strong.

"First priority yesterday was checking the flock, 3 young rams were missing & could only find 6 ewes. My heart sank as fields, walls had been joined by drifts & gateways blocked. Ideal place for the sheep to take shelter. Droopsy emerging from there shelter spirits lifted."

View this post on Instagram

A post shared by Highfieldsherdy (@highfields_herdy)
Adriana Elgueta




Seals succumb to freezing temperatures on 'unprecedented' scale

Hundreds of seal pups have been killed at a nature reserve in the Scottish Borders during Storm Arwen.

The National Trust for Scotland (NTS) said it had never seen damage of such scale before.

It said that in a small area of bay at Pettico Wick there were 224 dead pups in the water with more washing ashore.

A further survey will be carried out on other colonies in the area but the NTS has said it "doesn't look good".

NTS said: "Unfortunately it appears we have lost the majority of our seal pups to this storm."

Adriana Elgueta




Energy company issues statement after widespread power loss

A spokesperson for SP Energy Networks, who operate in Central and Southern Scotland, North Wales, Merseyside, Cheshire and North Shropshire, said: "Storm Arwen brought winds of over 90mph and, as a result, has caused some of the worst damage to our network we have experienced in over 15 years.

"Our engineers have been out working since Friday night to try to get power on as quickly and safely as possible, but it has been difficult as the damage across our network has been extensive, we've seen over 600 faults in Scotland and 700 in England and Wales. Since the beginning of the storm engineers have reconnected over 150,000 customers.

"In many areas, the damage has been severe due to fallen trees and other wind-blown debris and engineers are also dealing road closures and access challenges making some of our repairs even harder.

"The time it is taking us to get our customers back on is reflective of the number of faults and severity of the damage to the network."

The company apologised for the delay and add that in Scotland, 4,500 customers were affected in Borders, Dumfriesshire, Fife and Lothian and in England and Wales, 3,600 in Dee Valley, Oswestry, Mid Wales and North Wales.

Adriana Elgueta




Freezing cold villagers still have no power after THREE DAYS

Harry Foster has had to resort to baked beans in the campervan all the power is his house is still off

Credit: NNP

Freezing cold villagers have been left shivering without hot water or electricity for three days after Storm Arwen.

Households in Longhorsley, Northumberland, suffered a blackout on Friday night at around 8pm and are still waiting for power to be restored leaving elderly and vulnerable people battling the elements just to keep warm.

Harry Foster, 83, lives on his own and has breathing difficulties in the cold weather and said the conditions are the worst he has seen in 45 years.

The retired teacher said: "It's been three days now since we've had any power. I'm living in the van right now so I hope I'm okay for gas inside it.

"I do have a wood burner in the house and I've been keeping myself going. I've been running around trying to get logs which is tiring. My phone won't work because there's no signal and the phone in the house won't work because there's no power.

"I've had to rely on eating things like baked beans on toast in the campervan."

Adriana Elgueta




Storm crushes caravans

Heart-breaking images show several static caravans completely destroyed by Storm Arwen at a holiday park.

And static caravan site was left in ruin after it was battered by Storm Arwen

Credit: Deadline

At least 15 holiday homes at Berwick Holiday Park in Berwick-upon-Tweed, Northumberland were affected by the storm that battered the UK on Friday and Saturday.

One image shows the base of a 1.5 tonne caravan laying on its side after the walls and roof were blown away.

A bed and parts of the kitchen have remained in place on the base while a wardrobe has been tipped onto its side.

Another shocking image shows a caravan tipped onto its side and laying at a 90 degree angle while belongings lay strewn across the group.

Adriana Elgueta




Has your power been off for more than 24 hours? Find out your rights

The electricity distribution companies have 24 hours to restore electricity supply if it fails due to a storm. 

If not, £70 should be paid to customers, with a further £70 to be paid for each additional period of 12 hours in which supply is not restored, up to a cap of £700.

For a severe storm, the amount you receive will be the same but won't start until you've had 48 hours without power.

The difference between a storm and a severe storm is to do with the number of supply faults experienced in a 24-hour period. 

For more information on the technical differences between the two, read the Ofgem power cut guidance.

Adriana Elgueta




There may be a silver lining to Storm Arwen – at least for wildlife

Storm Frank created grassy floodplains in Deeside, ideal for wader species like redshanks, when it struck in 2015 and the latest devastating weather may do likewise, say experts.

In Deeside, the storm caused severe flooding that destroyed homes and businesses but now, six years on, many birds which are facing challenges across the country are thriving in new habitats created by the disaster.

In the floodplain west of Braemar, the storm caused the River Quoich to permanently change its course and in the new the grassy floodplain, wader species like redshanks have found ideal habitats.

The wetter environments are good for invertebrates, which keep the birds well fed

Shaila Roa from the National Trust explained that if events as horrific as Storm Frank will become more frequent as a result of climate change, regions like the floodplain in the upper reaches of the Dee will prove crucial.
Adriana Elgueta




Scottish schools urged to relax uniforms in freezing temperatures

Uniform policies should be relaxed in schools to allow pupils to stay warm if classroom windows and doors need to be opened for ventilation, Scotland's Education Secretary has said.

Speaking on a panel alongside the general secretary of the EIS teaching union, Larry Flanagan, the Education Secretary suggested opening windows and doors to help with the circulation of air.

Mr Flanagan said there had been "bonkers" cases where schools told teachers to keep windows closed because of concerns about the loss of heat and heating costs.

Reflecting on the review,Shirley-AnneSomerville said it found "very little remedial work that needed to be undertaken" but stressed that opening windows and doors would continue to be required despite the winter weather.

Adriana Elgueta




Londoners take to the park despite froze and sub-zero temperatures

Hardy Londoners weren't shy of a bit of frost this morning as the mercury sunk to -1C.

Runners warm up in Richmond Park

Credit: LNP

'Nordic walkers' enjoy a cold and frosty morning

Credit: LNP

And a cup of hot coffee is all you need for these dogwalkers

Credit: LNP

Adriana Elgueta




Plumber makes disastrous ice prank and cracks his head off the ground

He ended up with a horrific cut to his head

Credit: Deadline

Jesse Pygott filmed Liam Clarke attempting to slide smoothly across the fresh sheet of ice in Manchester in the early hours of Sunday morning.

The clip begins with 20-year-old Liam walking up a short path in black shorts and a Stone Island jacket before turning around to face the camera.

He then takes a short jog down the path onto some cobblestones and attempts to slide across the ice and back down to Jesse.

However, Liam, from Grimsby, Lincolnshire, is stopped in his tracks when he hits the icy cobblestones and gets his foot caught. He then loses his balance on the slippery ground and ends up spinning around before tumbling to the ground.

His friend filmed the strange act

Credit: Deadline

Adriana Elgueta




Scots farmers suffer tens of thousands of pounds of Arwen damage

Early reports from members of NFU Scotland around the country indicate that the damage to some businesses is "substantial" with many still waiting on roads to open and power and telecommunications to be restored.

The list includes severe damage to buildings and structures, both large and small, including roofs, walls, cladding and polytunnels. It has also brought down large areas of trees, adding to the severe disruption.

One member has estimated that the structural damage to his business is approximately £70,000.

NFU Scotland President Martin Kennedy said: "From personal experience, I know how extreme the storm was. There will have been hundreds of trees blown down on our own estate near Aberfeldy and Sunday was spent helping clear roads and driveways to allow people access to and from their homes and get services into the area to reconnect electricity and telephone services.

Adriana Elgueta




House and campervan destroyed by Storm Arwen

Their campervan was beyond repair

Credit: Triangle News

Fran Coleman's family had only lived in their home for seven months when gusts of near 100mph sent part of it toppling down with their campervan was parked at the side of their house at the time.

Bricks leading up to the roof were dislodged by the strong gusts of wind, causing a whole section of the wall to crumble.

The family of Seaham, Durham have been left heartbroken as their campervan is destroyed beyond repair.

The family will now have to scrap their beloved van but amazingly, a car parked next to the van was mostly unscathed by the shower of bricks.

A clump of bricks fells from the outer section of their house

Credit: Triangle News

Adriana Elgueta




Tops tips from the AA on driving safe in Storm Arwen aftermath

Give yourself time: Allow plenty of extra time for your journey, including time to de-ice the car. It may take longer but it also means that you will have full visibility which in bad weather is vital.

Don't be tempted to pour hot water over the screen – if has a chip the sudden change in temperature could lead to a crack. Best way is to use a scraper. And don't leave your car alone with the engine running, that's an invitation to thieves

Stay topped up: Top up the windscreen wash with a good quality additive to reduce the chance of freezing. Keep at least quarter of a tank of fuel – an accident or closed road up ahead is likely to result in long delays.

Choose your route: Check your route for accidents or closures before you leave and, if possible, favour roads which have been gritted.

Adriana Elgueta




Insurance giant reveals NEXT WEEKEND is the most dangerous for driving this festive period

Nine years of accident claims data from Admiral Car Insurance has revealed that statistically December 4 and 5 are the most dangerous weekend of the year to drive.

Across the year these days have the second and third highest claims volumes respectively, with only 18 January having more car accident claims each year. Furthermore, half of the top ten days with the highest volume of accident claims fall in December.

Christmas Eve was also revealed as a watch out day for drivers, as 24 December sees the most claims for car park collisions in the year.

Adriana Elgueta




TWO flood warnings in place

In the East, high tidal water is moving up the rivers from Great Yarmouth and is currently restricting the normal drainage of the Broads river system out to sea at low tide.

Expect high levels around Potter Heigham, Wroxham boat yards and Ferry Road in Horning and caution is urged on waterside roads and footpaths and don't put yourself in unnecessary danger.

The second alert is for the Upper Derwent and Scarborough areas, including land around The Sea Cut at Scalby, Throxenby Beck, Old Malton, and Priorpot Beck in Norton.

Low lying land and roads are at risk in these areas as farmland floods but water levels are lowering.

A road out of Seaham is flooded and causing chaos this morning for motorist

Credit: Jordan Crosby

Adriana Elgueta




Waze app notifies users of most recent road hazards

Ruairidh Roberts, UK Country Manager at Waze, commented: "As parts of the UK have faced the effects of the arctic plunge and Storm Arwen, we urge motorists making essential journeys to be extra diligent." 

"At Waze, we are expecting delays around the country as the turbulent weather causes chaos on British roads. As a result, we've sent out push notifications to our app users, encouraging them to report hazards caused by the bad weather.

"To report weather-related issues in Waze, users should tap the report button > hazard > weather, and select the option relevant to the event. Drivers can also use voice commands by saying "Ok Waze" and following the options to report weather disruption."

Adriana Elgueta




How to avoid winter blues

The blues increase in the darker days of winter, typically starting in November and lasting through March.

A lack of sunlight is known to affect your hormone regulation affecting your sleep and serotonin levels.

To avoid SAD, try a minimum of 30-minutes of exposure every day, especially in the morning, which has been proven to reduce or eliminate symptoms. 

Walk, work, play, stand, or sit in your car in the light to trigger the biochemical processes essential.

Adriana Elgueta




Today's extremes

Lowest minimum temperature: -6.4C in Shap, Penrith, Cumbria

Lowest maximum temperature: -0.9C in Warcop, Cumbria

Highest maximum temperature: 10.3C in the Isles of Scilly

Highest rainfall: 14.6mm in Bridlington, East Riding, Yorkshire

Sunniest: 6.6 hours in Shoeburyness, Essex

Adriana Elgueta




Odds SLASHED on December being coldest on record

Ladbrokes have already slashed odds on next month playing host to the coldest December EVER.

Having been a 2/1 shot last week, the bookies now make it just 5/4 for next month to enter the record books for all the wrong reasons, with freezing temperatures just about ready to batter Britain.

Alex Apati of Ladbrokes said: "We've already seen November snow and the odds are already suggesting there's every chance next month goes down as the coldest December on record."

December 2021 to be coldest on record – 5/4.

Adriana Elgueta




Today's weather outlook

From today, it'll become milder and cloudier from the northwest, say the Met Office.

Today will see a cold start with some icy stretches and fog patches. Cloud and rain in the Northwest, with a little snow on the leading edge over Scotland, moving south along with strengthening winds. Cold in the South ahead of this, becoming milder in the North.

Tonight it'll stay, mostly cloudy and milder than recent nights with light rain at times for many.

Rain will be most persistent in the northwest and perhaps an early frost in the southeast before becoming milder.

Adriana Elgueta




STUNNING SNOW SHOTS

Despite the chaos that the extreme weather has brought on, photographers are making the most of the white out for to make some beautiful wintry images.

These snaps of a Warwickshire village, Old Arley, were taken this morning at the sun was rising.

The picturesque village is more than a thousands years old and has a population of just under 3,000.

A drone has captured its beauty just as the sun rose this morning

Credit: SWNS

The sun peaks through the clouds

Credit: SWNS

Adriana Elgueta

SCHOOL CLOSURES

Dozens of schools, predominantly in the North and Midlands, are closed today amid snow chaos.

Bradford in Yorkshire is one of the worst affected with up to 50 schools reported partially or fully closed this morning – other councils all over Yorkshire. such as Barnsley and Sheffield, have also reported closures.

Many schools in Derbyshire and Staffordshire are shut or partially shut due to the dangerous travel conditions as well.

Adriana Elgueta




SNOW RUINS FOOTIE

The Premier League match between Burnley and Tottenham was called off a little under an hour before kick-off on Sunday due to heavy snow at Turf Moor.

After snow began to fall in late morning, attempts to clear the pitch began around 90 minutes before the scheduled 2pm kick-off but proved in vain, with snow coming down as quickly as it could be moved.

Turf Moor's undersoil heating had been on overnight but was unable to cope. There were also concerns over areas around the ground as supporters began to arrive.

Source: Read Full Article