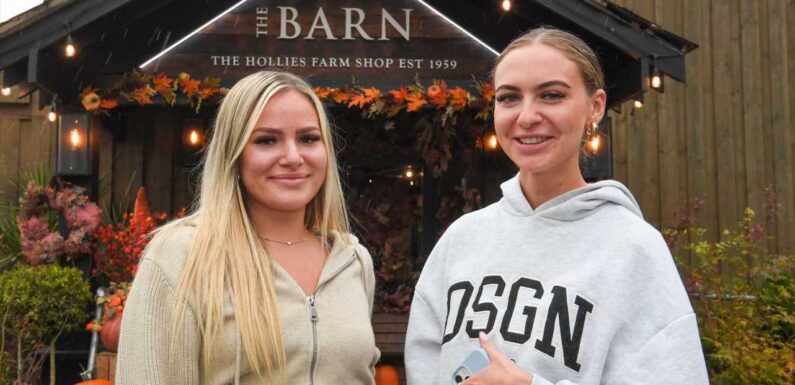 RESIDENTS say they're sick of Love Island fans ruining their beautiful little village – claiming it's now like Blackpool.
Little Budworth in Cheshire has been flooded with tourists ever since Molly-Mae Hague posted snaps from its farm shop.
Now the village is overwhelmed – and locals say there is nowhere left to park.
One pensioner told The Sun: "Last weekend it was absolutely like Blackpool.
"The cars were rammed in and the extra parking was full up.
"It's a rainy midweek Wednesday today and there isn't a space in the car park.
Read More UK News
DOG HORROR
Woman and man mauled by Bully-type dog before cops taser hound & put it in bin
MOTHER'S AGONY
Heartbroken mum pays tribute at bus stop where daughter, 15, was killed
"You used to be able to come in for a quiet cuppa and a bit of shopping.
"It's gone mad of late – I don't watch Love Island, so wouldn't know any of them if they bumped into me, but there are lots of younger people around now."
Local Beryl Linstow, 75, said: "I came to buy just one thing in the middle of the week – and there was only one spare chair in the entire coffee shop.
"I only wanted a coffee and it was a struggle to find the chair. All these younger people are turning up in cars."
Most read in The Sun
HOSPITAL SIEGE
3 dead including girl, 14, & mum after gunman opens fire at home & hospital
WARM EMBRACE
Strictly's Nigel Harman cuddles partner Katya Jones hours before elimination
BABY BOOM!
I'm A Celeb star reveals wife has given birth after cancelling his shows
GOODNIGHT DUMBLEDORE
Harry Potter star Sir Michael Gambon dies aged 82 after 60-year career
Her friend Carol Vonlinstow, also 75, added: "I notice how extremely busy it is these days.
"And it's clear that more and more youngsters are coming here."
Claire Thompson, 46, said: "I was getting stressed inside it was so busy – we are enjoying our coffee outdoors now.
"I cannot believe how busy it is."
Molly Mae sent The Hollies farm shop viral after posting pics of herself and baby Bambi inside.
Salford resident India Coleing, 25, and Alex Wszolek, 26, were drawn to the shop by the influencer's posts.
They said: "It's all over our TikTok, so we are new to the area and felt we should come and have a look.
"We are absolutely loving the Halloween stuff they have here."
Jess McGowan, 22, said: "It was Tik Tok that alerted me. It's going to get busier, it must be great for the business."
READ MORE SUN STORIES
TAKE NOTE
I'm a cleaner, 5 things I'd never put in my house – including a kitchen handle
Back to normality
Paris Fury shares sleepy selfie & baby update after day of 'normal life'
Mollie Brisco, 20, said: "It was the Molly-Mae stuff that highlighted it – I've liked it here.
"They have it set up really well with all the Halloween decorations around."

Source: Read Full Article