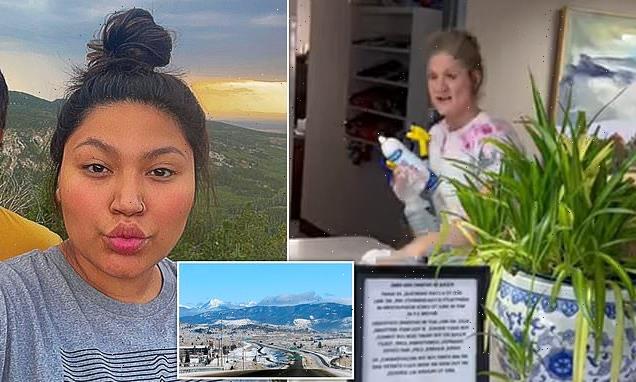 'I don't CARE if he's quadriplegic!' White hotel worker is branded racist for mocking Native American guest's accent during showdown over late checkout for her disabled relative
Cleaner Kathryn Carrette was filmed fighting with Jaylynn Mitchell
Her accent and mannerisms sparked angry allegations of racism 
Fight happened at Great Falls Inn in Butte, Montana, over late checkout  
A white hotel worker was accused of mocking a Native American woman's accent during a furious showdown over checkout times for her severely-disabled relative. 
Kathryn Carrette, a housekeeper at the Great Falls Inn in Butte, Montana, screeched 'I'm gonna put this on TikTok, I'm gonna put this on TikTok,' while squabbling with Jaylynn Mitchell at the hotel February 9.
She appeared to be repeating a threat that Mitchell had just made off-camera.  
Mitchell, a member of the Rocky Boys tribe in Montana, took offense at Carrette's bizarre accent and hammy gesticulation, saying to a relative: 'See how she's mocking our accent?'
And she later made good on her apparent threat to upload the showdown on TikTok where she branded Carrette's accent 'blatant racism,' prompting the footage to go viral.
The unseemly drama began over a miscommunication regarding a late checkout for three rooms booked by Carrette and her relatives, including her severely-disabled uncle.
Kathryn Carrette, a cleaner at Butte's Great Falls Inn, was accused of racist mocking of a Native American guest's accent during a fight over a late checkout that's swept the internet 
Guest Jaylynn Mitchell, pictured left, began squabbling with Carrette over a late checkout when Carrette barged into her family's room to clean it, upsetting Mitchell's paraplegic uncle
They asked to check out at midday, instead of the 11am time stipulated by the hotel.
But Carrette wasn't informed, with things turning ugly when she knocked on one of the family's room doors at 11:30am to begin cleaning it, only to find them still inside.  
Mitchell and Carrette began squabbling, with a clip later uploaded by Mitchell showing the two women gunning for one another in the hotel's lobby. 
Carrette threatened to call the cops, prompting a foul-mouthed broadside from Mitchell over what she claims was shoddy treatment of a severely-disabled relative. 
She roared: 'F**king acting like this because he was there…acting disrespectful to a paraplegic who cant f**king walk.'
But the excuse cut no ice with Carrette, who angrily replied: 'He was supposed to be out at 11, that's the whole point. I don't care if he's a quadriplegic, I don't care.' 
The drama then shifted to a nearby reception desk, where general manager Kelli LaFountain was calling police. 
LaFountain could be heard to say: 'Hi I'm at a Great Falls inn, we have some very disruptive guests in the lobby.'
She also highlighted the racial aspect of the showdown, saying: 'They're recording us because they're out past checkout time, we're stupid white people.'
Neither Mitchell nor another unseen woman she was with were heard saying anything about white people on the footage that's been shared, and it's unclear if a remark was made before recording began.
A cop later arrived at the scene, and resolved the dispute through mediation. No charges were brought against the guests or hotel staff. 
Manager Kelli LaFountain was filmed on the phone to cops and was heard saying 'We're stupid white people,' although it's unclear if she was repeating something Mitchell had said off camera
The drama erupted at the Great Falls Inn, pictured, in Butte, Montana, on February 9 
Captain Doug Otto of Great Falls Police said: 'They (her family) requested a late checkout and the lady or the manager, whoever they told, didn't relay that message back to the housekeeper. The housekeeper went to go knock on their door and started becoming belligerent with them.' 
The incident continued to annoy Mitchell even after the dispute was resolved. She posted a length caption alongside the TikTok upload saying: 'I wonder why this "establishment" is a two star hotel!! 
'These women blatantly disrespected our whole family this morning! My uncle is a paraplegic and THEY STATED HE CAN CHECK OUT AT NOON! They shouldn't go back on their word! 
'Mind you the first lady who was yelling around was on the maid! It takes at least 3 of us to get our uncle ready and out of bed and into the care we were all their at 11:30am and this is what we pulled up too was this women yelling at my two uncles saying they needed to out by 11! 
'I hope our tribe doesn't support this awful place anymore!' 
Hotel staff told KRTV that the women had issued 30 threats during the fight, and that their establishment is in no-way racist.
A spokesman said: 'We are fair, open-minded, and honest. We treat each guest with dignity and respect. '
'This is a highly unfortunate incident that occurred. Because the safety of our guests is paramount. We became concerned about the level of disruption. 
'The police were called, and the matter has been taken care of.' 
Source: Read Full Article