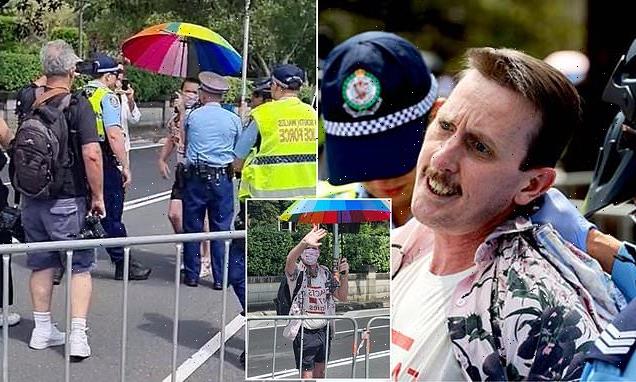 Protester is grabbed by four cops and brutally dragged away from George Pell's funeral for blowing a whistle near the cathedral: 'I have a right to be here!'
Protester dragged away from Pell's funeral 
The man was blowing a whistle
Hundreds of protesters have gathered 
A protester outside Cardinal George Pell's funeral has been brutally dragged away by police after marching around the cathedral and blowing a whistle.
There were tense scenes outside St Mary's Cathedral in Sydney on Thursday as hundreds of protesters clashed with Catholic mourners before and during Pell's burial
Pell, Australia's most senior Catholic, is being laid to rest in Sydney after he died from complications arising from hip replacement surgery in January.
Hundreds of protesters gathered across the road in Sydney's in Hyde Park before marching to the edge of the street carrying rainbow flags and banners.
Footage showed a man carrying a rainbow umbrella walking around the perimeter of a cordoned-off area outside the cathedral and loudly blowing a whistle.
The moment the whistling protester is dragged away by police outside George Pell's funeral service in Sydney on Thursday 
The protester was blowing a whistle along the boundary line before being grabbed by police
The protester (pictured with his rainbow umbrella) was pulled away from the cathedral by police
Several police could be seen talking to the man, who asked 'what am I doing wrong?'.
The man, wearing a face mask and a 'facts not stories' t-shirt, then walked away from the police, continuing to blow his whistle along the fence line.
Police outside the closed area then approached the man and surrounded him as he yelled, 'no, I didn't do anything' multiple times.
'What am I doing? I have a right to be here,' he said.
Protesters clashed with mourners outside the funeral of George Pell on Thursday morning 
Four officers then surrounded the man, pushing him away from the cathedral and vigorously grabbing his umbrella as they marched him towards a waiting paddy wagon. 
NSW Police confirmed to Daily Mail Australia the man was 'moved on' from the protest but not arrested.
A police spokesperson said no arrests had been made at the event so far.  
Earlier on Thursday, protesters were heard chanting 'George Pell go to hell, take Dutton there as well'.
Protesters were allowed to stand in the middle of the road chanting for about five minutes, just a few metres from mourners.
Protesters were heard chanting 'Pell go to hell' on Thursday 
Protesters were given the green light by the Supreme Court to gather outside the cathedral 
Some mourners shouted abuse at them and confronted police, who stood between the two groups, demanding they be moved on.
The protesters then marched down College Street after they were moved on by police.  
The heated scenes come after protesters were given the green light to gather outside and hold a protest during the funeral after negotiations with police.
NSW Police tried to stop the protest in the Supreme Court over 'safety concerns' but were told 'alternative arrangements' had been made for protesters to use a different route.
Protesters were allowed to march through Hyde Park and stand at the square outside the cathedral.
The activists are protesting Cardinal Pell's public opposition to same-sex marriage and abortion rights as well as a child sexual abuse conviction that he was ultimately cleared of. 
Thousands of mourners also gathered at the cathedral on Thursday, including groups of nuns, politicians and dignitaries.
Former prime minister John Howard and Opposition Leader Peter Dutton were spotted arriving at the funeral earlier in the day.
Prime Minister Anthony Albanese and NSW Premier Dominic Perrottet did not attend the service.
NSW MP Damien Tudehope was set to represent the NSW premier due to 'prior commitments'.
The 81-year-old Cardinal died in Rome in January after complications following hip replacement surgery.
Source: Read Full Article