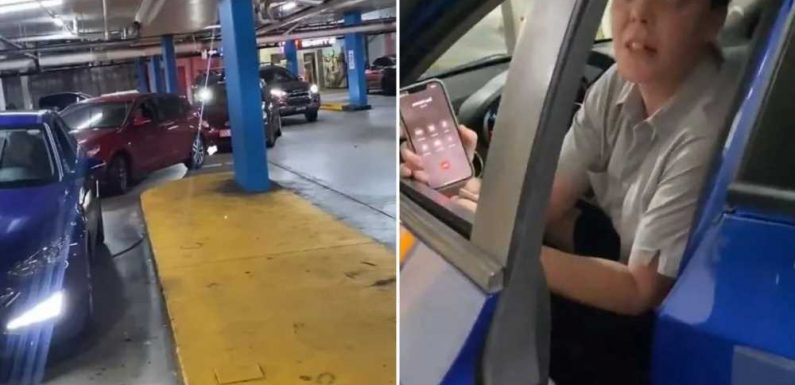 A PARKING dispute left dozens of frustrated motorists trapped after an attendant refused to let a woman without a ticket leave.
Video shows the woman arguing with an attendant on an intercom as another driver attempts to resolve the dispute over the £14 parking charge.
In the TikTok footage, the woman tries to explain she has paid her membership but the attendant insists it's not valid.
In the meantime, a long line of cars can be seen stacked up at the Circle on Cavill shopping centre car park in Surfer's Paradise, Queensland, Australia.
"You've got about a hundred cars in this carpark because one of your machines isn't working," said the man.
"This lady has a membership to get out."
READ MORE ON AUSTRALIA
60,000 Brits set to go to Australia on promise of sun, sex and salary boosts
I forked out for a posh belt but it arrived with the cheapest label on it
But the attendant explains: "She actually does not have a valid membership.
"She doesn't have one with us so she needs to pay the amount on screen."
After the woman insists her membership is valid, the attendant says: "I'm sorry but if everyone else must pay for their carpark, so should you."
The attendant then tells the woman to reverse so the dispute can be resolved but the man tells her: "We can't reverse, you've got a hundred cars here."
Most read in Motors
Historic Spitfire-engined car The Beast should fetch £100k at auction
Parking tickets increase by 24% and millions hit with fines
I'm furious after a car park charged £100 for ONE SPACE
Someone stole my parking spot – so I unleashed petty revenge
In a bid to resolve the dispute, the man attempts to pay the driver's fee and asks if she could open the gate and let the queue through so he could drive up instead.
"I'm trying to pay for it, I just can't get my car here because there's a hundred cars," he said.
"I ran all the way up the hill because there's a massive traffic jam because you're not being a human being."
But the attendant sticks to her guns and tells him: "Okay, then do so.
"There isn't anything I can do from my side. We'll wait here. We'll wait for you. That's not a problem."
In the meantime frustrations among the drivers backed up begin to boil over and angry voices can he heard.
In a statement, car park operator Car Park said it was investigating the situation where what appeared to be customer's deactivated pass did not allow her to exit from the car park.
"The customer service officer handling the matter at the exit gate looked into the situation and could see in the system the customer's parking pass had been deactivated and therefore she needed to pay for her parking and would not be granted exit until payment had been made."
But the company admitted: "The lady's pass had been deactivated accidently during the monthly audit of paid parking customers. 
Read More on The Sun
I work in Aldi – 7 top 'dupe' buys that will save you an absolute fortune
I bought '£4k goldendoodle' puppy – but was shocked when it grew up different
"The lady had spoken to Care Park the week prior to this incident regarding her parking pass and the matter resolved at that time.
"Care Park has extended its apologies for the situation that occurred to the lady while trying to resolve the card issue at the exit gate."
Source: Read Full Article