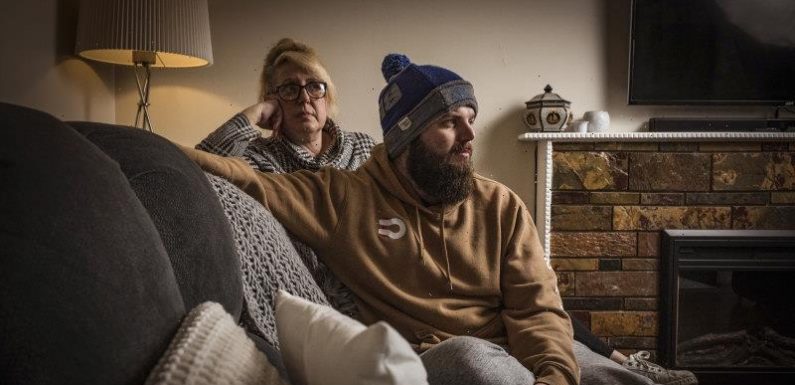 For our free coronavirus pandemic coverage, learn more here.
The unwanted house guest made itself known late one Sunday night. Luke had just gone to bed when he suddenly began to shiver. Within minutes, he was drenched in sweat and had a roaring fever.
"I felt like I had been hit by a ton of bricks," the Melbourne construction worker said. "I was in bed crippled, curled up, just absolutely paralysed. I couldn't move. I knew straight away it was COVID."
Luke contracted COVID-19 from his mother, Sally, after she caught it at work. Credit:Christopher Hopkins
The 29-year-old was quarantining in a house alone. Only hours earlier he had tested negative to COVID-19.
His mother, Sally, had caught the highly infectious Delta variant after coming in contact with a positive case on August 13 at the dental surgery where she works. She unknowingly infected her son and her partner, Paul.
"The guilt I felt was overwhelming," the 54-year-old said. "I just felt awful. I was so apologetic and worried about them. You feel like it's all your fault. I couldn't apologise enough."
The Delta variant, thought to be at least twice as infectious as the so-called Wuhan strain circulating in the second wave last year, is quickly infecting entire households in Victoria's latest coronavirus outbreak.
And for this ordinary family, coronavirus had come to stay at their home in Fawkner, in Melbourne's north, long before they realised.
Two days after Sally was unknowingly exposed to the virus, she had her first Pfizer dose. When she fell ill with flu-like symptoms, her GP suspected an immune response to the vaccine. By mid-week, Sally's body was aching, she had chills and a fever. After getting out of bed one night, she collapsed and was taken to the Northern Hospital.
Doctors there also assumed it was a reaction to the vaccine and discharged her without testing for coronavirus. It was only when her workplace became an exposure site on August 19 that she was finally tested for the virus. Within hours, Sally and Paul had returned a positive result.
"It felt surreal, but it answered all my questions as to why my body was reacting the way it did," Sally said. "I kept thinking something is off, something is not right, this can't just be a reaction to the Pfizer vaccine."
However, Luke's first test came back negative and he was told by the Health Department he would have to find somewhere else to isolate alone or pay more than $3000 for two weeks in hotel quarantine.
Paul offered to move in to care for Sally, so Luke could isolate at his house. Luke spent a week alone, unable to move from the couch.
"You hear mixed reports that some people don't really get affected and others end up in intensive care," said Luke, who asked that his family surname be withheld.
"So all these thoughts were racing through my head at the time. Like, how bad is this thing going to be? At the time, I thought I was screwed."
After the onset of symptoms, Luke, who was anxious, alone and struggling to breathe, spent hours trying to get through to an operator on the state's coronavirus hotline.
"One day I was on hold for 3½ hours, only to finally get through and be told a GP would ring me … nobody ever rang me," he said. "It was exhausting. I felt helpless and like there was nobody there to help."
Luke wants a dedicated hotline for people who are infected, so they do not spend hours on hold trying to get help.
It was not until a healthcare worker from Cohealth, a Melbourne not-for-profit community health organisation providing at-home care for Sally and Paul, rang to check on Luke, that he secured a telehealth appointment with a doctor at the Royal Melbourne Hospital. The doctor called him twice a day in the days following.
"That was a game changer for me, it completely changed my mindset," Luke said.
Cohealth delivered food parcels and medicine to Luke. Eventually, his support worker was able to secure a permit for him so he could return home to be with his mother.
Fourteen days after being diagnosed with the coronavirus, Sally collapsed again when her oxygen levels fell dangerously low. She hit her head and was rushed back to hospital for four nights, before being discharged on Sunday.
Luke and mother Sally are both recovering from the virus.Credit:Chris Hopkins
"I was terrified of ending up on a ventilator. You just never think this will happen to your family if you take all the right precautions," she said. "But if it's happened to us, it can happen to anyone."
Luke still has lingering coronavirus symptoms, including fatigue. He plans to get vaccinated in the coming weeks but says his encounter with the disease has changed his perception that it only adversely affects the elderly.
"Many young people believe they are invincible, and it's only going to hit them like a mild cold, but I'm fit and healthy, and it put me in bed for a week and it sent my mum to hospital twice," he said.
"Before being infected, I didn't know anyone who had coronavirus, so I can see how that makes people think it could be conspiracy and all that rubbish, but I can tell you it's real and it is definitely serious."
The Victorian Health Department has been contacted for comment.
Stay across the most crucial developments related to the pandemic with the Coronavirus Update. Sign up for the weekly newsletter.
Most Viewed in National
From our partners
Source: Read Full Article