When it comes to #relationshipgoals, the first couple that comes to my mind is Chrissy Teigen and John Legend. These two are the perfect combination of sweet and hilarious, and they are parents to two adorable kids, Luna and Miles. Even though the couple is busy with that new-parent life thanks to one-month-old Miles, Teigen made sure to give Legend a shoutout on Father's Day. Chrissy Teigen's Father's Day message to John Legend is a sweet tribute to the father of two, and her words will totally have you swooning.
Teigen is usually known for her quick wit (and using it to basically rule all of Twitter), but the once-again new mom showed her sentimental side in her Instagram post about Legend on Sunday, June 17. She posted a sweet photo of Legend with their children, two-year-old Luna and baby Miles, and she accompanied the picture of Legend on daddy duty with a heartfelt caption about how much he means to her. Be prepared, because Teigen really brings the feels with this one. She wrote in the caption:
OK, so Teigen did manage to bring her signature hilarity to the post when she quoted Salt-N-Pepa's "Whatta Man" in the beginning of her message, but most of the caption is super sentimental.
She thanked Legend for their life together when she wrote, "Thank you for the beautiful life and these beautiful lives you have given me." Um, excuse me for a moment while I go find my tissues and pretend it's allergies that have my eyes welling up. C'mon, is there a more heartfelt way to celebrate her husband and father to her children on Father's Day than by referring to Luna and Miles as "these beautiful lives" in the post? I honestly don't think you could create a more beautiful message if you tried.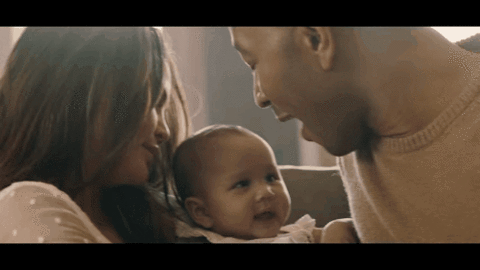 Either dry your eyes real good or get some more tissues, because that was just the beginning of the swoon-worthy tribute. Teigen also called Legend her "best friend and partner" and "the most loving and generous and kind human in the world." Oh, she also casually dropped in there that her hubby is "the smartest," NBD.
OK, so Teigen has definitely has this whole writing-the-sweetest-Father's-Day message thing on lock, but she still added her signature humor to the post with a line that reads, "I didn't say funniest so you know I'm not lying here." I see you, girl — you're the one that brings the laughs in the family. As to not make it all about herself, though, Teigen turned the end of the message back to Legend when she wrote, "We love you with all our hearts. Happy Father's Day."
I hope you also chose to grab more tissues earlier, because I am nearly sobbing over how heartfelt this sweet tribute is. Plus, she made the tribute from her and the kids?! I am done. Teigen wins Father's Day.
It's not too surprising that Teigen totally crushed it with this heartfelt Father's Day message to Legend, but I definitely love seeing a more sentimental side to the oftentimes hilariously crass queen of Twitter.
Maybe being a new mom again to one-month-old Miles is bringing out a different side of the Cravings and Cravings 2 author. She recently shared a picture of baby Miles on Instagram on June 7, which was supposed to be his original due date. Miles was born three weeks earlier, and Teigen shared a close-up photo of her and Legend's son with a caption that read:
You've gotta love how Teigen can expertly mix sentimentality with a few laughs — and she definitely perfected the combo in her Father's Day post to Legend.
Source: Read Full Article