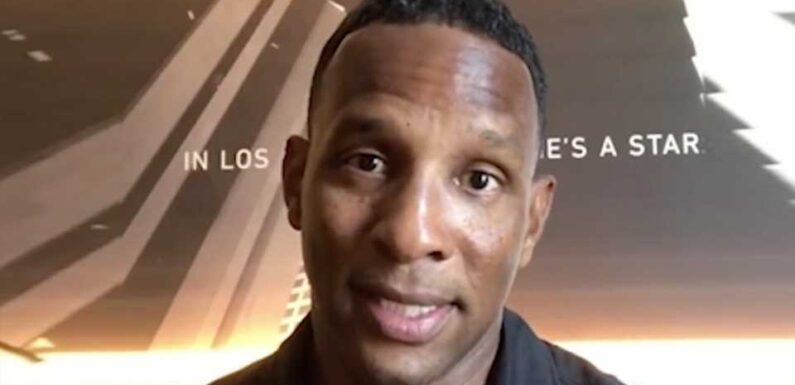 SOCCER icon Shaka Hislop has broken his silence after his terrifying collapse live on TV.
The ex-Premier League was standing by the side of the pitch ahead of the game between Real Madrid and AC Milan.
Suddenly, the former goalkeeper tumbled over and out of sight, leaving ESPN viewers in shock.
The 54-year-old – who retired in 2007 – was attended to by medics and checked over at the Rose Bowl on Sunday night.
And the ex-Portsmouth legend has given fans a health update on his social media accounts.
Hislop said: "Well, that was awkward. What a 24 hours this has been.
"Listen every so often life gives you a moment to pause, and this was mine.
"There's so much I have to be thankful for.
"My wife, kids, family, loved ones, friends.
"People I've shared a space with over the years and have lost touch with for whatever reason and have reached out directly or indirectly.
Most read in Soccer
Coronation Street fans stunned as fan favourite quits the cobbles
First £1m football player Trevor Francis dies aged 69 in Marbella
The 5 signs of bowel cancer you must not ignore – as BBC's George Alagiah dies
Naga Munchetty bursts into tears as she learns of George Alagiah's death on air
"Thank you. My response now has to be to seek out the best medical opinion that I can get and listen to what my doctors have to say.
"In closing, I'd like to say thanks to Dan and the ESPN family.
"The camera operators, medical staff at the Rose Bowl, all that responded the way that they did and afforded me the care that I got.
"Thank you, I know now that even when we argue and disagree, I have the fullest support of each and every one of you.
"I'm looking forward to getting back and doing what I enjoy doing most. See you in a bit."
The two-time FA Cup finalist was in action overnight as Real Madrid beat AC Milan 3-2 in the pre-season friendly.
But Hislop gave viewers and ESPN host Dan Thomas a huge fright when he passed out live on air before kick-off.
With the temperature in Pasadena, California, sky-high, dramatic footage captured the moment Hislop began to sway.
He then fell forwards and onto the ground, with the TV network cutting to a advert break straight away.
Read More on The Sun
Mum shares her quick summer snack idea but parents warn it's so dangerous
Woman who is always skinny-shamed says strangers whisper about her appearance
It left viewers at home in complete shock, with many rushing to social media for updates.
It is not known how long he will be away from his ESPN post for while tests are carried out.