There aren't many celebrities in Hollywood that can boast the same sort of success as Zooey Deschanel. While there have been other actresses that have delved into starting a career in the music industry, not many have had the same sort of success or prestige that Deschanel has had through her indie rock style. While there once may have been a stigma surrounding actors and actresses appearing on television, those days have seemed to be a thing of the past. Nowadays, some of the biggest A-list stars in Hollywood have appeared on the small screen, from Matthew McConaughey in the first season of True Detective to Nicole Kidman appearing in the HBO series, Big Little Lies.
While Zooey Deschanel is probably best known for her role as Jessica "Jess" Day in the FOX hit series, New Girl, she's appeared in a number of ultra-memorable roles. From starring alongside her sister in the TV drama, Bones, to the myriad of roles on the big screen, it seems like Zooey Deschanel has proven herself time and time again as a favorite actress and leading lady in Hollywood. On top of having an ultra-successful career on both the small and big screen, she's also tacked on the label of wife and mother to her long list of accolades. While there have been some that have tried to pigeonhole her into one specific category, it just doesn't seem to work for the talented and beautiful Zooey Deschanel. Yet, that doesn't mean that there haven't been a few missteps throughout her career, especially in regard to her style choices. Check out our list of the 12 times Zooey Deschanel looked like a total bombshell and the 12 outfits that were major flops and see if you agree with some of the style choices she's made over the years.
24

2014 Golden Globes Crop Top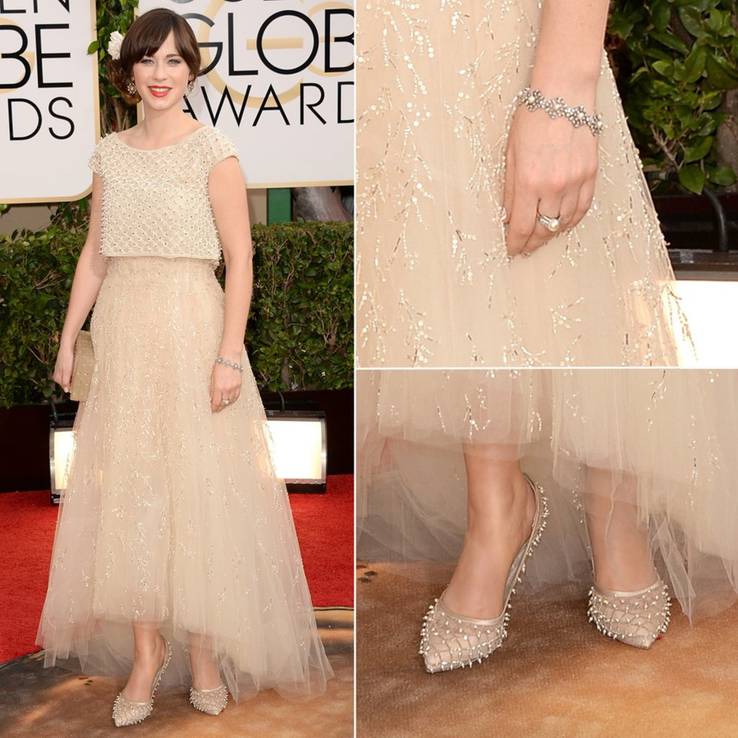 When Zooey Deschanel arrived at the 2014 Golden Globe awards, people were blown away by her look and there were many that thought that she was itching for a win at being named "The best dressed." She wore a bejewelled Oscar de la Renta crop top and paired it with a sequin tulles skirt. The high low accent to the skirt and the boxed style of the crop top was right on trend and she completed the look with matching pearl-accented shoes. The entire ensemble seemed to glitter on the red carpet and the pale blush tone perfectly paired with her porcelain skin tone.
The overall look was incredibly feminine and magical and created a huge amount of praise for the New Girl actress. There was a bit of color added through her signature red lipstick and she really pulled it all together with a side swept bang cut and a dainty side hairstyle updo. People couldn't get enough of this daisy accented ensemble and it became a huge hit at the 2014 Golden Globe awards. While there were some other celebrities that had a great night at the podium and at the red carpet, Zooey Deschanel proved that she was more than just a comedic actress with this beautiful and glamorous look.
23

2013 Pastel Blue Emmy Award Look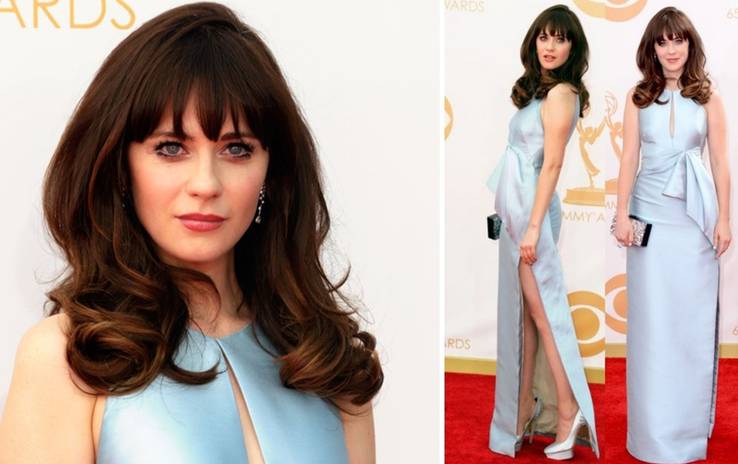 While there are always new colors that come into season and become known for being on trend, not everyone can pull off the hottest colors to wear on the red carpet. Yet, Zooey Deschanel proved that she wasn't afraid to go the pastel route when she appeared on the red carpet for the 2013 Emmy Awards. She wore a pastel blue gown from the Resort 2014 Collection by J. Mendel. The satin material of the gown just added to the overall sheen and pop of the pastel color but it was the cut of the dress that was the real showstopper. There was a keyhole-like detail that was a slim slit to show a bit of skin without it being too overbearing to the gown. The waist was cinched by a sash feature that went upward and featured a dramatic draping to the layered design.
It seemed to hug her in all the right places and there was a bold side split that revealed her stellar legs and her custom-dyed Paloma heels by Charlotte Olympia.
To complete the overall look, Deschanel wore her hair in classic bombshell fashion with big flowing curls and her signature bangs and her makeup was done in a way to show off her sparkling light eyes.
22

2013 Golden Globes Red Dress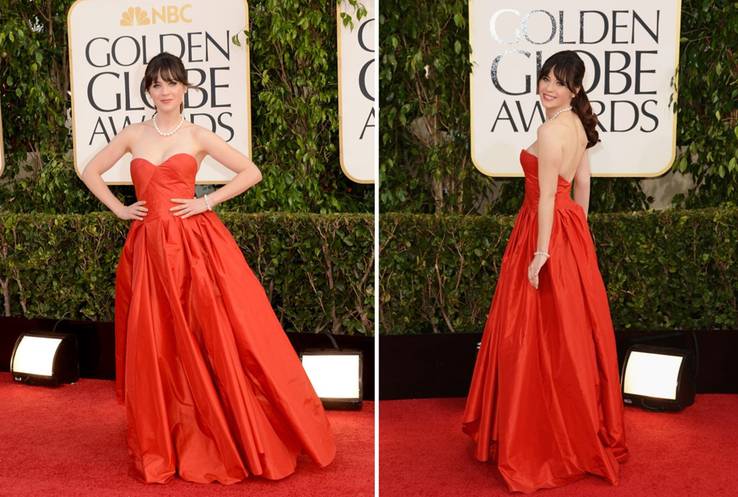 At the 2013 Golden Globe Awards, it seemed like everyone got the same memo about wearing red on the red carpet. Zooey Deschanel certainly did when she showed up with a stunning Oscar de la Renta gown with a flowing design. Oscar de la Renta is a celebrated designer that is known for using material that really shows off the glamour and texture of a Hollywood-worthy ball gown and this dress certainly proved it. It featured a sweetheart neckline that had a plunging design, which really showed off her cleavage for her big night.
She appeared happy and glowing when she appeared on the red carpet to accept her nomination for Best Actress in a Television Series. As a celebrated actress portraying the role of Jessica Day in the FOX hit television series, New Girl, Deschanel came to celebrate and have some fun with her Hollywood celebrity friends. She styled her hair in a simple updo with her signature bangs and her makeup was done in a subtle way as well. While she had a darker lip shade to complement the dress, the only other real accent to the gown was her beautiful pearl necklace. Her look was a huge hit and it became known as one of her best looks on the red carpet.
21

2013 Vanity Fair Oscar Party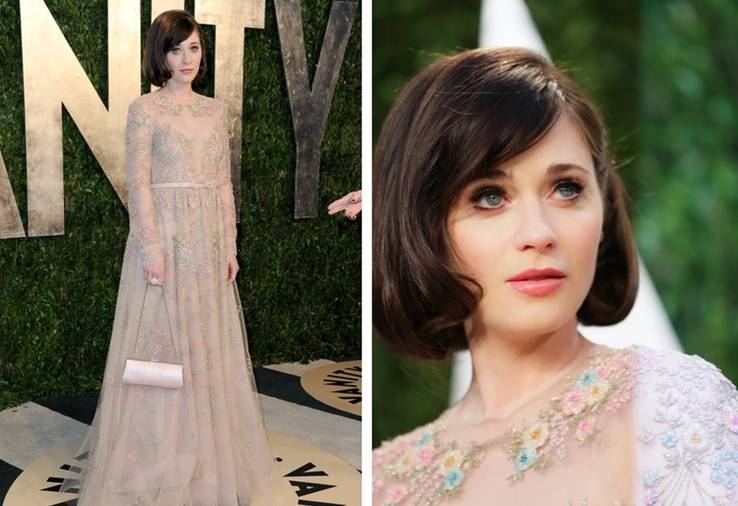 When Zooey Deschanel appeared at the 2013 Vanity Fair Oscar Party, she had long since solidified her role in the entertainment industry as a coveted leading lady on both the small and big screen. She was often thought of as a comedic actress and she had a signature look that everyone loved seeing when she portrayed Jessica "Jess" day in the FOX network hit TV series, New Girl. Yet, her appearance at the 2013 Vanity Fair Oscar Party seemed to show her in a totally different way. She no longer looked like the funny girl from the TV show when she showed up in beige Valentino gown that featured subtle colors in its beaded accents.
She reportedly was the very last starlet to appear on the red carpet, which may have been a ploy to get all of the spotlight on her for her to have her moment. The gown had a magical look that really went with the glamour of the Vanity Fair Oscar Party event and people couldn't help but remark on how great she looked during the night. She debuted a brand new haircut that was a great look to go with the dress and she really impressed everyone with her fresh and feminine look.
20

2009 Vanity Fair Oscar Party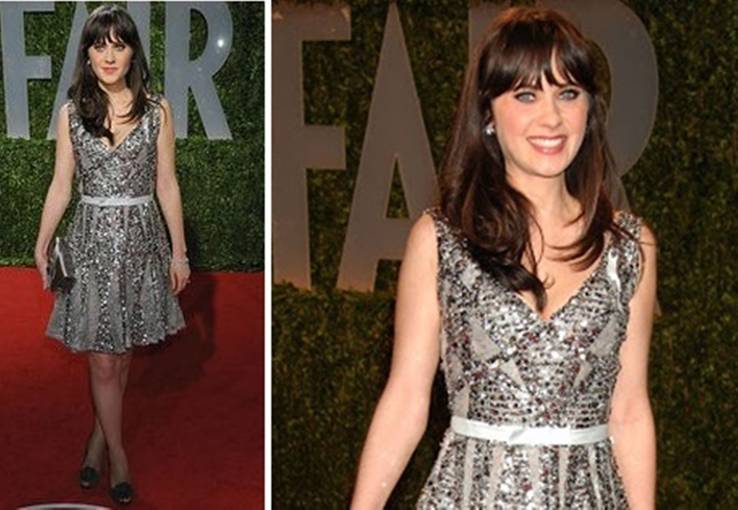 When Zooey Deschanel appeared at the 2009 Vanity Fair Oscar Party, she was coming from an amazing amount of success on the big screen. She had a number of films that were released in 2007 and 2008 and there was high praise for her 2009 film, 500 Days of Summer. While there were other celebrities that attended the 2009 Vanity Fair Oscar Party and wore ball gowns with huge ruffles and layers, that's not the route that Zooey Deschanel took when she arrived at the Sunset Tower in West Hollywood for the star-studded event. She wore a sparkling silver dress that was embellished with an amazing amount of intricate beading and shone like a disco ball with all of the glittering lights and flashes on the red carpet. She appeared alongside her sister, Emily, in a number of the photos from the red carpet that night and people loved seeing them together at the party.
The two have been known for being quite close and Zooey even appeared on Emily's TV show, Bones, and portrayed her look-alike cousin during her time on the show.
The sisters both wore dresses that could be seen as a bit understated for a Vanity Fair Oscar Party but it seemed like Zooey's was still a real standout.
19

Stunning At The X Factor Finale In LA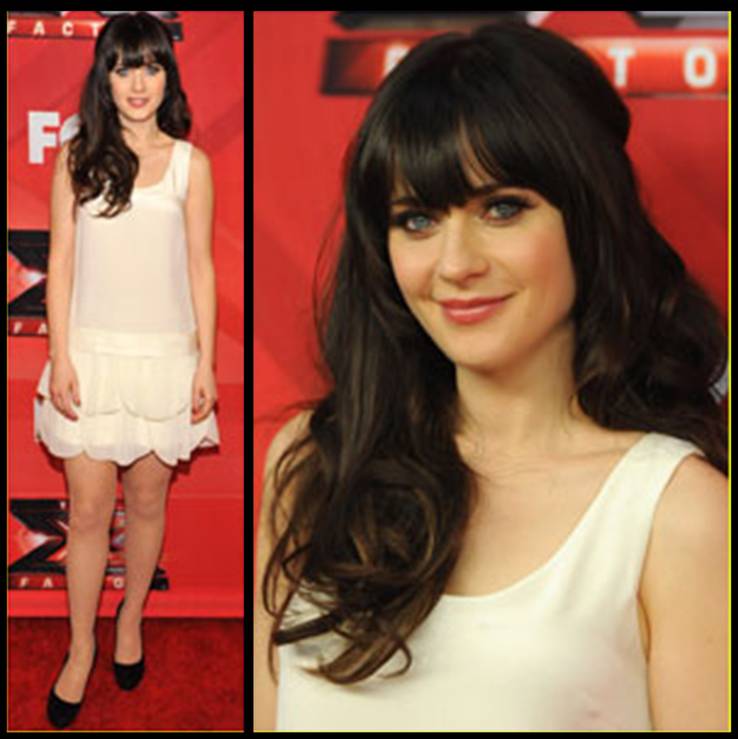 When Simon Cowell announced that he was no longer going to be a judge on the singing reality series, American Idol, audiences didn't have to wait long before seeing him again on television. He famously brought the UK singing reality series, The X Factor, to the United States and was making a big push to have it become the newest phenomenon on television. Because it was featured on the FOX network, it wasn't that surprising for Deschanel to appear at the season finale for Season 1 in 2011. People immediately assumed that the network gave her some incentive to be there since she was working with FOX for the hit TV show, New Girl. Yet, her presence there was more than just a probable obligation to the network since Deschanel is not just known for her acting skill.
As a talented music artist that's known for her indie-rock style, she was the perfect fit for a celebrity looking to see true talent in the music industry.
She appeared at the season finale at CBS Television City in Los Angeles in a tiered white dress from Erin Fetherston. The dress was simplistic in its design but it really showcased her classic beauty and ability to shine in something quite plain. She paired it up with some black suede shoes and she still looked like a standout bombshell on the red carpet.
18

2012 White House Correspondents' Association Dinner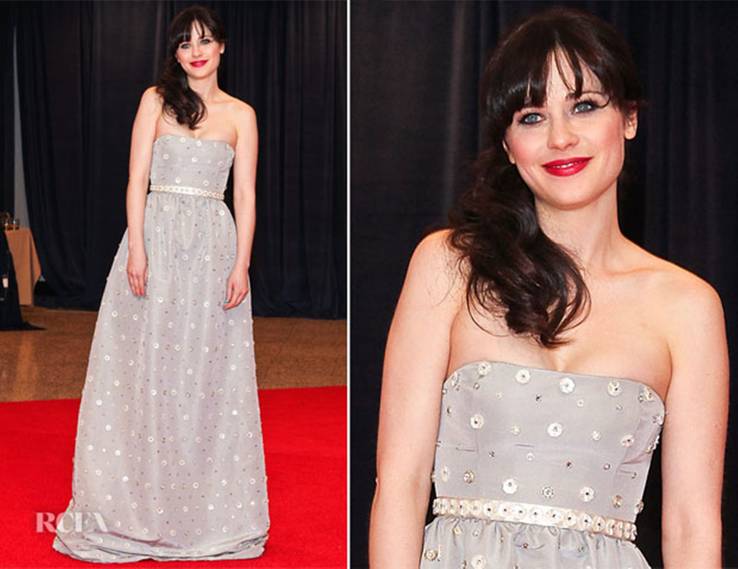 There once was a time when it seemed to be a bit taboo for celebrities to align themselves with political figures and many of them tried to shy away from letting the public know about their views on politics. Yet, when Barack Obama became the 44th President of the United States, it seemed like there were so many different celebrities that became far more open to being public about their support for him and his administration. In 2012, Zooey Deschanel attended the White House Correspondents' dinner held at the Washington Hilton and she didn't pull out any stops. She wore a Pre-Fall 2012 Oscar de la Renta that was never even shown during the runway presentation of the collection. The gown was a real show stopper with its strapless design and metallic silver embroidery with a polka dot pattern.
The light grey fabric had a bit of a sheen to it to help complement the silver embellishments and the high natural waist cut was extremely flattering to her figure. She paired this elegant and sparkling dress with her signature bangs and red lipstick but kept her hair super casual with a side swept ponytail and some loose curls. Not only did she receive some high praise for her overall look but she seemed to get some major "cool" points for her invitation to this coveted dinner.
Featured Today
20 Surprisingly Cute Outfits That Miley Cyrus Has Worn Recently

10 Celebs Who Got The Dress Code At The 2018 Met Gala (And 10 Who Didn't)

15 Female Celebs With Unfortunate Tattoos (And 10 With Classy Body Ink)

17

2011 BAFTA Brits To Watch Dinner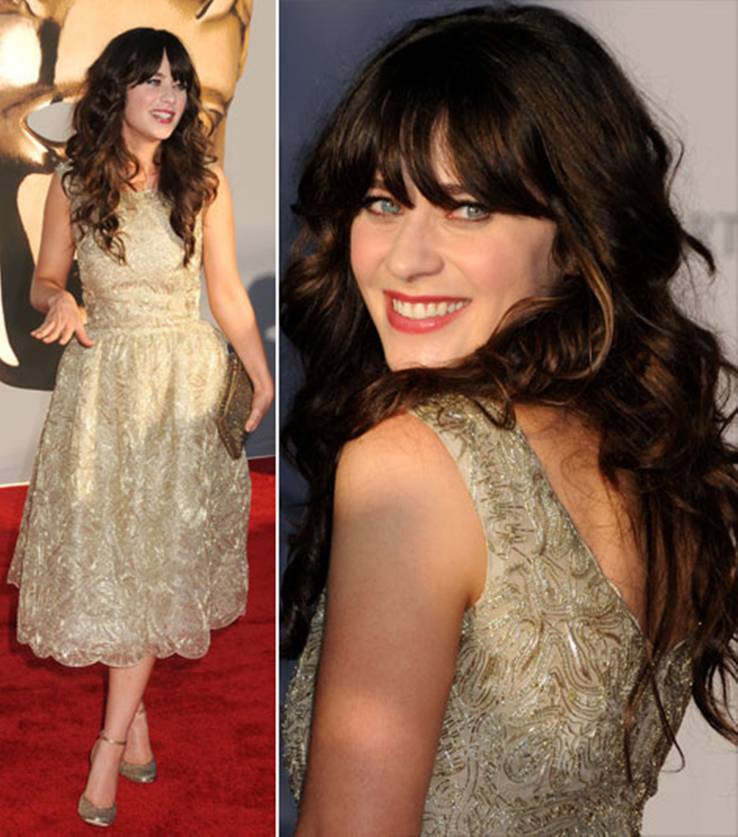 The British Academy of Film and Television Arts Award Ceremony (BAFTA Awards) is thought of as the British Academy Awards and it has started to garner far more attention with the public in recent years. This may be, in part, due to the fact that so many British actors have garnered a huge amount of success in recent years or the fact that there have been so many British television shows that have garnered international attention. Yet, there are still some events that remain relatively unknown to American audiences, with the BAFTA Brits to Watch Dinner being one of them. In 2011, Zooey Deschanel was photographed on the red carpet for the BAFTA Brits to Watch Dinner and wowed the public with her amazing look.
She wore a gold Oscar de la Renta dress from his Fall/Winter 2011/2012 Collection. The scoop neck had a modest cut and the entire dress had an amazing amount of detail with the intricate embroidery detail throughout. The dress was seen as a huge success during Oscar de la Renta's fashion collection premiere but it seemed like Zooey Deschanel really showed off the full potential to it. The gold tone was a great complement to her porcelain skin tone and the scalloped hem just added to the overall appeal.
16

2015 Governors Awards In Hollywood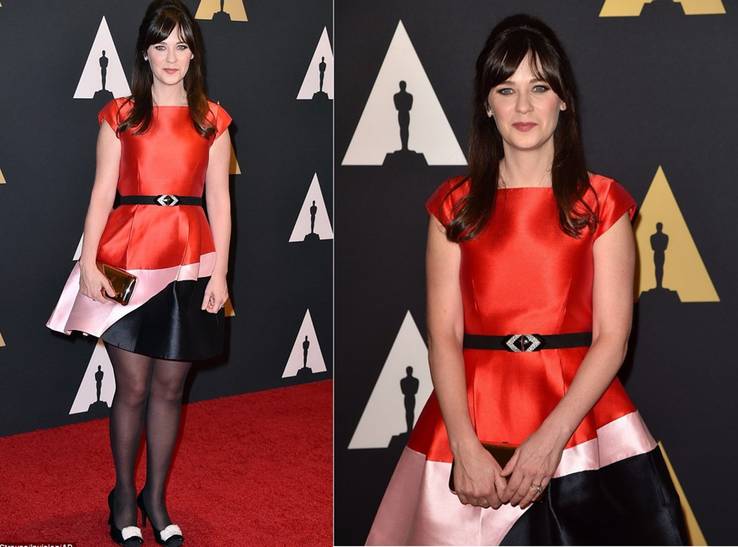 One of the biggest criticisms that the public tends to have with celebrities in Hollywood is how the women are constantly portrayed as having birth and then immediately snapping back into their amazing pre-baby physique. Some women have said that it doesn't show the truth of how it really is since celebrities often have nutritionists and physical trainers to help them get back into shape. Whatever the case, Zooey Deschanel certainly put herself into one particular category when she seemed to immediately get her figure back, just months after giving birth to her daughter, Elsie Otter. People couldn't help but comment on how great she looked once she finally stepped out into the public eye and she looked just as amazing when she appeared at the 2015 Governors Awards with her husband, Jacob Pechenik.
She wore a bright red color block dress with a boat style neckline and a black accent belt that really helped to flatter her slim figure. She completed the look with a pair of black tights and some black and white pumps that really complemented the dress. She even performed the song, "Tammy" during the portion of the presentation where the Jean Hersholt Humanitarian Award was given to Debbie Reynolds.
15

Launch Of Tommy Hilfiger Collection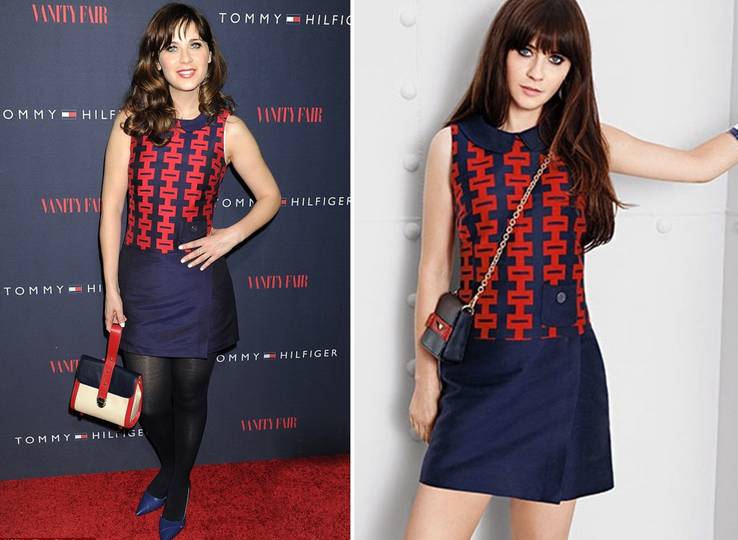 There are a number of celebrities that have delved into the world of fashion, despite the fact that they may have only been known as someone in the entertainment industry as an actress or music artist. From endorsement deals to their very own clothing lines, it seems like everyone in Hollywood has tried to get into the fashion industry in some sort of way. When Zooey Deschanel teamed up with Tommy Hilfiger to collaborate for a new clothing collection, it seemed like the perfect fit for her. The collection launched in 2014 and Zooey wore one of the pieces in the collection to the collection launch. There were some that speculated that Tommy Hilfiger needed a celebrity face to try and turn around the reputation of the brand but seeing the style of the new collection made people think that it was the perfect collaboration for the New Girl actress.
The collection was entitled To Tommy From Zooey and was a capsule collection that combined mod-inspired pieces with a nautical spirit.
While Zooey definitely did a phenomenal job posing in the ad campaign for the capsule collection, she really showed off how great the look was when she wore it to the launch.
14

2012 Teen Choice Awards
When Zooey Deschanel was nominated at the 2012 Teen Choice Awards for her role as Jessica "Jess" Day in New Girl for a TV Actress for Comedy, she also was nominated for the Red Carpet Fashion Icon Female for the year. She appeared on the red carpet at the Gibson Amphitheatre in Universal City in California and proved why she was so deserving of such a nomination. She wore a stunning knee-length dress with a sleeveless design from Monique Lhuillier. She paired it up with a metallic Jimmy Choo clutch bag with a geometric design. The dress had an ultra flattering cut with a boat neckline and a cinched waist feature with the matching belt and she paired it up with bo
w-accented black point toed pump heels. People remarked on how stunning she looked in the dress and she seemed completely on par with the much-younger Selena Gomez when the two presented on stage. Zooey Deschanel seemed just as excited to present with the young pop music artist and even took to Twitter to show off her excitement. In the tweet, she stated, "So much fun presenting at #teenchoiceawards with the beautiful and charming @selenagomez!" While she may not have come home with the win for being the Red Carpet Fashion Icon Female for the year, she definitely proved why she was nominated.
13

Glowing Post-Baby Look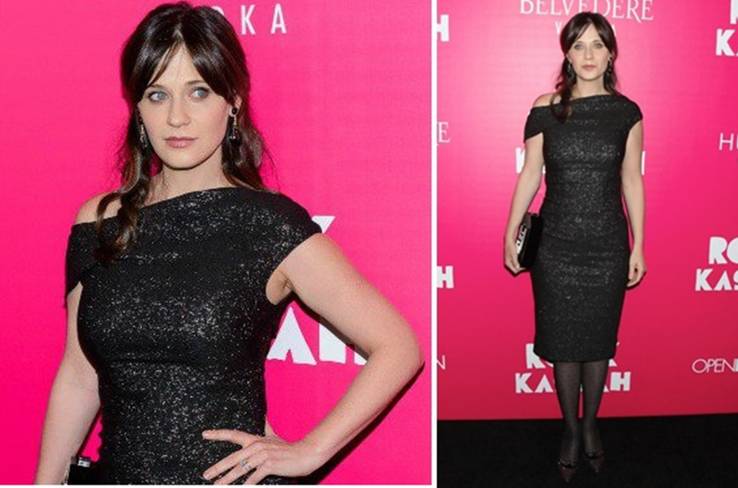 In 2015, Zooey Deschanel and her husband, Jacob Pechenik, gave birth to a baby girl but they kept the public in the dark for quite some time. While other celebrity couples seemed to be photographed at every turn regarding their pregnancies and their post-baby outings, Zooey and her husband remained out of the limelight when their daughter was being born. Yet, Zooey made a grand reappearance on October 19, 2015 at the premiere of Rock the Kasbah. She wowed everyone with her amazing post-baby body and she even revealed the name of their new daughter, Elsie Otter. In an interview with Today, Zooey stated,
"We just really liked the name Elsie and then we both love otters — they're very sweet and they're also smart. They use tools. They hold hands while they sleep, there's so many amazing things about otters. They're wonderful animals."
While the announcement of their daughter's name made headlines, the main focus of her debut at the Rock the Kasbah premiere was how amazing she looked on the red carpet. She's always been known for favoring a bit of sparkle in her outfit choices and this glittering black piece seemed right up her alley. With an abstract neckline and hugging her at all the right areas, this was definitely one of Zooey's show stopping moments.
12

In Polka Dots And Florals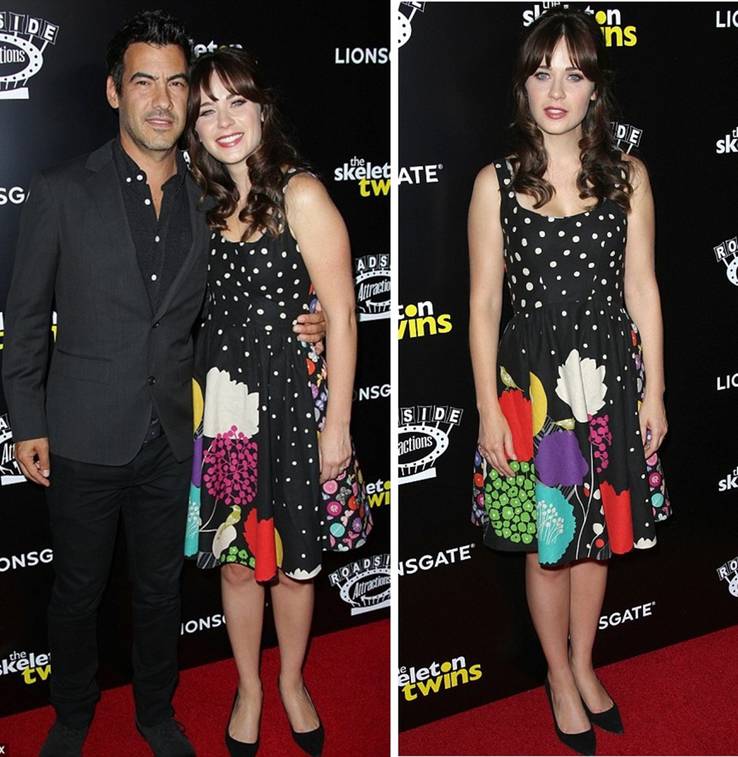 When Zooey Deschanel's husband, Jacob Pechenik, became a producer for the 2014 film, The Skeleton Twins, it became obvious that it was going to be a joint venture for the happily married couple. Both of them appeared at the 2014 premiere of the film together and Zooey appeared happy to be there in support of her husband. She posed for photos with him on the red carpet and she also appeared with some of the stars from the film, like Kristen Wiig. While she definitely seemed happy to be there and content with the hobnobbing with the other stars, there were some that criticized the outfit of choice for that extra special premiere. Zooey has shown that she has a particular style preference when it comes to her dresses since they often have a natural waist cut and feature ruffled pleating but not all of them have been completely flattering to her overall look. The same can be said for her affinity towards polka-dot patterns and floral prints, which is exactly what her look for The Skeleton Twins premiere looked like on the red carpet. While there were some that thought that she was going for a casual look with a whimsical style, there were others that thought it wasn't worthy of a red carpet premiere.
11

2012 Billboard Award '60s Look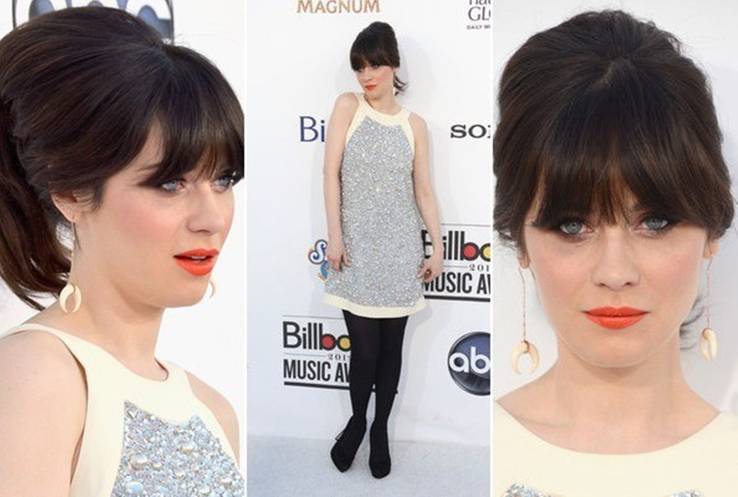 With Zooey Deschanel celebrated for her ability to write and perform music, it's not surprising that she is continuously in attendance at various music award shows with each new year. In 2012, she appeared at the Billboard Music Awards but not everyone was thrilled with her outfit choice or the accessories she chose to pair it up with on the red carpet (or white carpet in this case). She wore a Moschino dress that seemed like more of a cocktail dress than something really formal and it had the cut of a loose frock, rather than something to really show off her amazing figure.
The majority of the dress was covered with silver embellishments that added extra shine and detail to the overall look. Yet, the thick banding at the hem and collar seemed to take away from the ensemble, especially since she paired it with dark tights and shoes. It turned into an accidental color-blocking scheme rather than something deliberate for the award ceremony. She wore her signature bangs and added a bit of a pouf in her hairstyle, which made people think of '60s glamour. Yet, there were some that thought it looked like more of a costume than a stylized look. The thing that really put it over-the-top were the drop bone earrings.
10

Glittering 2012 ESPY Awards Dress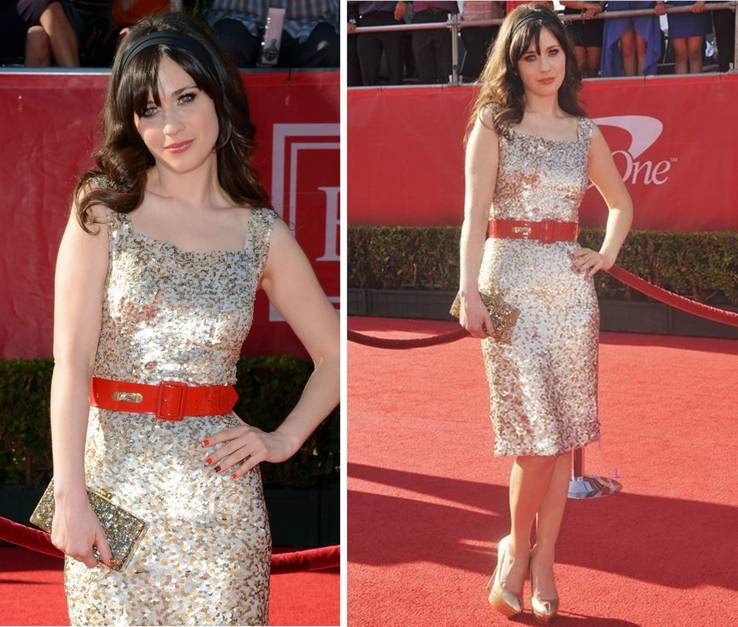 While the public generally accepts the fact that people in the professional sports arena are considered celebrities right alongside actors in Hollywood, it's the ESPY Awards that really seem to bring these two worlds together. This is the night when the sports world and the entertainment industry combine to celebrate some of the professional athletes that have really a name for themselves with the public through their deeds in and out of their prospective fields. Zooey Deschanel appeared at the Nokia Theatre in Los Angeles for the Excellence in Sports Performance Yearly Award (ESPY Awards) in 2012 and wore a dress by Oscar de la Renta. While she's known for favoring this particular designer, there were some criticisms regarding her overall look.
The dress featured a high square-cut neckline and she embellished it with a thick red belt. While the belt definitely helped to create a great waistline for her, there were some that thought the overall look was a bit overboard. From the glittering embellishment throughout the entire dress to the bright red belt to the platform heels, it definitely wasn't a look that was easily forgotten on the red carpet. She paired it off with a glittering Edie Parker clutch bag, which might have been the nail in the coffin for this over-the-top look.
9

2014 Vanity Fair Oscar Party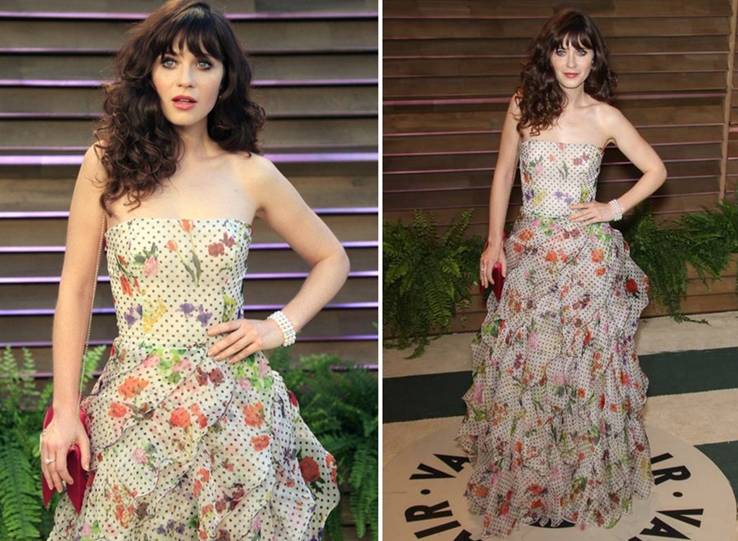 While people often get overly hung up on the actors and actresses that are nominated at various award shows and those that actually come home with the coveted award, it's more than just one big night for celebrities. There is a great deal of preparation for most starlets when attending an award show, from the designers sending in their gowns to stylists pulling various looks to ensure a favorable critique on the red carpet. Yet, it's not just about the actual award show event that celebrities look forward to with each new year. The Vanity Fair Oscar Party is something that has become a huge deal in the celebrity world and the public doesn't get to see the rich and famous when they're getting their dancing and drinking on.
The best the public can hope for is the pictures of the celebrities on the red carpet, leading up to the star-studded party. Zooey Deschanel wore this polka dot and floral number when she attended the 2014 Vanity Fair Oscar Party. This Oscar de la Renta dress was undoubtedly meant to make a bold statement since it featured practically every color under the sun in the floral pattern. Yet, the polka dot backdrop and the intense ruffles just seem to put the dress a tad overboard.
8

Yes Man Premiere Dress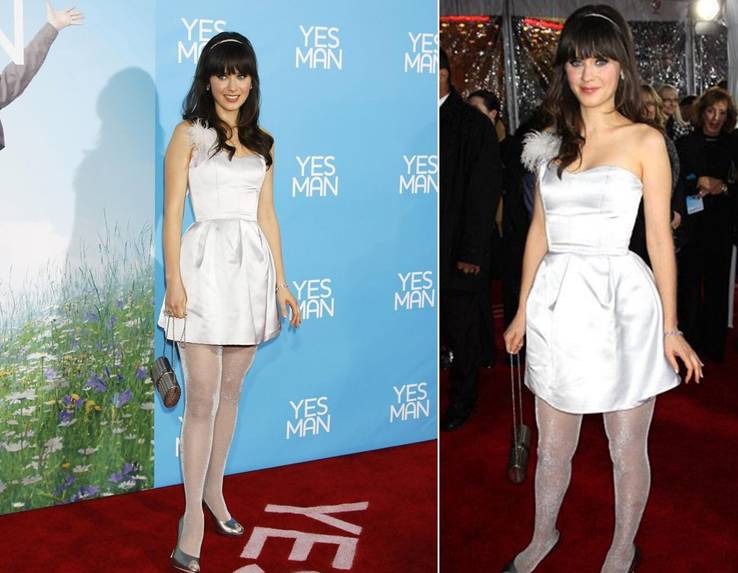 While many people know Zooey Deschanel for her role as Jessica "Jess" Day from New Girl, she's also appeared in a number of hugely successful films throughout her lengthy career. In 2008, she starred alongside Jim Carrey and Bradley Cooper for the comedy film, Yes Man. The premiere for the film was held at the Mann Village Theater in Los Angeles and she undoubtedly wanted to look her best for this Warner Bros' film premiere. She was the female lead of the film and it could have been her moment to really shine on the red carpet. Yet, not everyone was impressed with her outfit of choice. She wore a white satin dress by the designer, Erin Fetherston, which featured a sweetheart neckline with a natural waist.
The dress certainly did shine but might not have had the desired effect she had hoped. The feather accent on one side seemed like a distraction in comparison to the classic cut to the dress and the glittering tights looked like something akin to an ice skater. Some people compared it to the 2003 Golden Globe Awards when Lara Flynn Boyle got roasted over her ballerina dress look by the designer, David Cardona. While Deschanel's dress really showed off her stellar figure, the style didn't exactly win over fans.
7

Purple One-Shoulder Dress For The Grammy Awards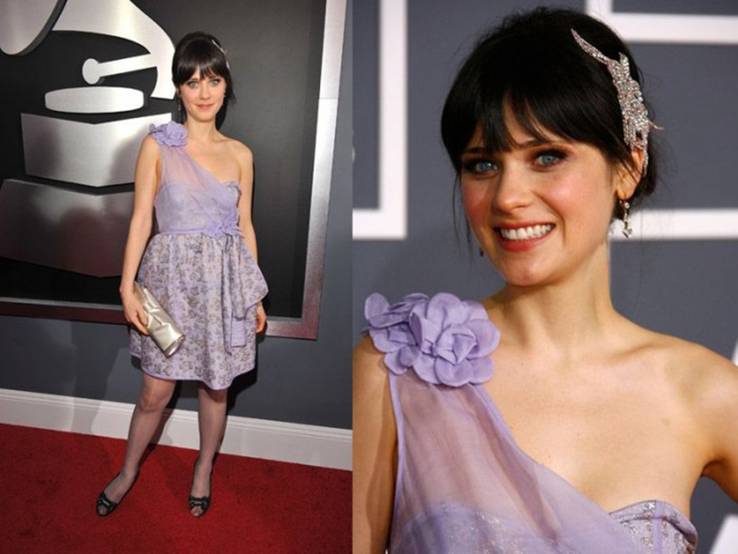 The public and celebrities alike look forward to the Grammy Awards every single year since it's a time to really celebrate the music industry. People get to see who all of the new artists are and they always enjoy the incredible live performances on stage. Yet, there is still a huge amount of attention that goes towards which celebrities will attend the Grammy Awards and what they will wear for the star-studded event. Zooey Deschanel attended the 51st Grammy Awards in 2009 and wore a dress from the Spring 2009 Collection by Luella. This was one of her more heavily criticized looks since the entire dress seemed to be ill-fitting.
The tulle overlay to the top featured loose areas that didn't huge well to her form and the sweetheart neckline seemed too far down at the bodice. While the lavender tone was a great complement to her porcelain skin tone, the pattern on the skirt left much to be desired. Celebrities are often known to choose some bolder looks when attending the Grammy Awards but this one seemed like a real misstep. The ruffle pleating at the waistline didn't do much for her figure and it seemed more like a dated look, rather than an edgier look.
6

2012 Emmy Nominee Reception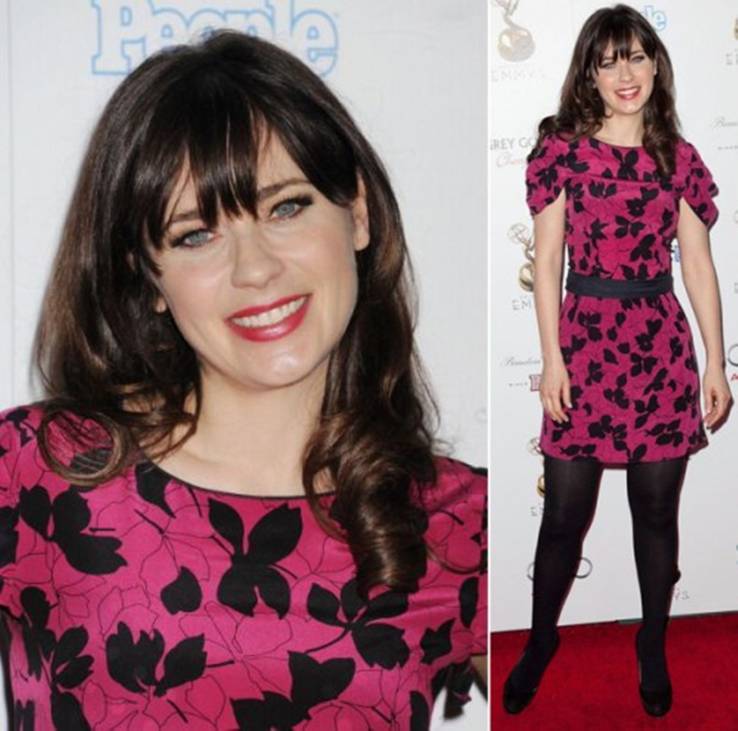 During award season, there are a number of events that the public aren't privy to when it comes to the Emmy Awards and the Oscars. While the actual award ceremonies are televised around the world and come with huge red carpet specials and televised events, there are some events leading up the actual ceremony that don't get the same amount of fanfare. Yet, there are some photos that the public sees that give a bit of insight into the lead-up to these monumental award shows. Zooey Deschanel was photographed on the red carpet at the 2012 Emmy nominee reception and the critics didn't give that many favorable comments.
She wore a tiered-sleeve dress by Nina Ricci with a natural waist cut and a black belt accented detail. The print of the dress was a mix between flowers and leaves with an abstract style and the pink and black color scheme left much to be desired. The over-accentuated cap sleeve detail had a layering that didn't flatter the cut of the dress and it seemed ill-fitting all around. There was occasional bunching at the top of the dress, which didn't exactly help with the overall look. She paired it with simple tights and black shoes and there really was no glam factor involved.
5

2013 FOX All-Star Party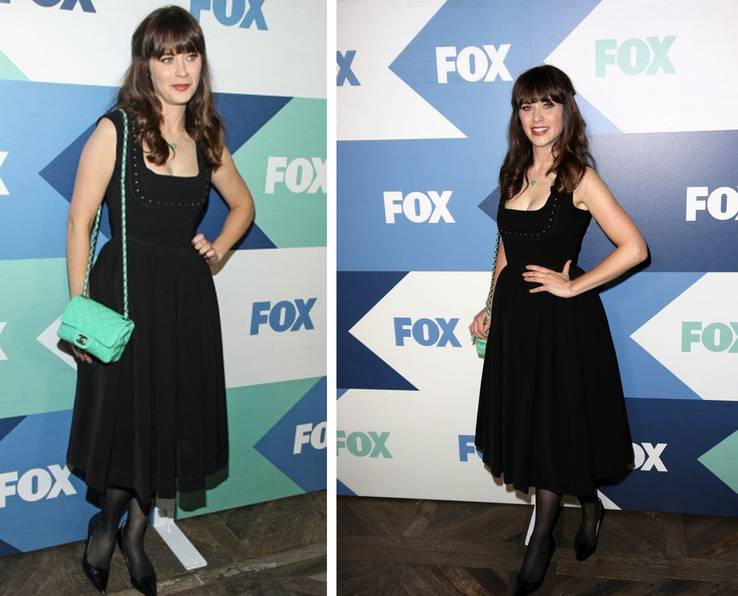 When the FOX network throws their annual TCA All-Star Party, all of its biggest stars turn out for the event. As one of the celebrated actresses from the FOX hit, New Girl, people were excited to see this comedic actress dolled up for the 2013 FOX All-Star Party. Yet, not everybody was thrilled about the ensemble she chose for the event. She wore a black Regan dress by Preen that featured a rounded square scooped neckline with a beaded detail to draw attention to her ample cleavage. It had a high natural waist cut and a loose pleat to the midi length skirt.
Some people felt like the heaviness to the material on the dress didn't seem like the best choice for the star-studded event and it wasn't made any better by the black tights and black shoes. The overall result seemed like a Halloween costume she could have worn with a stereotypical witch's hat, which have been made complete if she had held a broom. While she did have a pop of color with her Chanel bag, the accented accessory wasn't enough for everyone to get onboard with this ensemble. While she definitely looked like she had fun with her FOX costars at the party, the ensemble left something to be desired.
4

2012 Blue Emmy Award Dress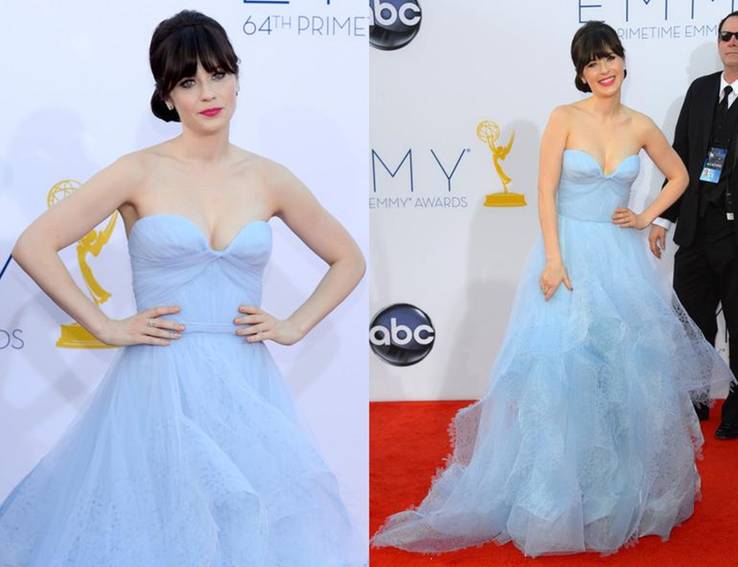 Pastel blue has always been a favorite for women looking for a feminine and dainty shade for a ball gown but it doesn't always come off in the best way. Zooey Deschanel wore this periwinkle pale blue gown when she attended the 2012 Emmy Awards. It was a custom-made ball gown by Reem Acra and featured a sweetheart neckline with a natural waist cut. Yet, the sweetheart neckline had a deep swooping cut that was more revealing than people are used to with typical Zooey Deschanel looks. With such an incredible amount of detail around the neckline and the bodice, the overflowing tulle skirt with the extraordinary amount of layers just seemed to be a bit overbearing.
While she may have been going for something ultra-dramatic and flowy for the red carpet, there were some that compared her Emmy Awards gown to something that should be seen at a high school prom. To make things even worse, the tulle accent on the full skirt had a texturized detail that not only added to the bulk of the gown but it added an extra focal point that the gown simply didn't need. While people loved the signature bangs and classically simple updo, it still didn't seem to make up for the dress.
3

2014 Met Gala In Navy Blue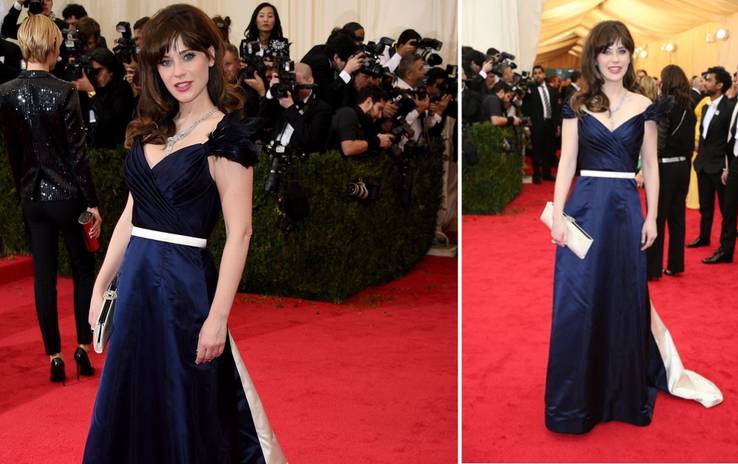 The 2014 Met Gala in New York City was focused around celebrating the American-based designer, Charles James. The Metropolitan Museum of Art had renamed itself the Anna Wintour Costume Center and celebrities came out in full force to recognize James for his best known looks in the '40s and '50s. He was known for creating ball gowns that really accentuated the curves of the female form and stars came out with their most flattering looks for the event. Yet, not everyone was pleased with Zooey Deschanel's Tommy Hilfiger look in navy blue.
The satin material of the full skirt didn't exactly hold up well and it already appeared wrinkled and misshapen when she arrived at the red carpet.
Capped sleeves are known for having a polarizing effect on fashion critics but Deschanel took it one step further by having capped sleeves with feathering details to bring even more attention to them. Yet, that wasn't the only focal point feature to the ensemble since there was a bright white belt accent that led to a train at the back of the gown. While some people enjoyed the fact that the white matched her clutch bag, others thought that it was just the nail in the coffin for this Tommy Hilfiger look.
2

2013 Met Gala Look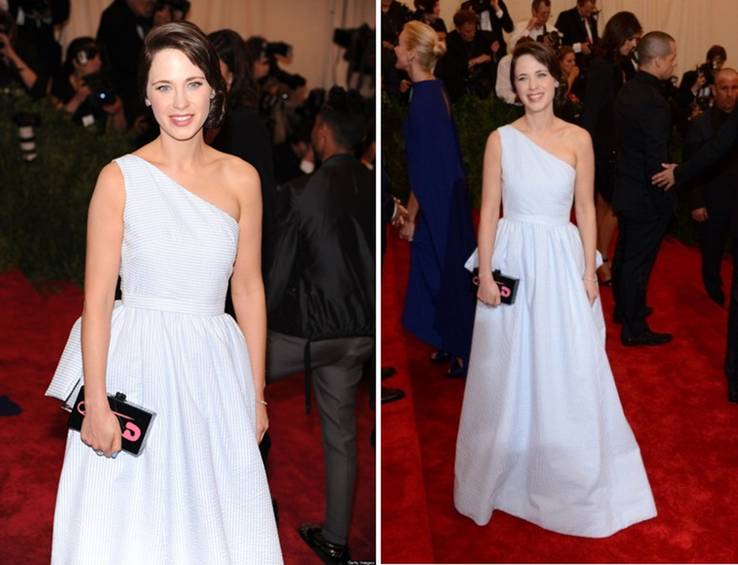 Each year, the Costume Institute Gala for the Metropolitan Museum of Art puts on a star-studded event with a coveted invitation-only red carpet pairing. This is something that celebrities really take time and effort into pulling together and an incredible amount of thought goes into what they'll wear and how they'll look for the photographers on the red carpet. At the 2013 Met Gala for the "PUNK: Chaos to Couture" exhibition, Zooey Deschanel appeared on the red carpet in a blue and white striped Tommy Hilfiger dress that many felt was far too casual for the event. The one-shoulder style could have been a bit more flattering on a different type of dress but this ultra-casual look had some people wondering whether or not she had made a conscious decision to leave the glam factor at home.
There was an accented waist and a ruffled detailing that tried to add a bit of extra appeal but it just wasn't enough for some of the fashion critics after the event. Yet, the real surprise was the fact that she didn't opt for her signature bangs for the overall look and it had some outlets putting their own digitally altered images on the Internet to include the bangs after all.
1

2012 Prada Dress At The Golden Globes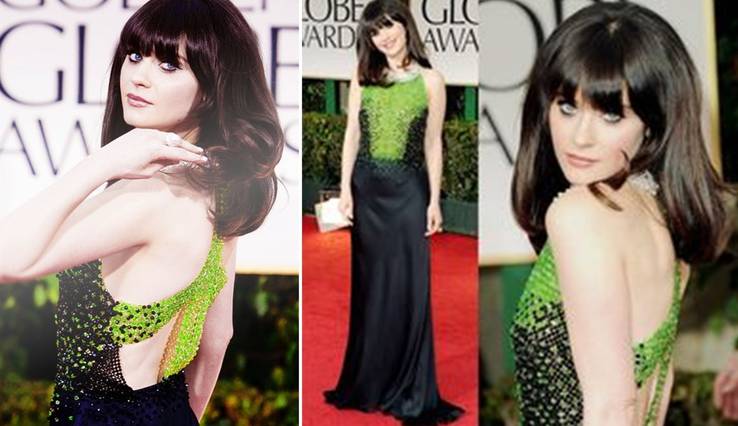 When Zooey Deschanel was nominated for Best Actress for her role in the hit TV series, New Girl, she opted for a look that not everyone agreed on as her best shining moment. While there were amazing comments about her '60s styled hair and her bold bangs that really accentuated her sparkling eyes, the dress seemed to be quite polarizing with critics. It was a custom Prada gown with a silk material that clung to the body and a myriad of different glass pearls to add a bit of color. The black and green glass pearls were set in an inlay to bring attention to the torso and the top collar featured an ivory pearl embroidered style.
She completed the look with a matching Prada clutch bag that was covered with the same emerald green glass pearls and wore Prada black satin platform pumps. Yet, some people wondered whether or not she was truly excited about her custom Prada look since she seemed far more excited about her nails. They were painted in a tuxedo style and Deschanel took the time to tweet about it before the event. The tweet read, "I am wearing a gown but my nails are wearing tuxedos!"
References: Huffington Post, Zimbio, Pop Sugar, The Gloss, Just Jared, Emmy's, Perez Hilton, Vanity Fair, Hollywood Life, People, Today, CBS News, The Daily Mail,
Source: Read Full Article