Everyone's got a favorite. You know, that muscle machine who comes complete with blasting glass, a 600-foot cliff dangling, and a punch that sends the shady guy into the middle of next week. Dwayne Johnson didn't build 107.3 million Instagram followers just by flashing smiles. The dude gets up at 3.50 a.m., clangs around 45,000 lbs of home gym equipment, and oops– finds himself somewhere on this list. No one has forgotten Scarlett Johansson's Iron Man 2 entrance. While her hand-to-hand combat with Tony Stark's trainer was 100% real, not everything about Black Widow is.
Hollywood is crawling with so-called action heroes. Unfortunately, it's also filled with something else: stunt doubles. There is literally nothing worse than walking out of an action movie, pulling out your phone, and finding that the movie's shining glory got a $20 million paycheck for doing absolutely nothing.
Stunt doubles are the industry's underdog. They can earn as little as $5,000 a year while putting their lives on the line. Did you know that Batman, James Bond, and Thor were all doubled by the same guy? Or that Suicide Squad, Mad Max: Fury Roads, Ant-Man and the Wasp and Justice League all have ONE woman to thank for the best parts? Tom Cruise, Bruce Willis, Angelina Jolie, Michelle Rodriguez, and even Captain America himself have all been awkwardly papped with a similarly-clothed, but very different person. That person will scale cliffs. Or voluntarily throw themselves off high-speed trains. What they won't do, is get much credit. Here are 20 photos of Hollywood's biggest actions stars and their stunt doubles (that might just leave fans seriously disappointed).
20

THOR'S DOUBLE IS ALSO HIS CHEF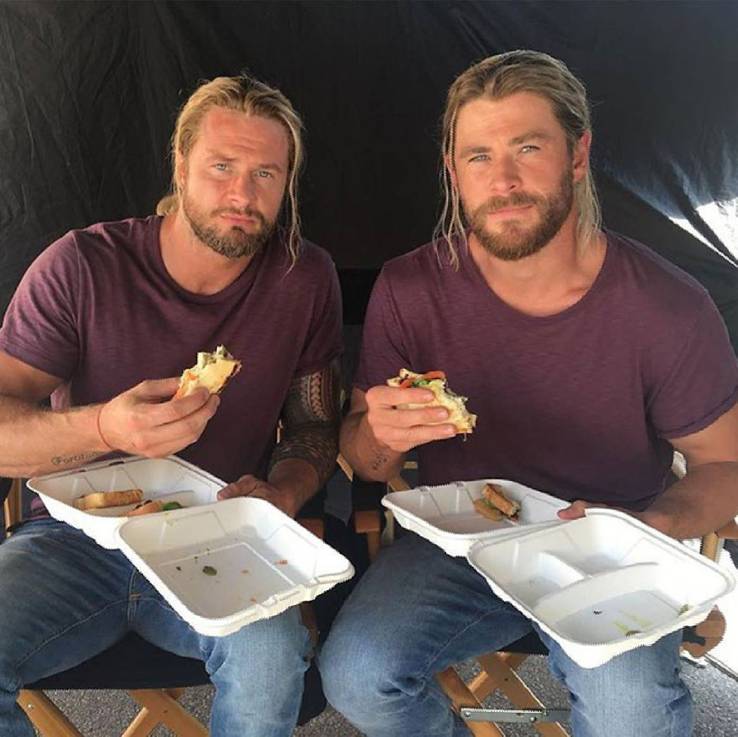 Admit it— you did a double take. Chris Hemsworth's bulging biceps and flowing blonde locks hit us with a bang in Thor, and it was clear that this guy was welcome. He's super funny, terribly adjusted to earth, and definitely in shape. Viking space gods with superpowers don't always do their own stunt work, though. What they will do, however, is sit down to lunch with their body double. These two look like peas in a pod. Here is Chris with Bobby Holland Hanton— a guy whose name you'll see when we get to Tom Cruise.
Thor's daredevil double has broken bones while filming. He is also Chris Hemsworth's personal chef. "I can't keep up with Chris' body," he said.
"I've snapped my groin clean off the bone and blew my shoulder out," Bobby told The Daily Mail. Bobby has been Thor's double since day one, and he also acts as Chris' chef. Yup. They also train together. "When filming, I train twice a day, six days a week." Big surprise, their diets are also similar. Much like Chris, Bobby starts the day with egg white omelets, followed by nuts, avocados, and healthy proteins and greens. When interviewed, Bobby only had good things to say about Chris. He described Chris as a "very down-to-earth guy" and one of the funniest people he's ever met.
19

SCARJO'S DOUBLE HAS AN INTERESTING NAME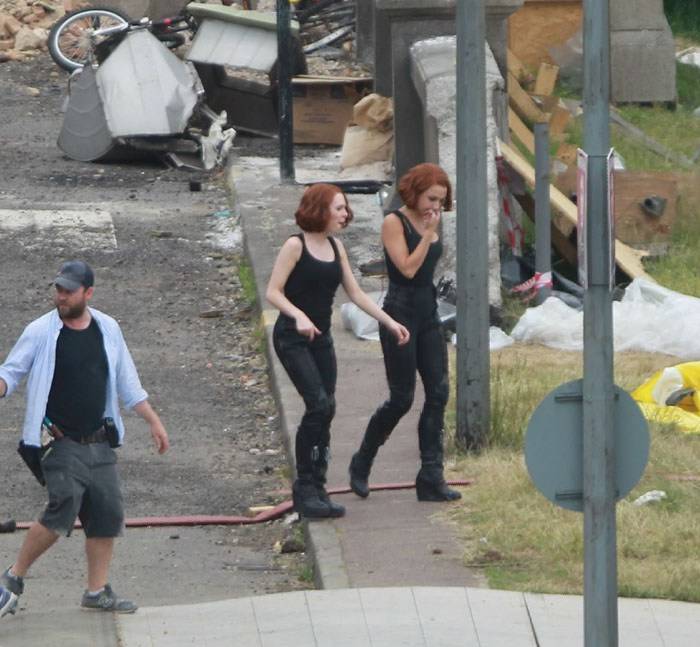 Scarlett Johansson joined the MCU with a big fat statement. Casually walking into Tony Stark's penthouse wasn't going to make a dent without Natasha Romanoff making a literal dent– and she did. The Iron Man 2 boxing ring scene was 100% real, but unfortunately, so is this pic. It's time to meet Heidi Moneymaker, ScarJo's stunt double. The difference? Heidi isn't looking at $25 million for her own Black Widow movie. The MCU didn't just pick someone with a similar frame to Scarlett's pint-sized 5ft 3 inches. They picked the industry's best. Heidi has doubled for Michelle Rodriguez in Fast & Furious, Drew Barrymore in Charlie's Angels, plus, 72 other actresses.
ScarJo's Avengers double is called Heidi Moneymaker. Her biggest fear? "Sitting behind a desk for a living."
Heidi told SyFy that she trains her gymnast physique individually for each role she does. "Black Widow's style has a lot to do with athleticism and fighting background. I like to push the envelope a little. This often ends with me on my head." 10-hour days are what Heidi pulls, although she admitted that her biggest fear would be "someone telling me I had to sit behind a desk for a living." Well, that and bees. Heidi turned down being Jennifer Aniston's double because she's allergic to bees.
18

BRAD PITT'S DOUBLE EARNED $5.87 AN HOUR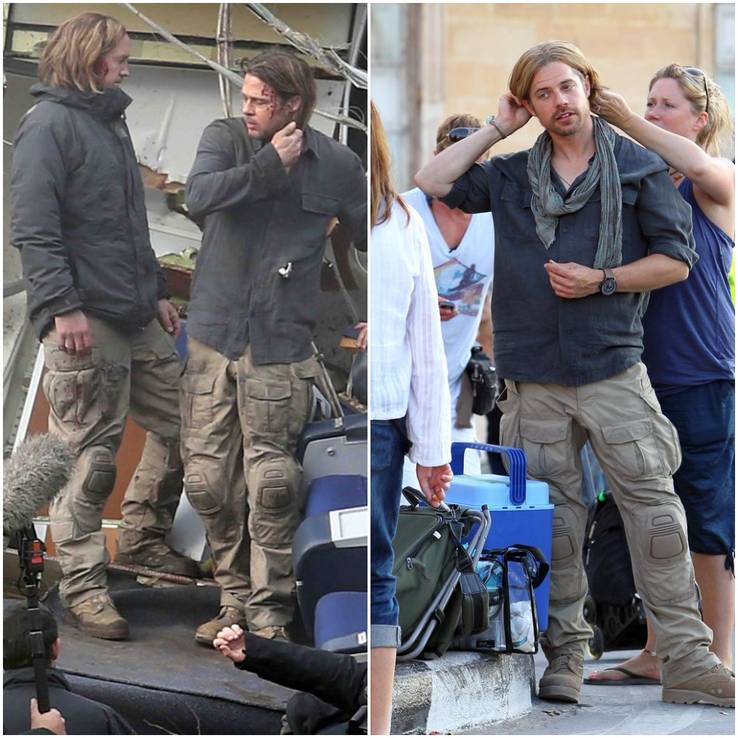 Um. We literally have no words. Brad Pitt is the kind of Hollywood heavyweight who can demand up to $20 million per movie, according to The Mirror. The world was shocked in 2013 when the newspaper reported that Brad Pitt's body double was earning $5.87 per hour. World War Z netted Brad around $14 million. Brad reportedly stayed on a five-star private estate while being flown around by private jet. His stunt double? David Paterson was starting filming at 6 a.m. and was "advised not to speak to Brad." David wasn't even invited to the premiere of the zombie horror flick.
While Brad stayed on luxury estates and earned $14 million for World War Z, his body double was earning $5.87 an hour. His double, David Paterson was advised "not to speak to Brad."
Speaking to The Mirror, David said: "I basically had to be Brad for the day and copy everything he did on screen. Brad was there the entire time, and they were filming over the course of months." He called the experience "tough," adding that he did it for the experience. "You get asked to do something like that and you can't really say no." He called Brad a "very professional guy." You probably have some other words for Brad, here.
17

DWAYNE JOHNSON GIVES HIS COUSIN CREDIT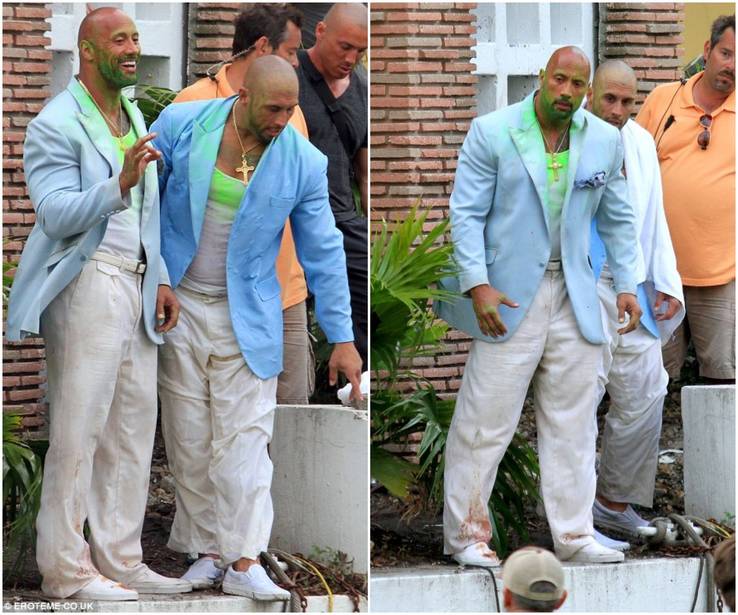 Half-man, half tank, Dwayne Johnson was #actiongoals the minute he set foot in Hollywood. 260lbs of sheer muscle, a 3.50 a.m. workout alarm, and 10 wrestling championships are what this former wrestler has to his name— plus that epic personality. Dwayne started doing movies 16 years ago, although, he has been using the same body double since The Scorpion King in 2002. "Keep it in the family" seems to be Dwayne's motto since his double is actually his cousin. Tanoai Reed is two years younger than Dwayne, but he's been racking up the stunt credits in everything from Fast & Furious to Jumanji.
"I've been a stunt double for [Dwayne] for about 16 years. Jumping off buildings, getting hit by cars. I'm 43 years old but I feel like I'm 83 sometimes."
Speaking to Scout, Tanoai said that it works really well because they have the same body type. Breaking glass and speeding cars are just part of the job for Tanoai, although, Dwayne does give his double 100% credit where it's due. Posting a selfie of the two cousins together, Dwayne wrote: "Samoan double trouble… Hollywood stuntmen and women are often unrecognized, yet so deserving." You'll spot Tanoai in Hercules, G.I. Joe, and Transformers.
16

CAPTAIN AMERICA USED SERIOUSLY ADVANCED TECH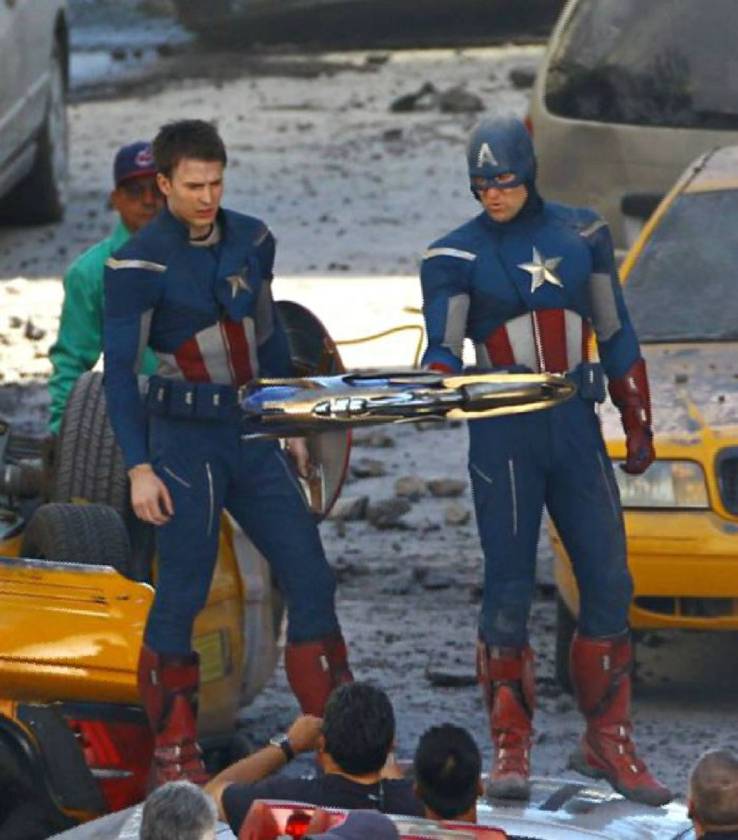 Fans knew something was up with Chris Evans from the get-go. The weedy Steve Rogers we met in Captain America: The First Avenger wasn't the Captain America we know and love, although, that is the point of being a superhero. Being injected with a Super-Soldier serum definitely made for a great plot line, but Chris underwent two physical transformations. The first was the state-of-the-art CGI that Chris told MTV was "about 80% me."
"We started out working on a bunch of different technologies. Something they threw out initially was: We're going to put your head on a smaller actor's body." Chris felt that you "need to like the little guy. I didn't feel comfortable with someone else doing the body; body is a big piece of the acting puzzle." Talk about putting your money where your mouth is.
Here is Chris, all Cap'd up, with his stunt double. "For the most part anytime, my character is moving with me," Chris said. The interview did not mention Chris' action double. Behind the cape and mask, we aren't getting a clear view of who this guy is, but we do know that his name is Sam Hargrave. The weedy Steve Rogers? That was the Shakespearean stage actor, Leander Deeny, according to The Wrap.
15

CAMERON DIAZ "REFUSES TO USE DOUBLES"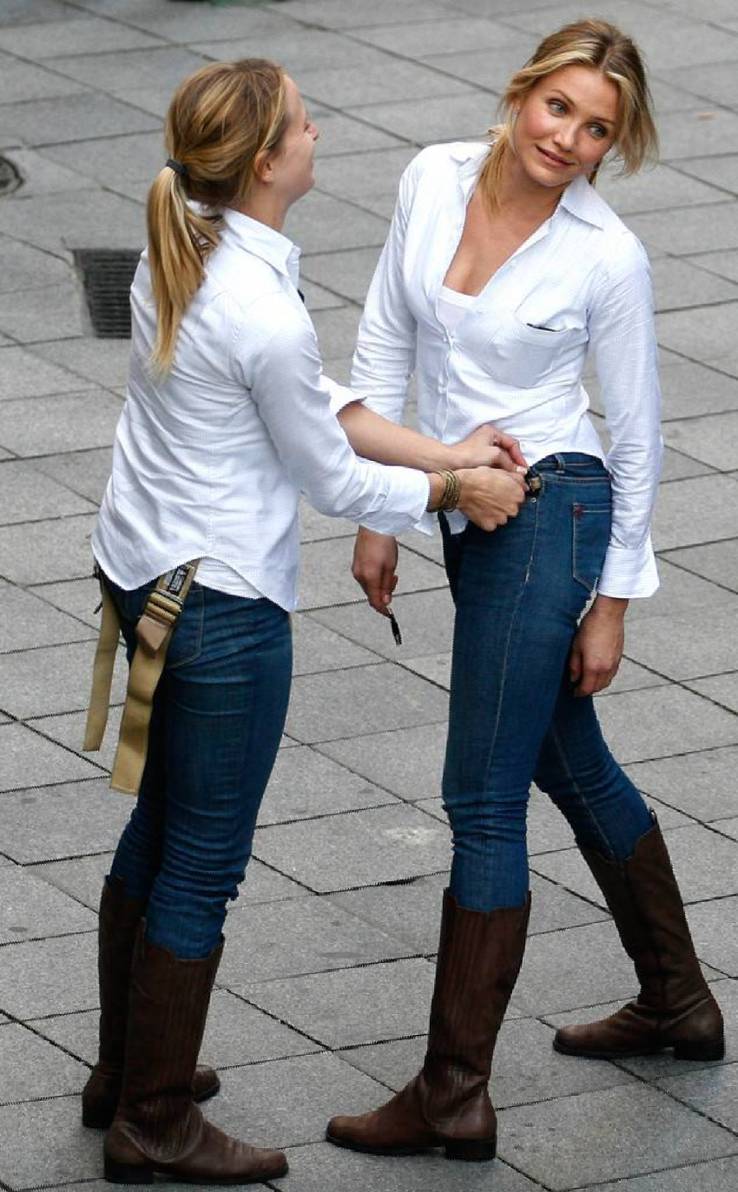 Oops. Very few actresses come out with statements as strong as "refusing to use a stunt double." Cameron Diaz, Gal Gadot, Michelle Rodriguez, Angelina Jolie, and Halle Berry have all made similar statements, but the pictures sometimes suggest otherwise. Fans were pretty disappointed when this pic from Knight and Day surfaced and there was just no arguing it— Cameron had used a double.
"I love training for fight sequences," Cameron said. Cuts and bruises are "part of the fun." Clearly, so is a stunt double…
Speaking about Cameron and Tom Cruise to The Mirror, the movie's director actually suggested that these two should be stuntmen and women full-time. "I had two actors who are incredibly gifted stunt people. Our stunt coordination could tell you that Tom or Cameron could stop acting tomorrow and start a career as a stunt person." To be fair, many actors are contractually obliged to use a double for their most dangerous stunts. Major injuries would be too risky, plus they could potentially derail the entire movie's schedule. Cameron told The Chicago Tribune that "everything comes into focus" while doing the stunt work. Nowhere, however, was there any mention of a double. Presumably, some lowly paid action heroine is seriously in need of some credit…
14

JOHNNY DEPP'S DOUBLE ENDED UP IN THE HOSPITAL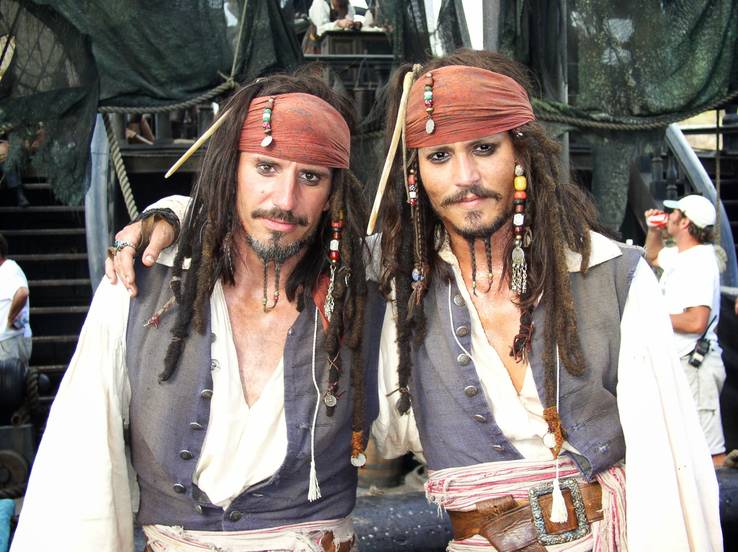 Here's one thing that everyone agrees on. Pirates of the Carribean just wouldn't be what it is without Johnny Depp. That signature Depp quirk made Captain Jack Sparrow— every raised eyebrow and razor-sharp comment: "Not all treasure is silver and gold, mate." With the highest budget of all time at a staggering $378.5 million, we can't help but wonder how much of that cash went towards eyeliner in Pirates of the Caribbean: On Stranger Tides. That said, we've seen stranger things. Like this pic.
It's time to meet Tony Angelotti, Johnny Depp's very loyal (and very convincing) stunt double. Tony is one of the pros. His resume includes Batman Forever, The Amazing Spider-Man, The Mask of Zorro, and every PotC movie ever. You've gotta admit, he's pretty spot-on. The maroon bandana, dingy brown coat, and extravagant hairpiece are 100%, Jack Sparrow. For Tony though, who sustained serious injuries while filming, the partnership also comes with a lawsuit.
In 2007, LA Times reported that Johnny's stunt double was suing the Walt Disney Co. after a "human yo-yo stunt" landed Tony in the hospital. After being released from a 40-foot crane to perform five "roll-out turns," Tony "jackknifed." He fractured his pelvis and arteries and even suffered internal bleeding. If you thought it was all Mr.Depp…
Featured Today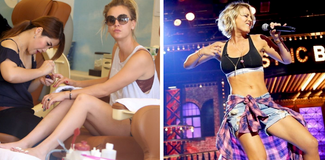 20 Reasons Big Bang Fans Are Over Kaley Cuoco

25 Reasons Why Marvel Characters Outshine DC Characters

15 Actors Who Turned Down Iconic Movie Roles (And Still Regret It)

13

HARLEY QUINN HAS HER TWIN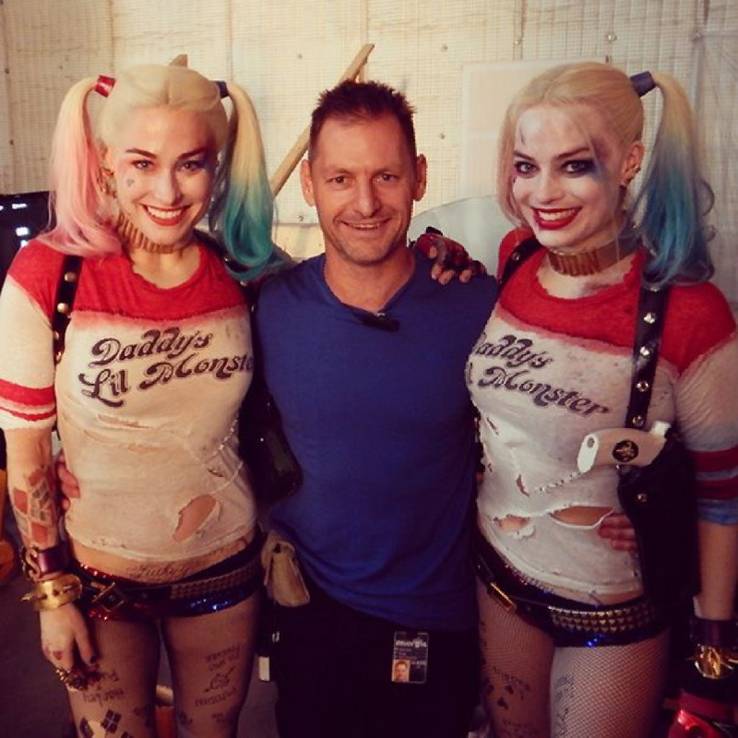 You can't always be the superhero— sometimes, you're the super-villain. Suicide Squad gave us one of the most colorful (and crazy) villains we've ever seen. Harley Quinn sips from little espresso cups, licks her lips, and gets progressively more insane by the minute. When The Telegraph asked Margot Robbie to sum Harley Quinn up in three words, they were: "creepy, violent, crazy."
The movie's producer wanted it "on the record" that Margot did most of the action herself. "Her double sat and watched."
"Her body double sat in a chair and watched," is what Richard Suckle and Andy Horwitz (the producers) had to say. Margot did later reveal that the most dangerous stunts were left to a professional— and here she is. Ingrid Kleinig fell into the world of stunts while performing 140ft above the arena in the Opening Ceremony of the 2000 Olympic Games.
Wipe off the garish makeup though, and you're looking at one of the most-versatile stunt doubles in the industry. Ingrid has stepped up to the plate for some of the biggest action faces around. She was Margot's double in The Legend of Tarzan. Her name is also credited in Ghost In A Shell, Ant-Man and the Wasp, and Justice League. Margot was brave enough to pose alongside her, though.
12

FALCON HAS LANDED
Casting Falcon came with a handful. Getting your hands on a former United States Air Force pararescue airman is pretty hard going in itself. To quote Falcon himself: "I just wanna make sure we consider all our options. People who shoot at you usually wind up shooting me." This could literally be the case looking at this pic, where Anthony Mackie and his stunt double basically look like the same person. These two were hard at work on the set of Captain America: Civil War, which was filmed in Atlanta, Georgia.
The lens was already on Anthony in 8 mile— yup, he starred alongside Eminem in the rapper's biographical movie. We saw Anthony in Million Dollar Baby in 2004. Anthony really shot into the limelight with his MCU landing in 2014, though. Falcon arrived in Captain America: The Winter Soldier, and he's been with us ever since.
In March 2018, Anthony and his Avengers: Infinity War co-star, Sebastian Stan shared some thoughts with ScreenRant. Particularly, about filming in Scotland, which Anthony summed up pretty simply. "Tore it up. Scotland will never be the same. Believe me," he added, "everywhere I went, everybody knew where I was. Everywhere I went… Just like Where's Waldo." Well, if you're going to march around with this guy following you…
11

MAKING US QUESTION MISSION IMPOSSIBLE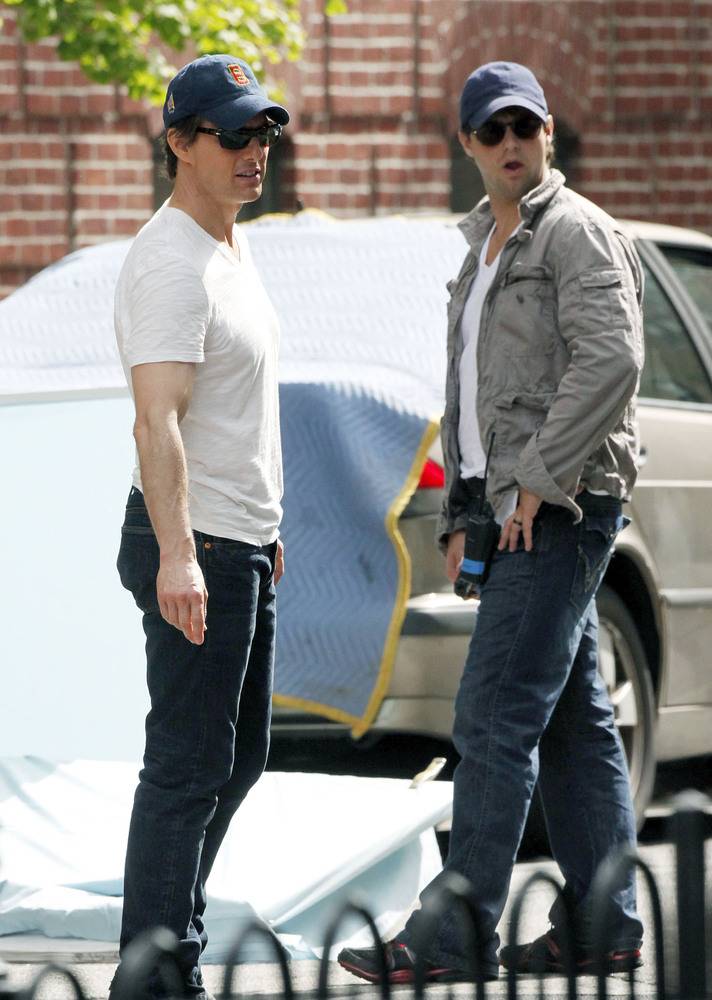 For every new kid on the block in Hollywood, there's a Tom Cruise to answer to. The Mission Impossible actor has earned his status fair and square as one of action's biggest heros— free-falling and scaling the world's tallest Burj Khalifa building in Dubai will do that. In Misson: Impossible, Tom was getting the producers worried about the 16 tons of water and shattering glass in the fish tank stunt. In Mission: Impossible 2, Tom's knife fighting landed him with a blade to the eye.
In Minority Report, Tom was high-speed chasing a futuristic sequence complete with wires, 80-foot rigs, and 1.3 miles of cable. He had the producers "worried."
The list basically goes on to make Tom Cruise what he is— Hollywood's biggest action face. $50 million is what Tom was reported to earn for just one of the Mission Impossible movies, according to People. And we're going to imagine that not much of it went to… you guessed it— his stunt double, Bobby Holland Hanton. For Knight and Day, where Tom starred alongside Cameron Diaz, these two were as bad as each other.
Tom and Cameron jointly interviewed with The Chicago Tribune, but not one of them mentioned their body doubles. We've already got two pics proving that doubles were lurking around on-set. Tom talked about being "full tilt." We know that he is in Mission Impossible: Fallout. With this pic, though, we're wondering how much of it is Tom.
10

ANGELINA JOLIE HAS A LOT TO ANSWER TO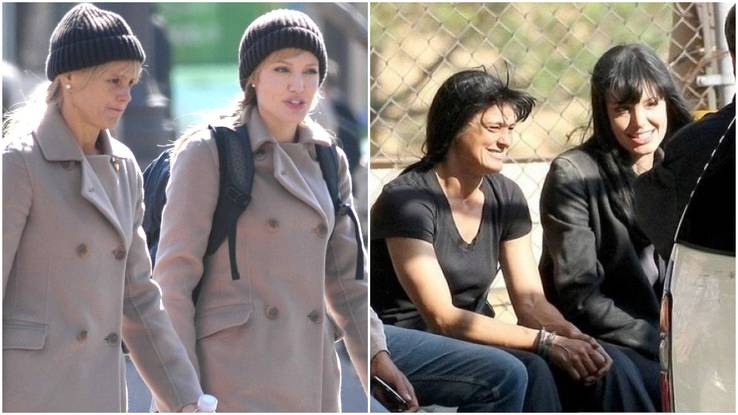 Angelina Jolie basically built her career on being a "one-woman show." The fearless actress is known for doing her own stunt work— and we've seen plenty of it. Here's the thing, though. Right from the start with Lara Croft: Tomb Raider, Angelina has been using doubles, just like the rest of them. Ange may do more of her stuntwork than other actresses, but pics like these aren't adding up to her statements. Here she is with Janene Carleton on the set of the thriller, Salt. Even the motorcycle scenes from there have their Janene double pics.
Angie's double has also covered Jessica Biel in Total Recall. She personally "prefers" Jessica over Angie, when it comes to work.
Angelina's trainer has said that Angie "performs 99% of her own stunts." Meanwhile, Angie gives interviews about her courageous action roles. 99%? That's not possible. With a motorcycle scene of Ange and her double and these blonde and black wig scenes, the percentage of "real Angie" might be high, but it's not that high. Speaking to Cosmopolitan, Angie's double said that her toughest stunt was being "set on fire then wrapping my arms around another stuntman and lighting him on fire as well." Her favorite actress to double isn't Angie, though. It's Jessica Biel.
9

JAMES BOND'S DOUBLE LANDS HIMSELF PRANK WARS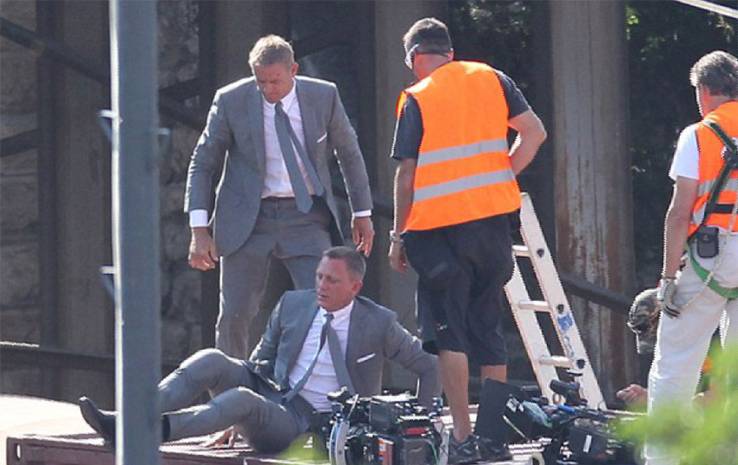 With a license to kill, one eye on the ball (and the other on the ladies), James Bond is one of the greatest action icons in movie history. The 007 spy has been played by Sean Connery and Pierce Brosnan, although, we've had Daniel Craig and his icy-blue eyes since 2006, with Casino Royale. James Bond is the suave action hero who is literally a member of Her Majesty's Secret Service. No amount of church spire scalings, underground vault chasings, or speeding along the River Thames will exhaust this character. Except that it isn't always Daniel Craig we're seeing. It's his double Ben Cooke, who spoke to Urban Daddy.
Daniel Craig's double has broken "maybe like six or seven bones." He found Quantum of Solace to be "fun." He enjoys the "bomb stuff," but it's the pranks that make it the most fun.
Ben got into stunt work over 25 years ago. He's covered for actors in Snow White and the Huntsmen, Thor: The Dark World, The Legend of Zorro, plus the Harry Potter and The Lord of the Rings series. Prank wars are Ben's other strength, though. "On Quantum of Solace, some floor managers photoshopped me and Daniel in mankinis. They were a size too small. It was awful," he said.
8

J-LO'S DOUBLE IS A MAN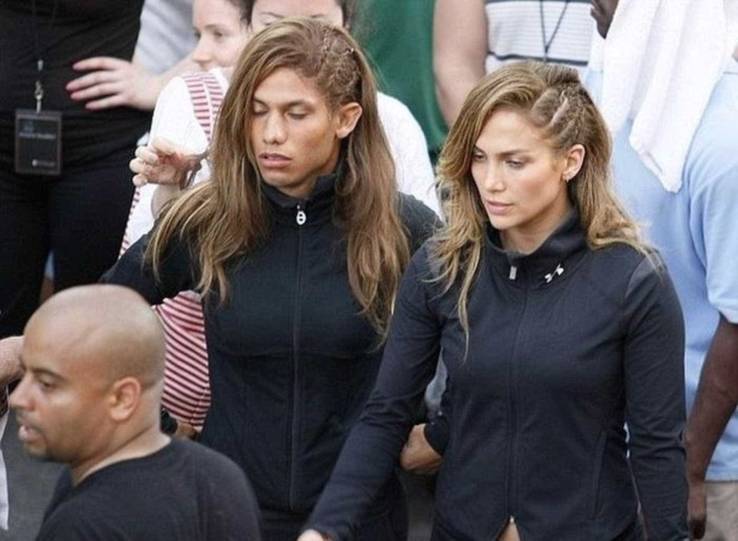 Between her $20 million American Idol fee and record-breaking music sales, you'd think that Jennifer Lopez has enough on her plate. This Latina singer comes with an appetite, though. For all the singers-turned-actresses, J-Lo is actually pretty respected— more than Britney Spears in Crossroads, anyway. J-Lo probably didn't need doubles for her rom-com movies, Maid In Manhattan and The Wedding Planner, but she's dabbled in action. What she's also dabbled in, is a double.
J-Lo writes songs called "I'm Real." Her stunt double in her "Follow The Leader" music video was actually a man. Jenny From The Block also used a double for Shades of Blue.
Jen isn't above doing a cop drama, and Shades of Blue did pretty well. Given her stunt doubles' eerily-similar bone structure, hair braids, and clothing though, the producers picked nicely. Still, it's disappointing. Jennifer Lopez is one of the industry's most-energetic dancers. To see her on-set with a double, knowing that none of the action scenes are actually Jen is a bit of a downer. To top it off, The Daily Mail reported that Jen spent most of her Shades of Blue set time "strolling around sipping coffees" with A-Rod. Stick to your strengths, Jen…
7

AN AWKWARD CUMBERBATCH MOMENT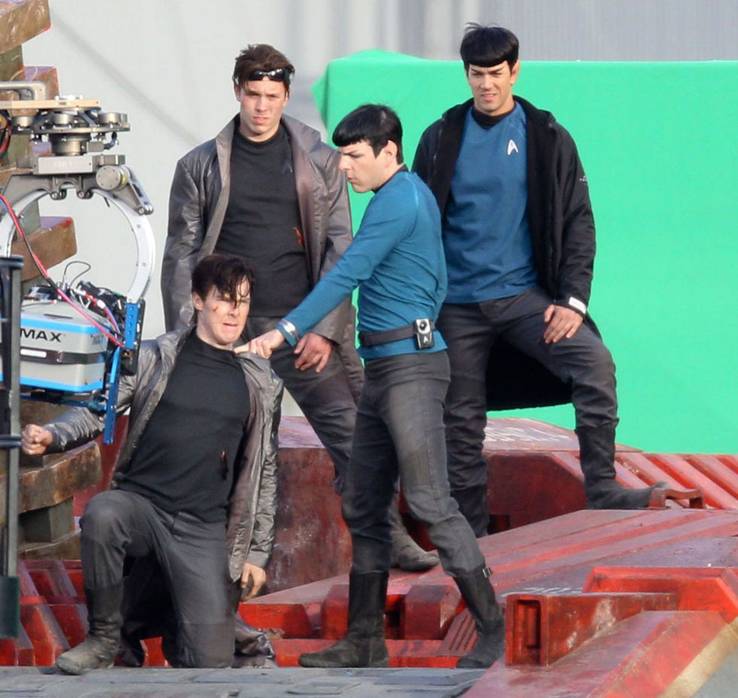 Benedict Cumberbatch mostly handles his awkward moments with his greatest asset— humor. His 2009 nature documentary on penguins ended up as one giant embarrassment— Benedict didn't once pronounce the word "penguin" correctly. Still, he was brave enough to go on a UK talk show and accept the endless jokes. FYI, that video is literally hilarious. "Pengling," and "Pengwing" are just some of Benedict's attempts for the hilariously failed Penguins of Madagascar doc, but this pic is telling a different story. Benedict has many strings to his bow. The Sherlock actor is now a major Avengers face, although, we haven't forgotten his 2013 movie, Star Trek into the Darkness.
Benedict Cumberbatch's double has been dropped on crane-suspended wires and bungee-jumped for the actor– even in Sherlock.
Maybe Ben didn't quite know what he was doing. Maybe his contract stipulated that he needed a double. Either way, Benedict was doubled by a stuntman. He also used one for Sherlock, according to The Daily Mail. When the newspaper announced that "Benedict Cumberbatch's body double is to play Doctor Strange in Avengers," it all started to add up.
In 2014, Radio Times even ran a whole story on Benedict's Sherlock double. Dramatic plunges from the roof of St.Bart's Hospital? Not Benedict, but Will Willoughby. Will's stunt portfolio includes Game of Thrones, The Martian, and Jurassic World: Fallen Kingdom.
6

MEGAN FOX IS QUITE THE TRANSFORMER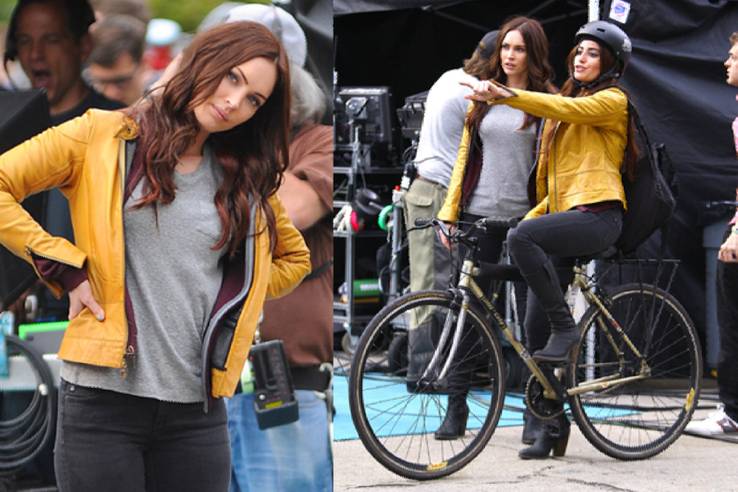 Oh, look. Another so-called action actress who has found herself being papped with her on-set double. Megan Fox made a name for herself in Hollywood for two reasons. #1 Being a somewhat downgraded version of Angelina Jolie. #2 A string of fast-paced action movies with lots of running around, speeding cars, and bicycles. The Teenage Mutant Ninja Turtles actress is equally known for her Transformers roles— talk about a transformation, though.
Megan was more than happy to give a ton of interviews on how she filmed "all her own stunts" for Ninja Turtles while pregnant. What she wasn't doing much of, is mentioning her stunt double. And yes, they have names. Megan's double for Transformers is Stacey Carino.
"When I submitted my information to double Megan, I had no clue what size Megan was. I knew who she was from IMDB, but I had no idea what she looked like in person. Skill-wise, the stunts that I've done in the Transformers movies, other than the motorcycle riding and the Vespa riding, are pretty much all-around. Some wirework, big explosions, and just running and jumping and falling," Stacey told Vanity Fair. Stacey called Megan "a trooper" for the desert running (which Megan did herself). The rest? That's less confirmed.
5

JESSICA JONES IS DOUBLE TROUBLE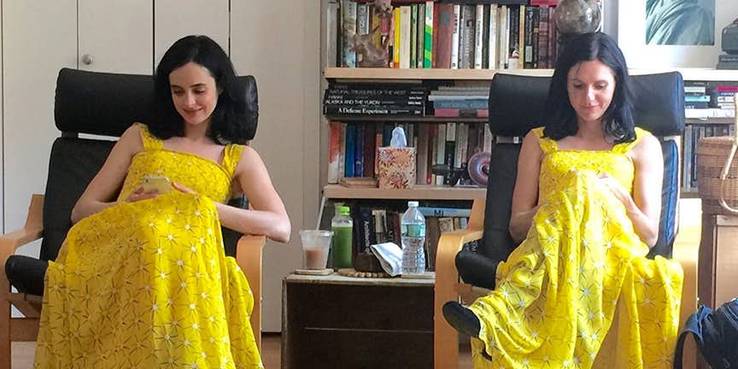 You've got to admit— the fight scenes from Jessica Jones are pretty awesome. Krysten Ritter arrived on the MCU TV series as a private investigator with a pulse. After the college years and dull office jobs, Jessica Jones became a fully-fledged, binge-worthy superheroine, with a powerful man to match. Oh, and a minor detail. That body double of hers. Jessica smashing up bars with hand-to-hand combat? You might want to look a little closer. Krysten's double has been following her around since the Daredevil series.
Jessica Jones' doppelgänger and secret weapon double is a mom-of-five. Her stunt resume includes Orange Is the New Black and Daredevil.
There's a whole lot of power behind Dejay Roestenberg, who has been doubling for Krysten Ritter for a while now. Krysten herself has said: "People often come up to me and say they feel deeply, personally connected to Jessica." When her double spoke to Games Radar, she said that being Jessica Jones has been "completely life-changing." Krysten was, of course, famously in the TV series, Breaking Bad. Krysten's double? Her resume is as surprising as it is impressive. Dejay's work has featured in Orange Is the New Black, Gotham, John Wick: Chapter 2, and House of Cards.
4

SPIDER-MAN'S DOUBLE WANTS TO BE WOLVERINE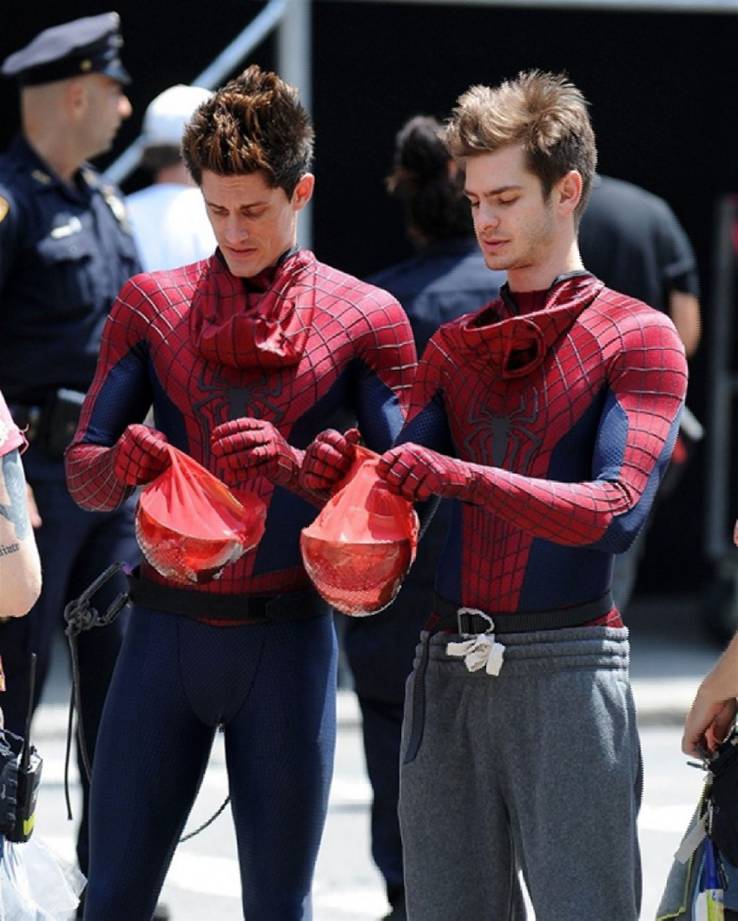 Andrew Garfield doesn't spend much time showing his face. The Amazing Spider-Man actor has been perfecting his Peter Parker role since 2012, although, like everyone else on this list, he doesn't come without a double. Andrew's double is a really awesome guy. William R. Spencer is a skateboarder and parkour pro from Texas, who moved to California with "no clue" about what to do with his life. In an AMA (Ask Me Anything) interview with Reddit, fans got to ask Spider-Man's double whatever they wanted. And they got their answers.
"I moved to California. I didn't know what I wanted to do," Will wrote. "Because I'm such a weird guy, an anomaly within skateboarding, I was like: Why waste time trying to be accepted by something that maybe is not as fun as it is harsh?" His favorite pizza topping is green olives. When a Redditor asked him which superhero he would play if given the choice, Will said: "Wolverine." Will landed the Spider-Man audition after hearing that the producers were hunting around for a stuntman. They came across Will and were like: "You should check out THIS guy!" Will added that Andrew was amazing to work with, calling him "super nice." Will has been a daredevil since he was a kid, back when he was jumping off rooftops.
3

DRAX HAS HIS OWN GUARDIAN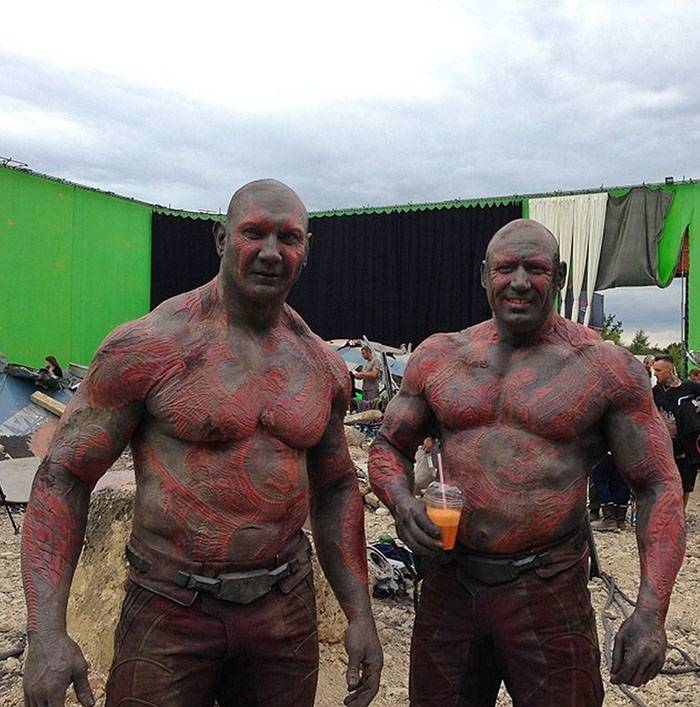 Chris Evans, we can forgive. But when you're a retired professional wrestler, mixed martial artist, and bodybuilder like Dave Bautista, it turns a little more disappointing. Posing here with his stunt double, Dave isn't hitting the bottom of the barrel though— Brad Pitt kind of won that one earlier up. Dave has been in the acting world since 2006. Not surprisingly, he stars in movies like The Man with the Iron Fists, James Bond's, Spectre, and Blade Runner 2049. For the Avengers franchise, Dave is Drax— personally recruited by Star-Lord and allying alongside a resurrected Thanos into the alternate reality known as the "Cancerverse."
Super-human strength, stamina, and resistance to physical injury are just some of Drax's powers. So is having a body double, though. Rob de Groot has been in the industry for years. The Dutch stuntman basically has a list of credits as long as your arm (or as many championships wins as Dave has).
Rob's insanely impressive resume includes being Dave's double in Blade Runner 2049, Enter The Warriors Gate, and all of his Avengers roles. Think that's it? Rob's stunt performances span Game of Thrones, Assassin's Creed, 007 Spectre (again, as Dave's double). Not surprisingly, this guy's name is floating around the 2019 Untitled Avengers Movie.
2

TOM HARDY'S DOUBLE HAS A GIANT LADIES FANBASE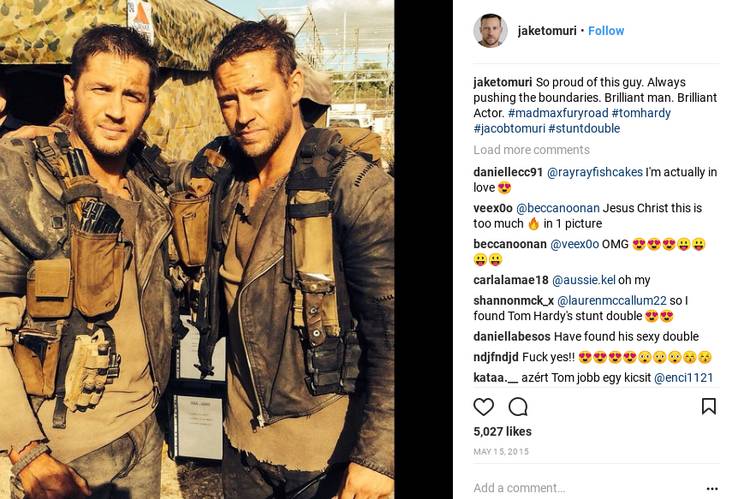 Here's something you don't see making headlines. A stunt double good-looking enough to have his own fanbase. Tom Hardy has been a bonafide action superstar for, like, ever. The Mad Max: Fury Road star has fought his way through The Dark Knight Rises, Inception, and the TV show, Peaky Blinders. Here's Tom with his dopplegänger and back-up, Jacob Tomuri. Same devilish good looks, same manly beard, same captivating gaze.
@jacob_tomuri has been Tom Hardy's double in Legend, Mad Max: Fury Road, and The Revenant. Big surprise, the ladies love him.
According to Jacob's Instagram account (which has a ton of videos of him doing stunts), he's a complete and fearless daredevil. But Jacob isn't above giving the own actor props like this post did. When British tabloids posted pics of Jacob with a sawn-off shotgun, the world learned that Jacob is an actor as well as a stunt performer. "I always dreamed of this career and I was always ambitious," Jacob told The New Zealand Herald. "I got a call saying: I just saw some photos of you and you're a good match for Tom Hardy for Mad Max," he added. The crew flew Jacob right out to Namibia for filming. Jacob's other stuff? Being Tom's double in The Revenant, Legend, plus The Lord of the Rings franchise.
1

KATE BECKINSALE'S DOUBLE LOOKS LIKE HER TWIN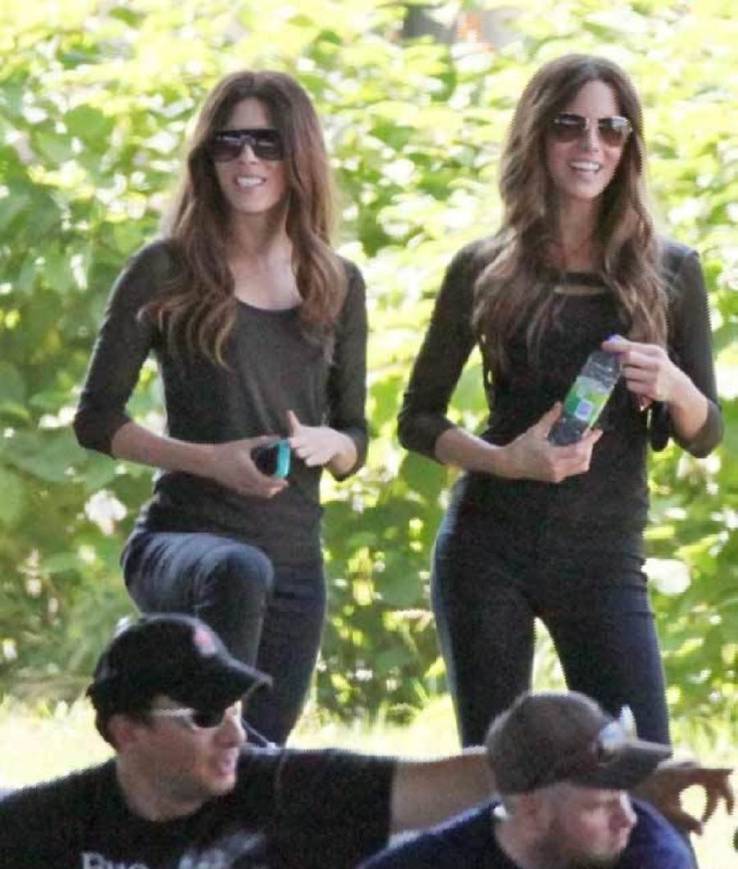 Kate Beckinsale is an A-Lister with an impeccable track record— except that teeny tiny detail. The fact that she's got a body double. The Daily Mail papped Kate on the set of Total Recall here with Alicia Vela-Bailey, her stunt double. Kate's action portfolio is pretty impressive. The Underworld actress has been battling some form of giant obstacle ever since Pearl Harbor in 2001. But she's getting a helping hand.
Alicia has pulled stunts in everything from Underworld to Marvel's Most Wanted. Enjoying the Toronto sunshine here with Kate, it's nice to see them smiling— but you can't deny that it's a tiny bit disappointing. Alicia has doubled for major actresses in Wonder Woman, Batman v Superman, and Agents of S.H.I.E.L.D. On the plus side, Alicia has managed to get an acting career of her own. Kate herself hasn't openly spoken about body doubles. In an interview with The Daily Telegraph, Kate said that her Underworld role helped her "gain confidence and strength." Hmm. Except when it's someone else pulling off all the strength work.
Seriously. How did Angelina, Tom Cruise, Tom Hardy, Cameron Diaz, and 16 others work their way onto this list? The worst thing about it? There's more of them out there. Bruce Willis, Michael Fassbender, Mark Wahlberg, Michelle Rodriguez, and Zoe Saldana all have doubles, too. Now it's over to you— these celebs might fear the Facebook share button, but it's there for a reason…
Source: Read Full Article