The most coveted trophy in American racing will be trackside as Justify attempts to complete the Triple Crown in the Belmont Stakes on Sunday morning, but the ownership of the all-American hero has its foundations in Australia.
Justify is the latest star from the partnership of WinStar Farm, the China Horse Club and SF Bloodstock, a group put together by Newgate Farm's Henry Field to buy stallion Dissident, an Australian horse of the year in 2015.
Triple Crown chaser: Trainer Bob Baffert leads Justify to his box box at Belmont racecourse.
The group has spent up to $8 million in the Australian yearling market for the past few years and had success with group 1 winners Invader and Russian Revolution.
Justify has followed that tradition and  carried the WinStar silks to victory in the Kentucky Derby and Preakness Stakes in the past month  but, without the talent of Field and his eye for a horse, the group might not have purchased the colt two years ago.
The buying team, including the China Horse Club's Michael Wallace, sat down with their list at the Keeneland Sales.
"It was the first time Henry came to the Keeneland Sales with us, after the success in Australia, and Justify was the first horse we bought as a group in America," SF Bloodstock's Tom Ryan said.
"We bought him because of Henry. He was adamant that we buy him. He was hip number 50 of a more than 3000 horse sale.
"He had failed a couple of vets, but our vet was happy enough to buy him and we paid $500,000."
It is a purchase that has already been returned many times over, before the lucrative stud career that will follow when Justify has finished racing.  Yet for Field, finding a Triple Crown winner will not be the pinnacle of his career.
"When we bought into Capitalist with SF and he won the Golden Slipper, that was my dream," Field said. "I grew up with the Golden Slipper, but the Triple Crown is huge and of course you hear about it, but you dream of this.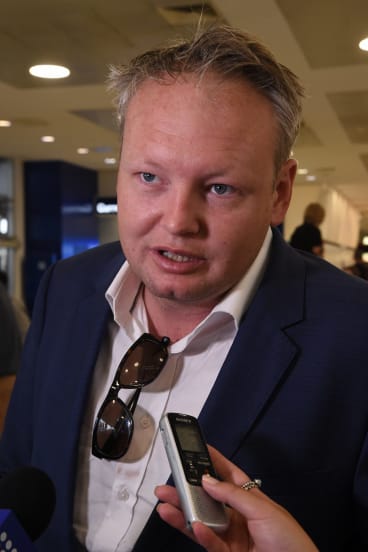 Caught the eye: Newgate Farm boss Henry Field fell in love with Justify at Keeneland Sales.
"It has been a great partnership, which started back with Dissident. It has taken us to a lot of different places, and now we are in New York.
"It is huge to have a horse in this position."
SF Bloodstock on-sold its racing rights to Head of Plains Partners and Starlight Racing, but Field was not going to miss watching Justify's shot at becoming the 13th Triple Crown winner and only the second unbeaten one following Seattle Slew in 1977.
Justify has defied history in his five-race unbeaten run, beating the dreaded Curse of Apollo as the first horse since 1882 to win the Derby without having raced as a two-year-old. "He is writing his own history every time he steps out," Field said. "To be a part of his career is exciting." Justify will race in the China Horse Club silks at Belmont on Sunday and has pleased trainer Bob Baffert since arriving at the New York track earlier in the week for the 150th Belmont Stakes.
"He just floated over this track. He was happy. He was aggressive,'' Baffert said after a workout.
"He was just getting over the track really well. He couldn't have looked any better coming around there. He looks like a horse that is flourishing."
Baffert is not worried about Justify completing the Triple Crown in his first preparation.
"Six races is a lot, but we've seen that he thrives on it,'' he said. "The way he's built, his muscles, you could see he's just a big, strong, powerful horse. He's just a muscled-up, strong athlete.
"I just want to see him run his race. If he runs his race, he's just a superior animal. I want him to show up, that's all. I'm focusing on if he shows up, if he's good enough, he'll get it done."
While Justify is the centre of attention, the WinStar, China Horse Club and SF group will move to Royal Ascot later in the month with another group 1 winner, Yoshida, which won the Turf Classic during the Derby meeting at Churchill Downs.
"He is going to run in the Queen Anne Stakes at Royal Ascot, and we would like to bring him out to the Cox Plate," Field said. "It depends how he goes at Royal Ascot, but we love racing on the biggest stages and it would be fun to take on Winx."
Source: Read Full Article