Canberra teenager Darby Whiteley has started her collegiate career on scholarship in America, but the winger has vowed to bring her talents back to the capital one day.
Whiteley, 18, has come up through the ranks at the Monaro Panthers and has aspirations to play in the W-League when she returns to Canberra.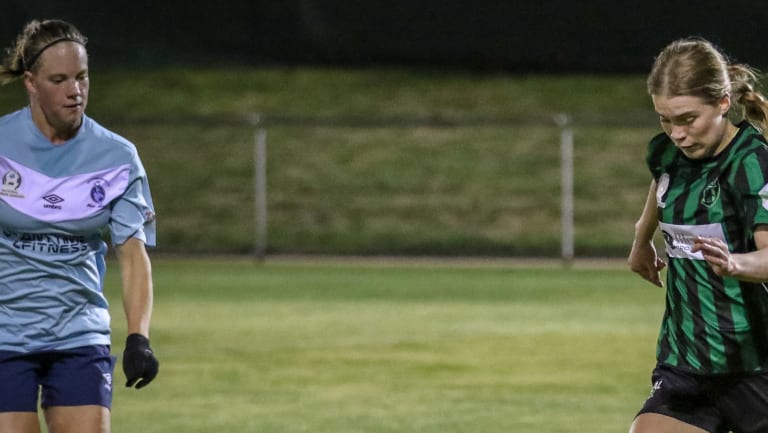 Darby Whiteley in action for the Monaro Panthers against Belconnen United.
Most footballers aim to play in the European ranks but Whiteley said her priority is to come home and become a role model in the Australian top flight.
"I would like to play in the W-League back home and be that role model like [Monaro teammate] Meg McLaughlin and [Canberra United players] Grace Gill and Caitlin Munoz," Whiteley said.
"It's something that has always been on my mind, watching the W-League as I've grown up. I guess now that I'm playing college soccer, it is something within my grasp."
Whiteley will play for Laramie County Community College in the National Junior College Athletic Association.
She made her first-grade debut as a 14-year-old and Whiteley said she'll draw on her experience with the Panthers while playing stateside.
"It is a different style of football [in America], it's a lot more physical over here," Whiteley said.
"Playing against the older girls when I was growing up, I have got used to players being bigger than me and stronger than me, but I use my other attributes like my speed to my advantage.
"It will be good to see how that translates over here and the knowledge I have learnt from Australian football and see if that will help the girls a little bit."
Whiteley is studying health sciences while abroad and has set the bar high on and off the pitch.
"Get a degree and play high quality football. I'd like to think that I can make any of the All-American sides, that's a goal at the top of my list," Whiteley said.
Source: Read Full Article