Nathan Brown suspects he is doing Canterbury a favour by handing Nick Meaney his NRL debut against the Parramatta Eels at McDonald Jones Stadium on Friday night.
With Meaney knocking back an offer to re-sign with the Knights and instead linking with the Bulldogs on a three-year deal, the Newcastle coach could easily have overlooked the 20-year-old when he was looking for a replacement for the injured Kalyn Ponga.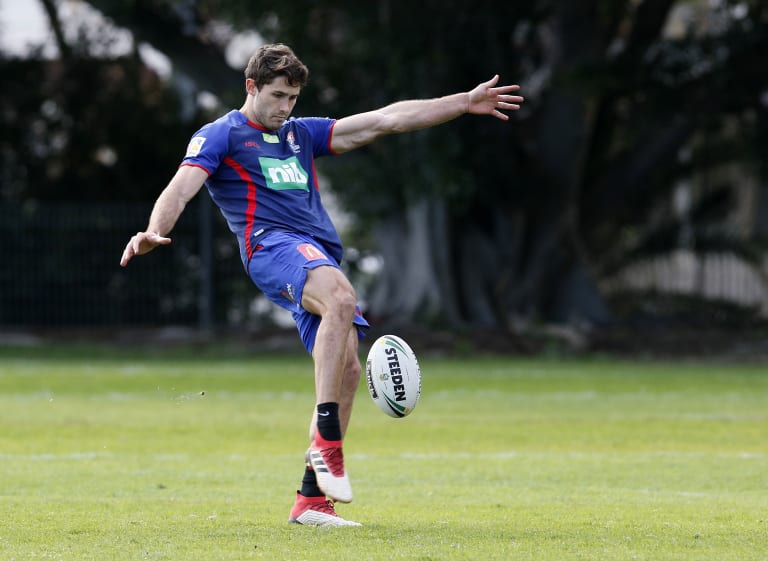 Stepping up: Newcastle Knights rookie Nick Meaney.
But Brown knows he is the second best fullback at the club and believes that unlike a lot of other youngsters he has thrown into the top grade before their time over the past few seasons, Meaney is at least ready for it.
"He is one of the younger players at the club over my time who has actually probably earned the right to play first grade through good consistent form in the 20s and reserve grade," Brown said.
"He hasn't been picked for all the wrong reasons and with Kalyn out, he deserves a chance.
"He's our next best player in that position and [selecting him] also stops us moving the whole team around."
A top grade debut looked a long way away for Meaney after he fractured his foot in the opening round of the season in NSW Cup and missed almost three months of footy.
He has been back for six weeks but the long injury lay-off didn't deter the Bulldogs, who went after him as a long-term fullback replacement for Moses Mybe.
The fact he had Ponga in front of him at the Knights made his decision to leave a pretty easy one.
"Even though Nick is leaving us, we are at a stage of our development where we want to win some games," Brown said.
"We are probably doing Canterbury a favour but we are quite confident Nick will do the team and the club plenty of favours too and play well."
Meaney was at home when he got the call on Monday from the coach.
"I was at home chilling out. I was pretty shocked actually. The nerves started to kick in straight away," he said. "Once I got off the phone, I gave my dad a ring straight away and told a few of my close mates. It's a great feeling."
Source: Read Full Article