You'd have thought if you're hosting one of the world's biggest sporting events that you would make sure you are well stocked on beer. Not so, it seems, for some restaurants and bars in Moscow which are struggling with the demand for the amber fluid.
We read about Socceroos fans drinking several pubs dry in Kazan after their loss to France on Saturday night, now it's the Russian capital battling to cope with thirsty football lovers.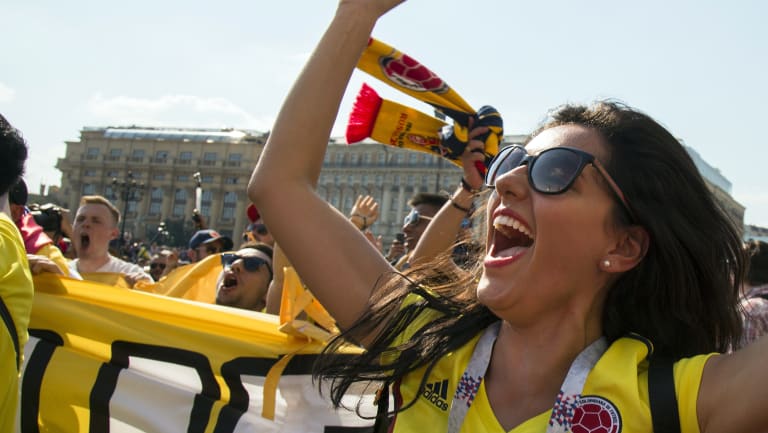 Beer supplies are running low in some Moscow bars and restaurants
Supplies are running low in some of the bars and restaurants around the Kremlin and Red Square as fans and revellers party hard.
With beer sales having reportedly fallen by a third over the past decade, Russian brewers have been caught on the hop, so to speak, with the spike in demand at the World Cup.
A waiter at a restaurant in central Moscow told Reuters they had run out of lager on Monday and were having delays getting more beer in due to suppliers' stocks running low.
"We just didn't think they would only want beer," the waiter told Reuters. According to the agency, this waiter did not want to be named for fear of scaring off potential patrons.
Why Robbie flipped the bird
Pressure can do strange things to athletes and performers. In Robbie Williams' case it made him flip the bird – at least that's his explanation.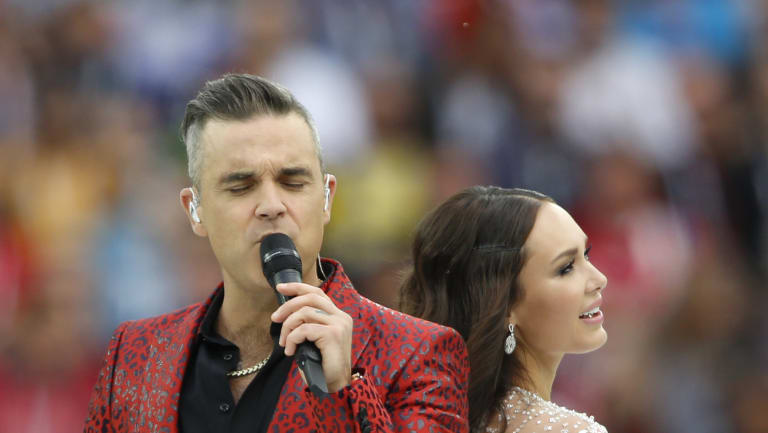 Duet: Robbie Williams and Aida Garifullina sing prior to the opening match.
The pop superstar has explained why he gave the middle figure to the camera while performing at the opening ceremony of the World Cup. Williams had been intending to signal "one minute to kick-off" but for some reason could not use another finger to convey that message.
"I was under a lot of pressure because there was one minute left and I didn't know how I was going to do it in half a minute," Williams said on ITV's This Morning programme in the UK. "So I just did a one-minute countdown."
It's just as well he did not do a two-minute countdown as well.
Williams said he had thought to himself it was "important at these kinds of things not to cause an international incident".
"The plan was to sing in key and don't fall over and 99 per cent of the plan, I pulled off. Nothing pops into my head," Williams said. "There is a block between me and sense. Then something happens and then five minutes later, 'I did, didn't I?'"
"OG" for Golden Boot
Russia's Denis Cheryshev joined Cristiano Ronaldo at the front in the race for the Golden Boot but the one they have to catch is "OG" – or own goal.
This year's tournament has already equalled the number of own goals from the 2014 edition in Brazil. Unfortunately for the Socceroos, they have contributed the tally through Aziz Behich, who was credited with the winner initially given to Paul Pogba.
Morocco, Nigeria, Poland and Egypt have all found the back of their own net. With five so far, Russia 2018 needs only one more to equal the record of six from France 1998.
Iran coy on #NoBan4Women
Iran captain Masoud Shojaei insists the World Cup is not the right forum to be discussing why the country does not allow women to watch matches at stadiums back home.
A banner calls for Iran to allow female supporters to attend local matches.
The World Cup has shone the spotlight on the issue with banners reading "#NoBan4Women" and "Support Iranian women to attend stadium" held up in the stands during Iran's first match against Morocco last Friday.
"We are a family, we are a nation when we are out on the pitch," Shojaei said through a translator.
"These are not just empty words. To talk about this issue now would be disrespectful to the tournament. I prefer to solve our problems within our family and if we have the opportunity to talk about this later, we will."
Source: Read Full Article