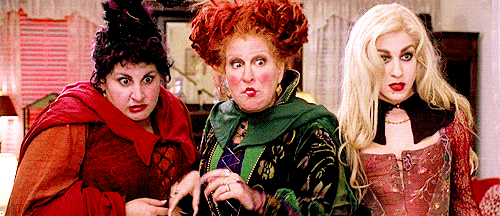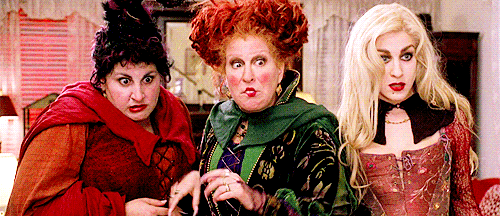 Somebody hand me a pumpkin spice latte and flannel shirt, because Freeform just announced Tuesday that its 13 Nights of Halloween programming slate will be extended a full month for 31 Nights of Halloween. This is not a trick, but it is a total treat!
Starting October 1, Freeform will air a different Halloween-themed movie for 31 nights, which will include a special to celebrate the 25th anniversary of Hocus Pocus. The network shared the news on its 31 Nights Twitter account, which (BTW) already has over 44,000 followers.
Get ready to fall under a new spell. We're celebrating one of your favorite Halloween movies with a #HocusPocus 25th Anniversary Extravaganza this October. pic.twitter.com/zd1rnyc0p3
In the past, during 13 Nights of Halloween, Freeform has aired films like Edward Scissorhands, Fun Size, The Haunted Mansion, The Nightmare Before Christmas, The Addams Family, Addams Family Values, and Teen Witch. However, with 18 more nights of programming available, there's plenty of room for your favorite Halloween film to make it into the lineup. An exact schedule has not been released yet, though.
Fans of all things spooky could hardly contain their excitement online.
Tfw you hear that 13 nights of Halloween is changing to 31 nights pic.twitter.com/oDJEz65eKq
I know it's only May but Freeform changed 13 Nights of Halloween to 31 Nights of Halloween and I'm SO EXCITED
But wait, there's more. Freeform also announced that it's giving its viewers a special behind-the-scenes look at how Walt Disney World in Orlando, Florida, and Disneyland in Anaheim, California, are transformed into the spookiest resorts in town with a brand new series.
The show, called Decorating Disney: Halloween, will "reveal all the tricks and treats behind the transformation of the Walt Disney World and Disneyland resorts into the scariest, yet still magical, places on Earth."
Halloween just became the season of giving, y'all.
Source: Read Full Article