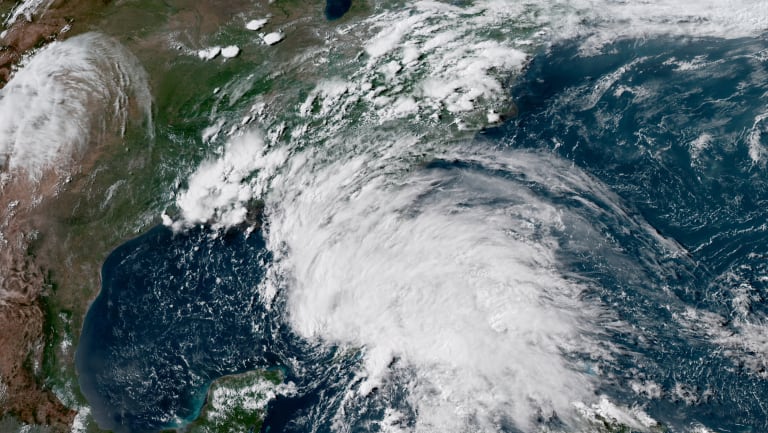 A satellite image shows subtropical storm Alberto in the Gulf of Mexico.
St Petersburg, Florida:  Florida, Alabama and Mississippi have launched emergency preparations ahead of the arrival of Subtropical Storm Alberto, a slow-moving system expected to cause chaos across the eastern US Gulf Coast over that country's Memorial Day weekend.
Heavy downpours are expected to begin lashing parts of those states  on Sunday. The National Hurricane Center in Miami issued tropical storm warnings for parts of Florida and Alabama, saying tropical storm conditions are possible there by Sunday night. The governors of Florida, Alabama and Mississippi all declared states of emergency ahead of the storm.
Up to 25 centimetres of rain is expected to be dumped along affected areas in eastern Louisiana, Mississippi, Alabama, western Tennessee and the western Florida Panhandle. Isolated areas could see as much as 38 centimetres.
In Gulfport, Mississippi, residents lined up to fill sandbags hoping to block expected floodwaters.
Tommy Whitlock said sandbagging has become a usual event in his life since he lives next to a creek.
"I'm doing this because every time we have a hard rain, it floods at my house," Whitlock said.
Eddy Warner filled bags while waiting for his nephew to come help transport them home to protect his garage.
"I'm 65 years old and too old to be doing this," he said, laughing.
Alberto – the first named storm of the 2018 hurricane season that officially starts June 1 – is expected to strengthen until it reaches the northern Gulf Coast, likely on Monday night.
A subtropical storm like Alberto has a less defined and cooler centre than a tropical storm. Subtropical storms can develop into tropical storms, which in turn can strengthen into hurricanes.
The downpours is likely to dampen Memorial Day, the unofficial start of the summer tourist season along Gulf beaches. Along with heavy rains and high winds come rough seas and a threat of rips from Florida to Louisiana.
AP
Source: Read Full Article