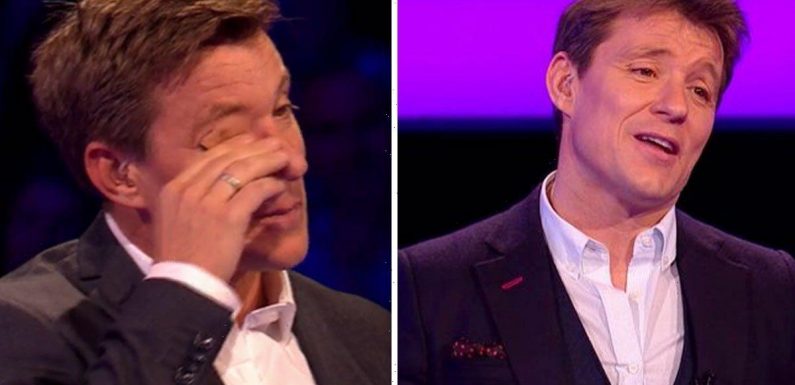 Ben Shephard reveals 'intensive' Tipping Point schedule
We use your sign-up to provide content in ways you've consented to and to improve our understanding of you. This may include adverts from us and 3rd parties based on our understanding. You can unsubscribe at any time. More info
Ben Shephard took to Twitter to reveal some sad news to almost 800,000 followers today. He announced that one of the contestants on this afternoon's episode of Tipping Point on ITV had died before she got to see herself on television.
"Today's Tipping Point is a poignant one," he wrote.
"Since recording the show, lovely contestant Cath, pictured backstage here, has passed away."
He added: "Our thoughts and love are with her family and friends x"
Shocked fans gathered on the social media site to offer their condolences.
More to follow…
READ NOW: Zoe Henry breaks social media silence with Jeff Hordley update
Astrology and sci-fi fan Cathy had impressed the studio audience with her knowledge of Star Wars and star signs, answering all questions correctly in the early stages, before exiting in third place.
In response to Ben's tribute, @robin101962 replied: "Oh no. When was this ep recorded Ben? #RIP Cath. Thinking of your family & friends. xx"
Meanwhile @BenDackombe wrote: "Ah that is sad, thinking of her loved ones."
Addressing his hero's tribute post, he added: "You're such a beautiful caring angel Ben, one of the many reasons you're my hero, i love you man, how truly nice you are."
@HenWad chimed in: "Bless her. Fly high Cath xx"
The Tipping Point official Twitter page also paid tribute to Cath.
Their official statement read: "After the recording of today's programme, we spoke with Cath's family who shared the sad news of Cath's passing.
"Everyone at Tipping Point would like to extend their sincerest sympathies."
DON'T MISS:
Dawn French, 64, glows as she attends Sondheim's Old Friends gala [PHOTOS]
Our Yorkshire Farm's Amanda and Clive Owen shake up family dynamic [INSIGHT]
Coronation Street's Millie Gibson admits co-star is 'love of my life' [LATEST]
Tragically, this isn't the first time that a contestant has died shortly after filming an episode of the nation's much-loved quiz show.
Previously, Ben took to Twitter to reveal the death of a woman named Margaret in 2021.
He told followers that it had been her family's wish to see the TV footage of her air to millions of people, as a way of remembering and honouring her life.
Describing her as a "special and worthy winner", he told the world: "We were so sorry to hear of her passing, but her loved ones were keen that her episode was shown and enjoyed.
"I just want to send all my love and thoughts to her husband Paul and her family."
Source: Read Full Article