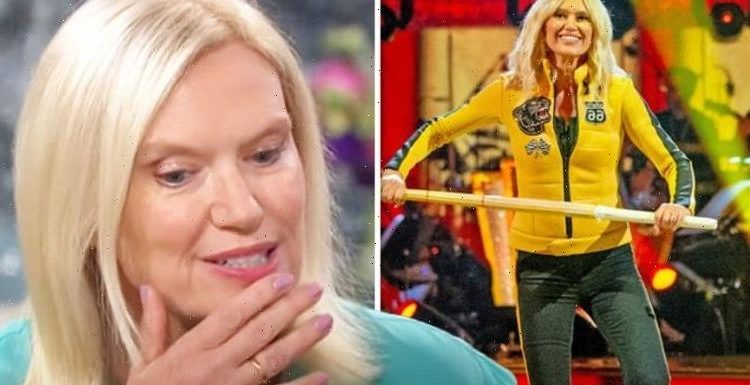 Strictly: Anneka Rice shocked by Shirley Ballas' criticism
When you subscribe we will use the information you provide to send you these newsletters. Sometimes they'll include recommendations for other related newsletters or services we offer. Our Privacy Notice explains more about how we use your data, and your rights. You can unsubscribe at any time.
Anneka Rice admitted she forced herself to dance through the pain after the legendary presenter suffered a whiplash injury. The star, who was paired with professional dancer Kevin Clifton for the 2019 series of Strictly Come Dancing, was eliminated in week three of the competition.
Despite forging a career as an action girl on shows including Channel 4's Treasure Hunt and the BBC's Challenge Anneka, the 62-year-old explained she was not prepared for the physical strain of the show.
She was left so injured – including suffering neck whiplash – that she needed three months of physiotherapy.
The presenter feared that she may never recover from her injury.
Speaking in a new podcast, Anneka opened up about her own struggles dancing on the BBC show.
She said: "I was so broken I'd limp back home… into an ice-cold bath. I think on the whole the experience is, in theory, so joyful you forget things like that.
"It's like childbirth, you just forget… but I was in physio for three months afterwards because I had such bad whiplash."
Anneka revealed she was able to dance through the pain due to the "adrenaline rush".
The former Treasure Hunt star explained that Strictly's physiotherapist was helpful in treating her whiplash.
"Luckily, the Strictly physio used to run a whiplash clinic, so he was all over it," Anneka continued to the My Mate Bought A Toaster podcast.
"But it brings you down very low because I'd never really been badly injured in my life, considering all the lunatic stunts and things I've done.
"I obviously wondered whether I'd ever recover. I got quite depressed."
Anneka also revealed that the 2019 series had been plagued with celebrities getting injured.
DON'T MISS…
Naga Munchetty reacts to 'awful' swipe amid call to 'Defund BBC'[LATEST]
The Great British Sewing Bee star talks Scottish Independence issue[POLITICS]
Harry and Meghan 'applauded' as royal couple defended by Kevin Clifton[EXCLUSIVE]
Table tennis champion Will Bayley had to withdraw due to an injury.
"Will, who has fused ankle bones anyway, was given a routine where he had to jump from a table, which isn't necessarily the most sensible thing to do," she recalled.
Anneka also said her Strictly co-star Jamie Laing injured his ankle before the start of the dance competition.
She added that her own injuries were caused by not warming ahead of their 10-hour rehearsals.
Anneka and Kevin were eliminated from Strictly in week three.
The pair performed a Kill Bill-themed routine for Movie Week but the routine fell flat with judges, scoring them just 11 points – and placing them at the bottom of the leaderboard.
She lost out to David James and his partner Nadiya Bychkova, who edged them out with a Batman-inspired rendition of the American Smooth.
Strictly Come Dancing returns to BBC One later this year.
Source: Read Full Article