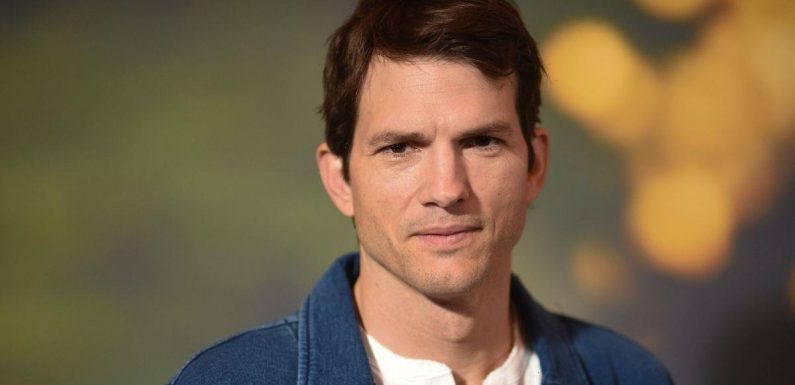 No Style
Ashton Kutcher is still embarrassed over a brief encounter he had with Harry Styles — in fairness, he had no idea who Harry was when they met. The "That 70s Show" star told Esquire that he was with his wife, Mila Kunis, at a neighbor's karaoke party when a man got on stage and belted out an ABBA song. Ashton was so stunned by the performance that he felt inclined to pay the man a compliment. "I said 'Man, I gotta tell you something. You're really good, like, really good,'" Ashton recalled. The man said he "appreciated" the kind words. A friend then told Ashton that that man was Harry Styles. Mila, in turn, had to explain that Harry was indeed a huge name in the music world. "I was like, 'Oh my God, now I feel like a jerk.' He's a professional singer, and we're trying to tell him he's a good singer,"  Ashton said. "I just really want to say I'm sorry, Harry Styles. But you're really good at karaoke, man. Seriously, like really good."
RELATED: Harry Styles' most playful fashion moments
Looking back (to December)
Regrets, he's had one. Taylor Lautner has made a rare comment about the 2009 MTV Video Music Awards fiasco wherein Kanye West infamously interrupted Taylor Swift's speech to praise Beyonce. At the time, the actor was dating the songstress and was even the one who presented her with the VMA award for Best Female Video. When the interruption was happening, Lautner laughed, believing in real time that it was a "skit." While speaking on his new podcast "The Squeeze" with his wife, Tay Dome Lautner, the "Twilight" star revisited the moment. "I was unaware that the Kanye thing was not a skit," he said. "I presented the award to her. I took five steps back and was standing five feet behind her. And, yeah, in the middle of her giving her 'thank you' speech, Kanye jumps on the stage." He continued, "I can barely hear it. I can't see them, I'm just assuming that this whole thing was a practiced and rehearsed skit because why else would Kanye West be jumping up on the stage, interrupting Taylor Swift?" Lautner, who admits to laughing, quickly realized it wasn't rehearsed when he saw his then-girlfriend's face. His laughter turned to heartbreak. "I was like, 'oh, no, that … wasn't good,'" he recalls. Swift reportedly cried backstage but eventually pulled herself together and performed "You Belong With Me," the song that won her the Moon Man in the first place.
RELATED: Taylor Swift's best performance looks 
Drinks on me
Diplo made sure the skies were a little friendlier for travelers. Last week, the hugely-popular music producer handed out over 250 nearly-expired Delta drink vouchers to travelers at LAX. In a TikTok video, Diplo explained his pay-it-forward move. "I fly so much that I ended with over 250 unused Delta drink vouchers that were about to expire, so I sent my assistant to LAX give them out to people," he said. Diplo made his assistant record a video showing him handing out vouchers, which he did. The video, which Diplo posted and The Blast shared, showed his assistant handing out the tickets. The vouchers are good for a free alcoholic drink aboard the plane. "I think he spent over 2 hours there lol," Diplo said of his assistant. Naturally, Diplo used the opportunity to promote his new single, "Wasted." The free drinks were in honor of his single, he wrote on a flyer alongside the voucher. Guerrilla marketing at its finest.  
RELATED: Reality TV scandals
Legal matter
Nick Carter is countersuing a woman who claims he sexually assaulted her in 2001. The Backstreet Boy denies that allegation and argues in legal docs that the woman, Shannon Ruth, is deliberately perpetuating a smear campaign, and has been for years. TMZ said Nick wants $2.35 million, money he says she's cost his boy band with a "years-long conspiracy to take him down." Nick argues that the woman has been coached to perfect her allegations and has changed her story several times. He claims that Shannon's daughter and father are "coaxing" Shannon to "inflate" her allegations. Nick's attorney told TMZ,  "As our Counterclaim sets out in detail, Nick has been the target of a malicious and long-running conspiracy. He has never done the outrageous things of which he has been accused; in fact, he is the victim of a calculated and concerted disinformation campaign designed to destroy his reputation. He looks forward to setting out the truth, vindicating himself in court, and putting an end to the smears and attempted shakedowns for good."
No comment… yet
Erika Jayne assures her fans that she won't stay silent forever in regard to her estranged husband's embezzlement indictment. On Wednesday, Feb. 1, the US Department of Justice announced that a grand jury indicted Tom Girari, 83, for allegedly embezzling more than $15 million from his clients, including money intended for victims of a plane crash. After the announcement of the formal charges, the "Real Housewives of Beverly Hills" told paparazzi, "You know, I have something to say, but not right now. You'll hear from me soon." Erika has long denied any wrongdoing. According to the Daily Mail, Erika was also asked if she was worried about "her situation." She replied, "No."
Pricey divorce
Ne-Yo and his ex have finalized their divorce after six years of marriage, and he's forking over about $2 million. TMZ said the "Because of You" singer will pay Crystal Renay a $1.6 million lump sum to balance out their real estate holdings. In addition, he'll pay $20,000 for moving expenses and $150,000 so she buy a new car. The crooner is also on the hook for $5,000 per month in alimony for the next three years, and $12,000 a month in child support for the three children they share. Last August, Crystal filed for divorce from the music star, alleging that he fathered a child with another woman. The shocking claim came less than a week after she publicly accused him of cheating on her for eight years with multiple women. "8 years of lies and deception," she began a lengthy Instagram post on July 30, 2022, just three months after she and the Grammy winner renewed their wedding vows. "8 years of unknowingly sharing my life and husband with numerous of women who sell their bodies to him unprotected… every last one of them! To say I'm heartbroken and disgusted is an understatement. To ask me to stay and accept it is absolutely insane. The mentality of a narcissist."
Workplace safety argument
While working long hours on the set of "Buffy The Vampire Slayer" from 1996-2003, Sarah Michelle Gellar was a pest on the roads. But, she says it's not all her fault. In speaking to The Independent, SMG spoke of having better working conditions and cited the car accidents she was involved in after leaving the "Buffy" set. "You shouldn't drive if you're tired," she said. "Do you know how many car accidents I had on Buffy before they got me a driver? But the crew doesn't get that." Sarah is now a producer of Paramount +'s "Wolf Pack," and she takes post-set safety seriously. In fact, she says, a truck picks up the crew every Friday. 

Source: Read Full Article