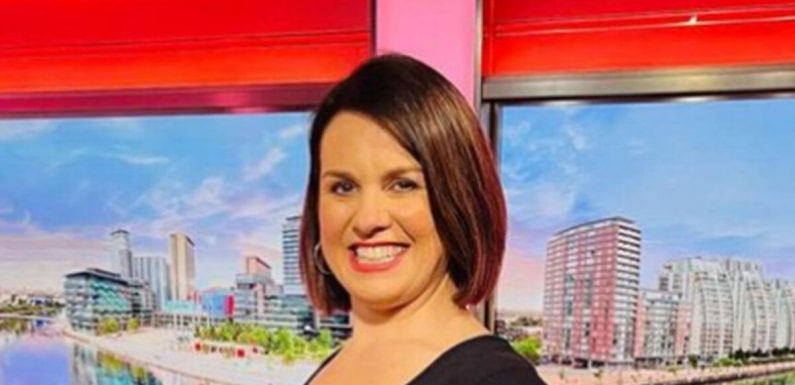 BBC Breakfast's Nina Warhurst may have revealed the gender of her third child
BBC Breakfast's Nina Warhurst appeared to reveal the gender of her third child in a video on Instagram. The presenter could be seen dancing with her bump, with the message placed over the video on Instagram seemingly giving away the gender.
We use your sign-up to provide content in ways you've consented to and to improve our understanding of you. This may include adverts from us and 3rd parties based on our understanding. You can unsubscribe at any time. More info
Nina Warhurst, 42, admitted this week that after months of "vomiting and migraines" she discovered she was expecting her third child with her husband Ted.
The BBC Breakfast star has now appeared to "confirm" the gender of her new arrival in a playful Instagram video.
The presenter attended a Self Esteem gig with pals and was filmed dancing along to her track I Do This All The Time.
Nina raised her arms and swayed in the video, resharing it to her own Instagram with a message appearing to give away the gender of her child.
She wrote in view of her 18,700 followers: "One for the baby girl," and added: "First gig."
Nina Warhurst reshared a video of herself dancing from one of her friends
Nina Warhurst reshared a video from her friend's Instagram of herself dancing to I Do This All The Time. On resharing the image, Nina wrote over it: "One for you baby girl."
Nina Warhurst made her pregnancy announcement on Instagram
Nina Warhurst shared a beaming snap of herself and her bump in the BBC studios, announcing her third pregnancy. The presenter wowed in a skintight black dress as she cradled her growing baby bump.
Nina Warhurst made the pregnancy announcement on Mother's Day
Nina Warhurst wrote in the lengthy Instagram post: "Happy Mother's Day to all of those who are any part of this endless handover of love, values, genes, chaos and perpetually crumb-infested kitchens. That said, we are doing it again."
Nina Warhurst already has two children with her husband Ted
Nina Warhurst and her husband Ted are already proud parents to sons Digby, seven, and Michael, five. If Nina's baby is in fact a girl, it will be the first daughter in their little family.
Nina Warhurst's announcement comes after she opened up about her father's health struggles
Nina Warhurst has filmed a short feature for the BBC about dementia as she and her sisters currently care for their elderly father Chris. The BBC Breakfast presenter admitted she's still coming to terms with the toll it has already taken on his cognitive ability.
Nina Warhurst admitted she was devastated when her father did not recognise her
Taking to Instagram last year, Nina Warhurst admitted she was devastated when her father failed to recognise her. She wrote in an emotional post: "My Dad. I missed him so much this week. Dementia means he's here, but not here. Today was the first time he couldn't quite place me."
Source: Read Full Article