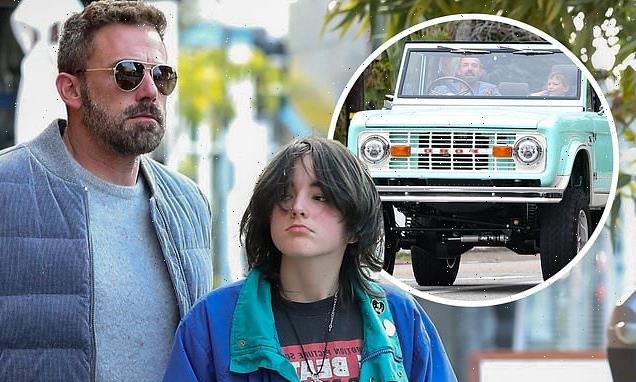 Ben Affleck spends quality time with daughter Seraphina, 14, while out to lunch in LA… before taking his son Samuel, 11, for a ride in his custom electric Ford Bronco
Ben Affleck has been hard at work on the biographical drama film Air, which he serves as director, producer and star alongside old friend Matt Damon.
Now in the critical post-production phase of the production, the two-time Oscar-winning took a break from all the pressures of Hollywood to spend some quality time with his daughter Seraphina.
The doting dad spent part of his one-on-one time with the 14-year-old out to lunch at Kai Ramen in Santa Monica.
As the duo were spotted making their way out of the restaurant, the Argo star and director kept it casual in blue jeans, a gray sweatshirt underneath a gray puffer coat and brown and white Nike sneakers.
He also donned cool sunglasses and had his hair cut short, back off his face, with a manicured beard and mustache combination. 
Family time; Ben Affleck, 50, spent some one-on-one time with his daughter Seraphina and took her out to lunch in Santa Monica on Saturday
Never too far from her father, Seraphina went for casual comfort in red plaid flannel pants, a black t-shirt with The Beatles' Hard Days Night image on the front, a two-tone blue windbreaker jacket and white sneakers.
She had her dark brown locks in a messy shoulder-length cut with a slight part in the middle.
After grabbing a bite to eat for lunch, the father-daughter duo eventually made it back to their vehicle so the proud papa could drop his middle back off at home.
It appears he then got to share some special time with the youngest of his three kids, son Samuel, whom he shares and co-parents with ex-wife Jennifer Garner,  
Showing he's the cool dad, Affleck was seen taking 11-year-old Sam out for a joyride in his customized Electric Bronco.
The acclaimed actor, writer and director and Garner also have a 17-year-old daughter Violet, who was not seen out with her dad on this day.
The Berkeley, California native, who grew up in Massachusetts starting from the age of three, has been engulfed in the Air production, which began its shoot in early last summer, and eventually wrapped in July 2022.
The story focuses on how Nike, a fledgling athletic shoe company in the early 1980s, was able to pull off a Michael Jordan endorsement deal.
Casual-cool: Both father and daughter kept it casual in the fashion department for their weened lunch outing
Family matters: The acclaimed writer, actor and director shares Seraphina and his two other children, with his ex-wife Jennifer Garner
Dad time: Eventually the proud father dropped off his daughter back home and then spent some quality time with the youngest of his three kids, son Samuel
Along with helming the film as director, Affleck also plays the role of Nike co-founder Phil Knight, starring opposite Matt Damon, who portrays Sonny Vaccaro, the real-life man who, despite all the naysayers, brokered the deal with Jordan, even though more established shoe companies Converse and Adidas were in the mix.
It hindsight the deal with Jordan was the catalyst for launching the global, multibillion-dollar contemporary sneaker industry. 
Like they did for their Oscar-winning film Good Will Hunting, the two old friends teamed up to work on the screenplay from an early script written by Alex Covenry, as well as getting producer credits along with seven others.
As part of the cast, Jason Bateman plays Rob Strasser, a former Nike executive, who helped the company in its rise to prominence in the 1980s. 
During the so-called 'sneaker wars' between Europe and the U.S., Strasser went to work with Adidas but tragically died from a massive heart attack in October 1993. 
The cast also includes Chris Messina, Viola Davis, Marlon Wayans, Chris Tucker, Matthew Maher, Tom Papa, Julius Tennon, Joel Gretsch, Gustaf Skarsgård, Barbara Sukowa, Jessica Green and Dan Bucatinsky. 
Air is scheduled for a wide theatrical release in the United States on April 5 by Amazon Studios.
Play time: Showing he's the cool dad, Affleck was seen taking 11-year-old Sam out for a joyride in his customized Electric Bronco
New film coming: Affleck has been working as director, producer an star of the biographical drama film Air the past year or so;  the story focuses on how Nike, a fledgling athletic shoe company in the early 1980s, was able to pull off a Michael Jordan endorsement deal
Source: Read Full Article