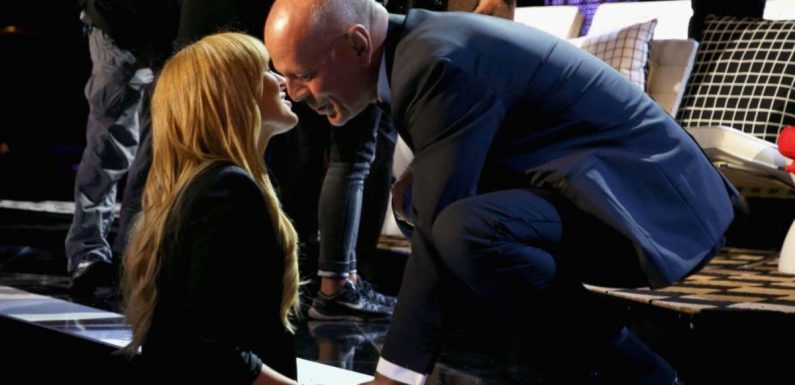 We use your sign-up to provide content in ways you've consented to and to improve our understanding of you. This may include adverts from us and 3rd parties based on our understanding. You can unsubscribe at any time. More info
Bruce Willis, 67, has increasingly suffered cognitive problems in recent years, leading to his diagnosis with aphasia last spring – but his family has now learnt that he has frontotemporal dementia. Daughter Rumer has now branded him "the coolest cat I know" in a supportive Instagram post, adding that she's been "overwhelmed" by the kindness fans have shown as his health issues emerged.
The 34-year-old also showed solidarity with her sister, Scout LaRue Willis, who had exactly the same sentiments.
Scout wrote in an Instagram post: "Feeling emotionally tired and a bit overwhelmed, yet also very in awe of the love so many people have for my papa."
Sister Tallulah also chimed in, using an affectionate nickname for her sibling, as she wrote: "Second this, Scouter! Feeling the abundant love for our guy and our family."
"I third this," wrote Rumer, adding: "Feeling so deeply grateful and in awe of the love so many people have for my papa."
Just yesterday, the eldest of Die Hard star Bruce's children had posted a full explanation of his condition, in view of her over one million followers.
The family statement read: "Our family wanted to start by expressing our deepest gratitude for the incredible outpouring of love, support and wonderful stories we have all received since sharing Bruce's original diagnosis.
"In the spirit of that, we wanted to give you an update about our beloved husband, father and friend since we now have a deeper understanding of what he is experiencing."
Shedding some light on his struggle, it continued: "Since we announced Bruce's diagnosis of aphasia in spring 2022, Bruce's condition has progressed and we now have a more specific diagnosis: frontotemporal dementia (known as FTD).
"Unfortunately, challenges with communication are just one symptom of the disease Bruce faces.
"While this is painful, it is a relief to finally have a clear diagnosis," the statement concluded.
It was signed by ex-wife Demi Moore and the three daughters they share, plus Bruce's current wife Emma Heming-Willis and their own two girls, Mabel and Evelyn, who are aged just 10 and eight.
They insisted that although FTD is a "cruel disease", Bruce had "always found joy in life", leading them to feel confident that he would make the best of life post-diagnosis.

DON'T MISS…
Strictly's Janette Manrara gets candid about 'tough days' [INTERVIEW]
Anne Hathaway leaves little to the imagination in see-through dress [PICTURES]
Amanda Holden cheekily flashes legs in skimpy pink skirt for birthday [BIRTHDAY]
The NHS website elaborates that FTD is an "uncommon" form of dementia, and tends to have an early onset.
While most dementia cases are diagnosed after the age of 65, FTD more commonly hits those between 45 and 65.
It is characterised by gradual deterioration in the performance of the front and side regions of the brain, and can have a catastrophic effect on the use of language.
Sufferers can find getting their speech out difficult, and sometimes use words incorrectly or muddle them up in the wrong order.
They can also experience behavioural issues, such as becoming selfish, lacking motivation, or losing interest in their personal hygiene.
Though memory problems can develop, they do not usually surface in the early stages of the illness, and distraction or a loss of the ability to be organised are more likely at first.
Physical issues such as loss of bladder and bowel control and difficulty swallowing may also emerge, as the condition progresses.
However, as day to day life poses more challenges, Bruce will be glad that his family members are forming a support network around him.
Meanwhile, there are touches of joy in Rumer's life, as the actress will soon be welcoming her first child with the love of her life, partner Derek Thomas.
Source: Read Full Article