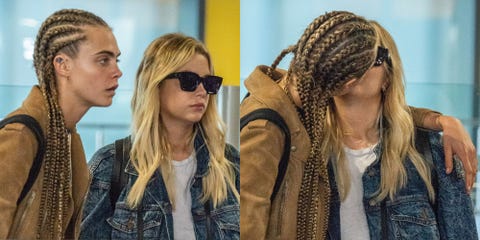 Please divert your attention from this summer's newly-engaged celebrity couples to Cara Delevingne and Ashley Benson. The pair was seen kissing and cuddling at London's Heathrow Airport today, basically confirming months of dating rumors.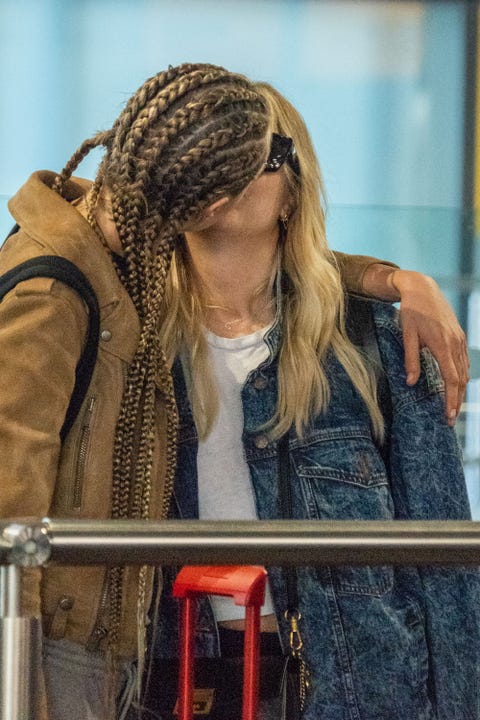 Delevingne, 26, and Benson, 28, engaged in some PDA after touching down in the English city. The model-turned-actress sported corn rows, a tan jacket, sweatpants, and sneakers, while the Pretty Little Liars star went for an oversized denim jacket, black pants, sunglasses, and a crossbody bag.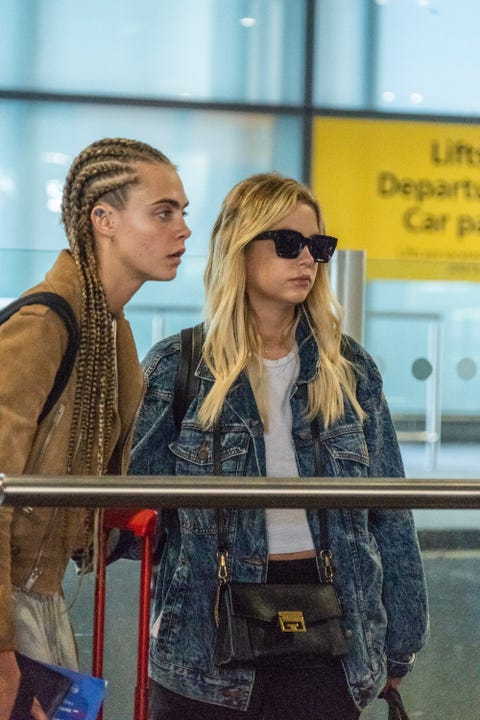 Although this may be the first time they've been seen kissing in public, Delevingne and Benson have been fueling romance speculation since this spring. In early May, they were seen leaving a Lauryn Hill concert together in NYC, according to The Cut.
Later that month, they were seen holding hands out in NYC after hitting up a bowling alley. They were also spotted getting handsy in LA while paying for a parking meter. Most recently before the London sighting, they were spotted celebrating Delevingne's birthday with friends last week at Sofitel's Riviera 31 in Los Angeles.
"Cara and Ashley were enjoying each other's company, sitting closely together at a front row table by the dance floor. When the two weren't sitting, they were intimately dancing with each other and laughing throughout the night," a source told Entertainment Tonight at the time.
Although the stars haven't publicly addressed their relationship, Delevingne has made cameos on Benson's Instagram in the past few months.
There was this selfie in the car:
After 50 tries…we got a blurry one @caradelevingne ???
A post shared by Ashley Benson (@ashleybenson) on
There was this elevator photo with a friend:
Eloise x 3
A post shared by Ashley Benson (@ashleybenson) on
And there was this sneaky appearance on a balcony:
A post shared by Ashley Benson (@ashleybenson) on
We can't wait to see where this romance heads next.
Source: Read Full Article