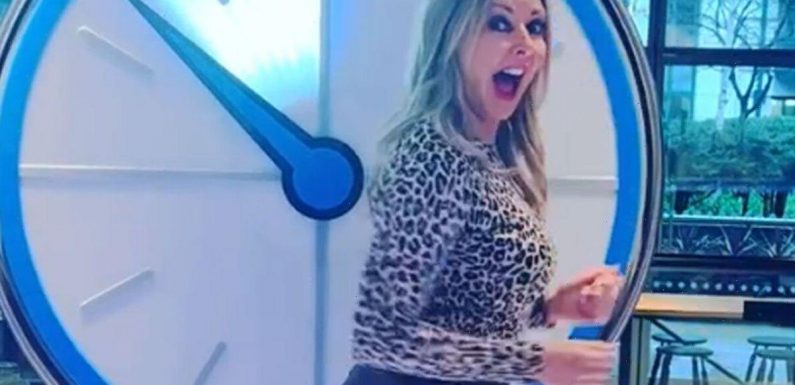 Carol Vorderman stood beside the legendary Countdown clock
Carol Vorderman returned to Channel 4 today as the mathematician sparked a social media stir.
Carol Vorderman gave fans an eyeful as the age-defying beauty shared a candid video at Channel 4's headquarters as she reminisced on her days at Countdown.
The 62-year-old shared a series of pictures and videos alongside the Countdown clock located at Channel 4's studios.
The mum-of-two looked stylish in a fitted leopard print top teamed with a pair of tight leather leggings and knee high boots.
Carol captioned the post: "Awwwww look what greeted me with a big smile on its face at @Channel4 today. Gosh I danced to that music tens of thousands of times…..awwwww….happy days. 5,000 shows, 26 years on air, with only love."
The TV favourite was inundated with messages as she also shared a video dancing along to the Countdown theme tune.
Social media users flocked to the comment section as Jules Sampson wrote: "Back where you belong."
Tommo said: "Should've done the dancing when you were on the show."
Jon added: "Legendary."
Carol Vorderman put on a cheeky display
The former Countdown star donned a leopard print top and fitted leather trousers
Carol Vorderman was inundated with messages
Carol Vorderman revealed she had returned to Channel 4 today.
Carol Vorderman danced to the Countdown theme tune
Carol Vorderman announced she was stepping down from Countdown in 2008.
Carol Vorderman posed for a selfie
Carol joined Countdown for the very first episode in 1982 when she was in her twenties.
Source: Read Full Article