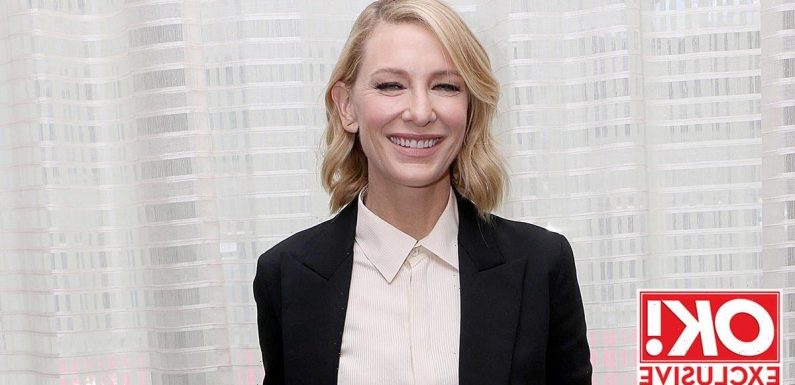 With two Oscars and her latest Golden Globe win for Actress In A Drama Motion Picture – as well as many other accolades – Cate Blanchett is arguably one of Australia's most successful exports.
The star, who was sadly unable to attend the awards last week due to filming commitments, is a powerhouse both on screen and stage. So it's no surprise that her latest role in Tár, a psychological drama about the life of renowned composer and conductor Lydia Tár, won her the coveted award.
But while she always seems to pick roles that perfectly showcase her supreme acting talents, mum-of-four Cate is the first to admit that, as well as the script and the director, her decision around which jobs to take are based on family logistics as much as anything these days.
On a recent episode of Desert Island Discs, the star told host Lauren Laverne that since she's had children, the first question she asks when she's offered a new role is: "When are they shooting and for how long?"
The 53-year-old, who has been married to theatre director Andrew Upton for 25 years, made it clear that her kids come first so she can tend to their various "needs". She explained: "I love what I do, but there's only so many hours in a day, and there's a lot of competing needs. You don't have to have children to have competing needs. It's the practical versus the inspirational, I think."
Cate and Andrew, 56, have three sons together – Dashiell, 21, Roman, 18, and Ignatius, 14. They also have daughter Edith, seven, who they adopted in 2015 and have referred to as "an absolute gift".
And while their mum may be a world-famous movie star, Cate says that as far as Ignatius is concerned, her most important role is to organise his life! Talking about the fact her character in Tár has a personal assistant, Cate joked: "I haven't been anyone's personal assistant, although I do sometimes feel like I'm my 14-year-old's personal assistant [laughs]."
But it seems like she wouldn't want it any other way and has managed to strike the perfect work/life balance that so many strive for.
When she talks to us about her role in Tár, she speaks with passion and enthusiasm, and it's clear that "brilliant" writer and director Todd Field (who also directed the Oscar-nominated film In The Bedroom) was a massive draw for her.
"I definitely wanted to work with Todd," she explains. "We'd talked about doing that before. I knew he was wonderful. He's such a renaissance man. He's an extraordinary musician and writer and he's an actor. He's a superlative director and an incredible editor."
When we ask the Elizabeth star to describe what Tár is about, she says: "For me, it changes day-to-day. It has a lot of tentacles. I woke up this morning thinking that one way of regarding it is as a sort of meditation on power.
Not just institutional power but creative power, you know, unequal relationship power – the power of the self versus the power of the group, which an orchestra is."
Without giving away any spoilers, Cate's character Lydia finds her life spiralling out of control just when she is at the pinnacle of her career, and the star describes her character as "haunted".
She tells us: "She's definitely haunted by someone, by something, by her past, by herself, by past deeds. You know, you experience someone – I don't want to give the ending away – but someone who's definitely put her past in a box and through her great talent has tried to reinvent herself and be saved, changed and transmogrified by the music. But she's haunted by something."
Cate continues: "She's like the wrong person at the wrong time, who is capable of enormous power and also incredible generosity, but she's somehow being eaten by the system that she's admired for so long."
When we ask Cate about her own strength, and if she also feels powerful, she says: "No, I don't. I mean, you get in certain environments, you know, I'm a white woman who is financially secure, who has gone through primary, secondary and tertiary education, who is in a non-abusive relationship, and who is in work and has good health. So yes, on that level, I am incredibly powerful."
Cate, who has already won awards for her standout performances in films such as Blue Jasmine, The Aviator and Carol, acknowledges that things have changed for the better in Hollywood since she first started out – and that even her husband didn't think her career would last.
Talking about how things have progressed for women, she says: "Well, the landscape has certainly changed. You know, in the dawn of time when I entered the film industry, which is a very long time ago [laughs], I remember my husband saying to me in an incredibly supportive way, 'Enjoy it, babe, you've got five years, if you're lucky.' And that was true for women.
"I think that there are a lot of people who have been changing that landscape, not only female, but trailblazing actors who have pushed the boundaries."
Another thing that has undoubtedly changed over the years is the portrayal of homosexual characters in films, and Cate says she didn't even give her character Lydia's sexuality (she's married to a woman) a second thought.
She says: "Strangely, I didn't think about the character's gender nor her sexuality at all. And I think I love that about the film. It's a very human portrait. And I think we have perhaps matured enough as a species, that we can watch a film like this and not make that the headline issue. And I found that really, really exciting."
But while we're pretty sure the glowing reviews Cate has had for her performance in Tár could lead to her adding another Academy Award to her collection come March, her huge professional success will always come second to her beloved family.
The star, who has lived in a £5-million manor house in Crowborough, Sussex, with her family since 2015, made it clear on Desert Island Discs that nothing makes her happier than being with her loved ones, and that it's "painful" to be apart from them.
Talking about one of her selected tracks, Proof by British rock band I Am Kloot, she explained: "I can't tell you why, but it's just become my song with my husband. I think because we were travelling so much in the early years of our relationship and then with our kids we were always travelling and it was so painful being apart even for an hour, for a day, for a week.
"It's this strange little song and my kids have taken it over so whenever things get tense at home and someone hasn't done their homework, the kids will put this song on and everything falls away and everyone just starts dancing."
READ NEXT:
Lisa Marie Presley's life in pictures from Graceland childhood to time in England
To read the very best of today's OK! content from breaking news to Royals and TV – CLICK HERE
Missing X Factor star Levi Davis 'may have been kidnapped by British gangsters,' says PI
Stacey Dooley fans are convinced star has given birth after spotting 'clue'
For all your daily celebrity news and gossip, sign up to OK!'s newsletter – CLICK HERE
Source: Read Full Article