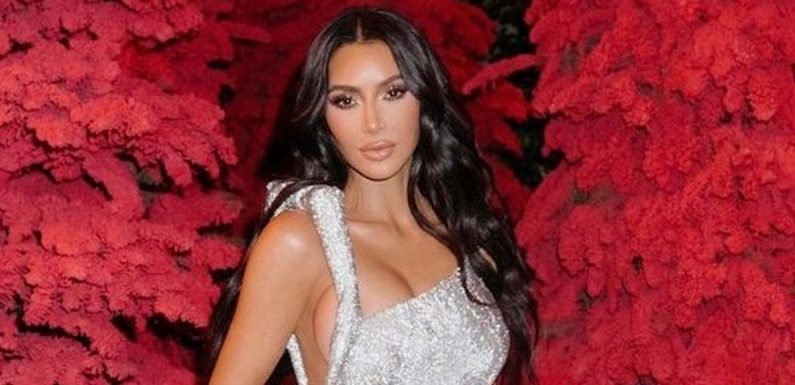 Kim Kardashian's social media accounts are filled with stunning snaps and videos of the star sporting impeccable make-up – but she looks decidedly different in a new video that has floored fans.
Posting on the TikTok account she shares with daughter North West, Kim shared a video of herself taking part in a trend which sees users turn themselves into "British chavs." while miming along to a song by Blackpool grime star Millie B.
Fans have watched in shock at the clip of the reality star putting her hair in a messy bun before turning her attention to adding heavy makeup including nude lips.
She goes all-in for the trend as she adds huge black brows, foundation lips, hot pink blusher and extra-large fake lashes to complete the look.
She is later seen posing in the makeup as she wears a blank tank and a scarf around her neck.
People went wild in the comment section, not only because Kim and North's account usually don't allow comments, but also because they couldn't quite believe their eyes.
One fan said: "BRITISH ICON KIM ERA AND I'M LOVING IT."
Another person penned: "I refuse to believe my eyes, SCREAMING that kim k is miming millie b" with a row of cry laughing emojis.
A third person joked: "Kylie is going to send a cease and desist for using a Kylie cosmetics" followed by three cry laughing emojis.
The 'chav' trend has gone viral on TikTok in recent months, with Gen Z users trying their hand at the makeup trends favoured by some people in the noughties.
The word 'chav' rose to prominence at this time and was often used to describe young Brits involved in loutish behaviour, who wore athletic clothing – such as tracksuits or baseballs cap – with flashy jewellery.
Matt Lucas infamously immortalised the 'chav' aesthetic in his Little Britain character Vicky Pollard, though debate did break out as to whether the word was classist.
Kim's video comes just days after another viral TikTok on her account, which saw North dress up as her father Kanye West, using her new skills after taking classes to practice her special effects make-up.
North looked incredible as she dressed in a black sweatshirt and posed with her arms crossed while tucking her hair away into a black beanie.
Mum of four Kim joined in on the fun with her daughter by contouring her face as she towered over North in the clip.
The model wore a pair of sunglasses from Kanye's Yeezy collection, with her brunette hair styled into a slick bun.
The video was soundtracked by a a remix of Kanye's 2013 song Bound 2, which Kim appeared in the video for.
READ MORE
Click here for today's top showbiz news

'I need a financially-secure man – I said no to Celebs Go Dating,' says Claire Sweeney, 51

Inside Lisa Marie Presley's life in a quiet English village before tragic death

Robert Downey Jr looks completely unrecognisable on movie set as he rocks ginger curls

For the latest showbiz exclusives, sign up to our daily OK! newsletter
Source: Read Full Article