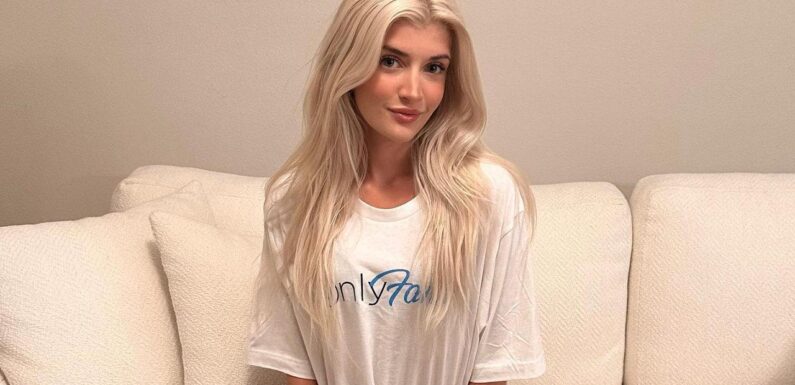 A few weeks after insisting that she is 'not a porn star,' the OnlyFans model shares a sultry picture that sees her posing in a 'fully see through' bodysuit.
AceShowbiz –Sami Sheen has left little to the imagination. After making a very public claim that she is "not a porn star," the teenage daughter of Charlie Sheen and Denise Richards treated her fans to a content that she deemed as her "riskiest" so far.
On Tuesday, June 20, the 19-year-old OnlyFans model let out on Twitter a racy mirror selfie of herself. Along with the sultry snap, she wrote in the caption, "This is my riskiest content so far [flushed face emoji] fully see through top." She went on to note, "I know u wanna see em," adding cherries emoji.

Sami Sheen teased fans with her 'riskiest content so far.'
In the picture, Sami could be seen posing in front of a huge clear mirror. She was wearing nothing but a strapless long sleeves sheer black bodysuit embellished with sparkling white rhinestones. While her outfit was "fully see through," she did blur her nipples, saving the full disclosure for her OnlyFans account.
Sami's sultry photo did not take long to be bombarded with negative comments. One Twitter user complained, "I don't see anything, is this like find waldo ?" Another asked, "Why do guys pay for this?!?! So much free stuff on the internet. I don't understand it at all." A third criticized, "I believe the word you are searching for is, 'risque' Ignorant."
A few weeks prior, Sami insisted that she is "not a porn star." In a TikTok video posted on Saturday, June 10, she made a clarification about her job by saying, "Okay, I need to clear some things up. I am not a [porn] star and I do not meet up with people. I don't film myself having sex. I don't do that." She added, "And if people did their f**king research, they'd know that there's multiple forms of [sex] work."
Sami was reported working as a creator on the adults-only platform and using the "sex worker" label only to "bother" her actor father. "This may be something that Sami is doing to bother her father. It's causing a lot of drama. [Sami]'s just saying outrageous things," a source told PEOPLE in June.
"She doesn't even show any skin on OnlyFans. Sami has 4,000 followers. So she's making $80,000 a month doing almost nothing and barely showing anything," the source continued. "She's just teasing the audience. She's not really doing any nudity at all. So this is just her titillating people by saying that."
You can share this post!
Source: Read Full Article