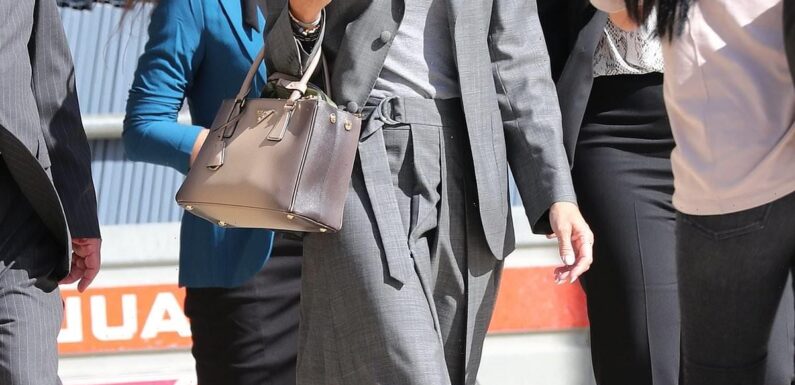 EXCLUSIVE: Kevin Costner's estranged wife Christine Baumgartner has received more than $405,000 to pay costs of legal battle – and wants $885,000 more
Court filings obtained by DailyMail.com reveal Christine Baumgartner has so far already received $405,000 in legal, attorney, and 'forensic accounting fees' 

The 49-year-old, however, is demanding' a whopping award of $885,000 ($575,000 in attorney's fees and $280,000 in expert costs) to prepare for trial  

Estranged husband Kevin Costner's attorney Laura Wasser hit back at the request – describing the fees as 'inflated' and 'outrageous' 
Kevin Costner's estranged wife Christine Baumgartner has already received more than $400,000 to pay the costs of her legal battle with the actor, DailyMail.com can reveal.
The mom-of-three is currently locked in a court fight with her ex over a fresh award of $855,000 to cover fees for the former couple's upcoming trial over whether the prenuptial agreement they signed 18 years ago can still be enforced.
Baumgartner, 49, has asked for $575,000 to pay her lawyers John Rydell and Susan Wiesner and another $280,000 for her forensic accountant Jill Bombino – which would take the combined total to an eye-watering total of $1.26million.
But documents obtained by DailyMail.com reveal Baumgartner has so far already received $405,000 in legal, attorney, and 'forensic accounting fees' – disbursed in July this year. 
In an excoriating legal filing lodged in court in Santa Barbara, California, on Tuesday, Costner's attorney Laura Wasser hit back at the 'whopping' request – describing the fees as 'inflated' and saying that it would be 'unconscionable' for the Yellowstone star to be made to pay.
'Disso queen' Wasser also accused Baumgartner of being 'unreasonable' and said her constant legal maneuvers – the majority of which have failed – have inflated costs for both parties. 
Court filings obtained by DailyMail.com reveal Christine Baumgartner – pictured last month – has so far already received $405,000 in legal, attorney, and 'forensic accounting fees'
Estranged husband Kevin Costner's attorney Laura Wasser – seen arriving at court with the actor earlier this month –  hit back at the request – describing the fees as 'inflated' and 'outrageous'
Baumgartner, 49, is hoping to void the spousal support section of their prenuptial agreement at trial in November so she can be awarded alimony
'After receiving $405,000 in fees, including an award of $300,000 in legal fees ($200,000 in attorney's fees and $100,000 in forensic accounting fees) on July 12 and removing $105,000 for fees from Kevin's accounts, Christine is back requesting another fee award,' Wasser writes in the filing. 
'This time, she requests a whopping award of $885,000 ($575,000 in attorney's fees and $280,000 in expert costs) just to prepare for the November/December bifurcated trial on one issue — whether the spousal support waiver in the parties' Premarital Agreement ('PMA') is unconscionable as of today. 
'When the numbers are so large, it is easy to lose perspective of the actual value of these numbers.'
The new spat comes less than two weeks after a two-day evidentiary hearing over child support ended with Baumgartner having her payments slashed from $129,000-per-month to $63,000.
She had been requesting payments of $161,000-a-month and, according to the new filing, turned down an offer made by Costner on June 30 of $75,000-a-month because of her desire for a much larger payout.
Baumgartner's fee request is to pay for the costs of a hearing over the couple's premarital agreement which begins on November 27 and is scheduled to last for six days.
The 49-year-old wants to overturn her prenuptial agreement so she can receive alimony – at present, she is entitled to a lump sum of $1.5million and a year's worth of mortgage payments on a new home worth up to $1million.
According to Wasser, estimates from Rydell, Wiesner and Bombino for the cost of trial prep is 'inflated' and repeats work already done for the child support hearing.
Wasser's numbers, included in the filing, state that Baumgartner will be paying her attorneys at the sky-high rate of $800-an-hour.
She added: 'Although Kevin is the wealthier party with higher cash flow than Christine, Christine is quite capable of contributing towards her own attorneys' fees.
'Further, Kevin's wealth and cash flow does not provide Christine and her attorneys carte blanche to take unreasonable positions, fail to make any real effort to resolve disputed issues and thereafter litigate those unreasonable positions.'
She also accused Baumgartner of failing to make a 'meaningful effort' to resolve disputes before engaging in 'forced litigation'. 
In an excoriating legal filing lodged in court in Santa Barbara, California , on Tuesday, Costner's attorney Laura Wasser hit back at the 'whopping' request
Wasser also bristled at Baumgartner accusing her ex of using 'highly litigious tactics' – noting that the pair had been due to take part in a settlement conference, only for the glamorous blonde to insist on an evidentiary hearing that took place before the scheduled meeting.
She fumed: 'Christine fails to inform the court that her settlement position through the months of June, July and August was so unrealistic and frankly outrageous, Kevin had no hope she would be more settlement oriented at the VSC [voluntary settlement conference].'
Last week, Baumgartner found herself on the hook for a payment of $14,000 after Judge Thomas Anderle decided to sanction her for failing to give proper answers to questions from Costner's legal team.
The setback came shortly after Judge Anderle halved Baumgartner's monthly child support payments – a decision she later described as a 'joke' according to a pal.
The friend told DailyMail.com: 'Christine is shocked. She said even Kevin looked shocked. Everyone looked shocked.
'To say Christine is disappointed is an understatement. She described the ruling is a complete joke.'
Speaking to DailyMail.com, Brett Ward, a partner at New York legal firm Blank Rome and an expert in family law, said a party requesting fees isn't unusual, although the potential size of the award is.
He also said judges tend to take a dim view of what they see as excessive requests and generally want to prevent drawn out cases like the Costner divorce is becoming.
He said: 'There is certainly a legal basis for [Baumgartner's] request. However, a judge will examine the reasonableness of the fees requested.
'Judges generally do not want to encourage additional litigation by providing one side with a war chest of future legal fees.
The mom-of-three had been enjoying a temporary monthly payment of $129,000 and had wanted it bumped to $161,000
DailyMail.com previously revealed that Baumgartner, 49, moved into the luxury four-bedroom home on Friday – after a judge in Santa Barbara, California, slashed her child support payments
In July Baumgartner was court-ordered to vacate the former couple's $145million lavish California mansion
'Courts generally balance the less wealthy party's right to carry on the litigation in a fair manner against the concern that a party with a significant fee award will take that money and use it to make every possible argument available, no matter the merit or lack thereof for each claim.'
Ward said the enormous legal bills the pair are racking up are unusual in family court but added that much of the money can be explained by the value of the assets being wrangled over and expects the eventual tab to be much higher.
He said: 'At this pace, and without a settlement in the near future, I would not be surprised if the combined legal fees approach or exceed $5 million.'
Much of Baumgartner's testimony during the evidentiary hearing had hinged on her being able to provide a lavish lifestyle for her three children comparable to that they enjoy while with their father.
Despite renting a $40,000-a-month property in tony Montecito, Baumgartner said her new home is inadequate because sons Cayden, 16, and Hayes, 14, would have to share a bathroom while daughter Grace, 13, would need 'to share hers with the house'.
She also bemoaned the pool house guest accommodation – saying visitors would need to come into the main house to shower – and hit out at the lack of beach access to which her children are accustomed.
In his testimony, Costner said the property was comparable to his own luxury home in nearby Carpinteria and said it even has features he would like in his own house.
According to the mom-of-three's friend, her objections also include her being 'removed' from the community she had enjoyed while living with Costner.
Estranged wife Christine Baumgartner, who appeared via Zoom on Wednesday, was ordered to pay a $14,000 fine after she failed to explain on why her prenup should be voided
The friend added: 'Christine said they [Costner and his legal team] painted the picture of this shallow, greedy gold-digger and that if Kevin could get past his anger and revenge, he would see how this is hurting their kids.
'She said Kevin is ripping her apart from her community by making it impossible to live in the tight-knit neighborhood. 'Christine said this was never about beach views and Kevin knows this. He knows how much the community means to Christine, and that this is his way of punishing her.
'Christine said the fight is far from over.'
The court also heard details of the family's lavish spending – which totaled $240,000-a-month in 2022.
Expenses included $40,000 spent each month on flowers and gifts alone, although Costner's forensic accountant Tracy Katz pointed out the figure is for the entire family, including Baumgartner.
Katz said the 49-year-old was responsible for a host of big-ticket items, including $18,000-a-month on medical bills, $18,855 on clothing and $3,377 on beauty treatments. 
On top of that, Baumgartner was responsible for the lion's share of the $8,886 in cash taken out at ATM machines according to Katz.
Source: Read Full Article