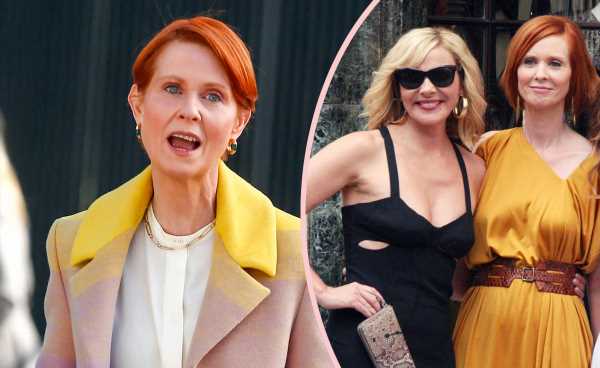 Kim Cattrall has said a LOT about her feud with Sarah Jessica Parker. And SJP has recently given her side as well. But we've heard precious little from their co-stars…
Well, with the momentous news that Samantha Jones is returning for a cameo appearance in And Just Like That… Season 2, it seems as good a time as any to find out what the other ladies think! Kristin Davis told The Telegraph last week, in her super sweet, positive way:
"You have to respect people's wishes. I'm not gonna waste energy on it. I can't change anybody. I do understand fans' feelings – that they're upset… I wish I could fix it, but I can't, it's not in my power."
But that's the Charlotte approach. What would Miranda say? Well, Cynthia Nixon finally broke her own long silence on the nasty business in a profile in Vanity Fair on Thursday. Specifically the interviewer asked what she thought of the much-anticipated return of Samantha, and Cynthia responded:
"I read it in the script, but I haven't seen any of the episodes"
And obviously she wasn't there to see it filmed live. We learned very quickly following the bombshell news of her return that Kim stipulated she would not have to shoot with any of her former co-stars nor meet with showrunner Michael Patrick King.
So since she didn't have much to add about the cameo, the mag asked instead whether it was "weird" generally to come back to the classic dynamic they'd shared over six seasons and two movies — with one of their castmates just gone! The one-time NYC gubernatorial candidate responded at first in a very politically deflecting way, saying:
"This is not something that we speak about, really, but I will try and address it really briefly. Yes, it did feel very different. It felt very different also because we have these new amazing characters, and we're older and our fictional children are now largely grown. Many things felt different."
However, she couldn't help but get a little shady with her answer, adding:
"But the main thing that felt so great was that everybody who was there really wanted to be there. That's just the bottom line. We all love each other, we love our show, we wanted to do more of it. And we all wanted to be there."
As opposed to the person who didn't. Cynthia didn't name Kim, but she did then address the feud, saying:
"So that makes an enormous difference, that you're not walking around on eggshells with someone who's unhappy for reasons that are hard to even understand what they are."
Whoa. She's saying she doesn't even know what Kim is upset about?? After all those interviews the actress gave? Did she never try to reach out and understand?
Frankly, it kind of sounds to us like she doesn't think Kim has a legitimate beef. Just saying, that's how it sounds to us. Cynthia is the fake TV lawyer though, not us. She concluded:
"That is all I'm gonna say, I'm afraid. And that's much more than I've ever said to anybody."
True. And we're thankful for that. But boy do we wish we could see these four forced to hash it out in a room, like a Sex And The City Reunion special, hosted by Andy Cohen or something.
What do YOU think of Cynthia's latest quotes??
Source: Read Full Article