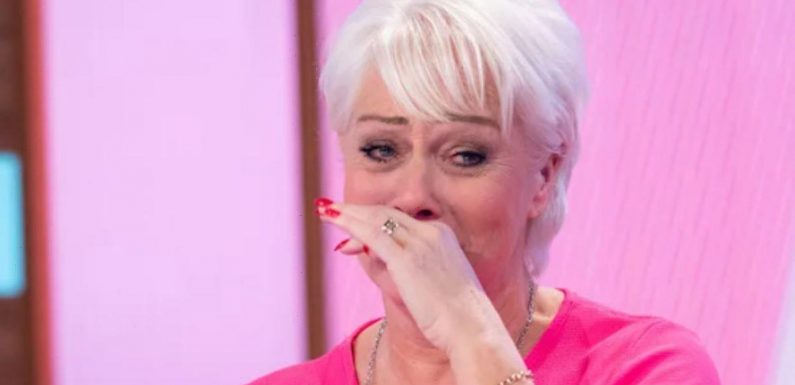 Denise Welch was enraged over "blue tick" celebrities who agreed with her stance on coronavirus "propaganda", but then stayed silent when she was accused of being a "Covid denier". The 64-year-old Loose Women star claims she was "bullied and harassed" by Piers Morgan, who called her "dumb, deluded and dangerous" over her views, and yet celebrities who had backed her in secret didn't say a word of support for her in public.
The frustrated former Hollyoaks actress raged: "I'll never f*****g forgive people for this.
"I was on a Whatsapp group with doctors, with epidemiologists, with virologists [and people on Twitter said]: 'Of course you are, Professor Welch – you f*****g Covid-denier!'"
She added: "The amount of blue tick people who privately supported everything I said and did, but would never once put their heads above the parapet.
"Not only did they not say anything, but they said things to the contrary about it, toeing the f*****g party line!"
READ NOW: A Place in the Sun's Jasmine Harman details 'potentially fatal' issue
Her husband Lincoln Townley, who had scarcely said a word throughout a long rant she was delivering for her Juicy Crack podcast, then nervously cut in.
At first, he appeared to be trying to calm her, but then he agreed: "I saw it – they're celebrities, people with a voice, who didn't say anything."
Denise added in frustration: "I had people on Twitter say: 'Propaganda? How dare you use that word?!'"
Yet the TV star claimed that, behind the scenes, the Whatsapp group she had been on saw healthcare professionals acknowledge "propaganda" over the virus.
Denise accused the government of "scaremongering" over the figures, arguing that many people had died "with Covid" instead of as a direct cause of catching it.
"People were literally locking themselves away, not seeing anybody for an entire year, thinking that if they touched somebody, they would die of Covid," she lamented.
"[And] I couldn't understand why sensible, logical people – friends of our, relatives of ours, were looking on me with disdain [as if] I should be doing exactly what the other people were doing."
Denise argued that she was rallying against that stance – and that stepping outside of the norm had caused enormous hostility.
She revealed that, as a long-term Labour supporter, she had "never voted Tory" in her life, but that she had now begun to question where her loyalties lay, after starting to dislike fellow left-wingers' attitudes.
"I couldn't understand [how] people I knew historically hated the Tories [but] the one thing they were accepting without question [from them] was anything about Covid," she furiously raged.
"They would question anything that Boris Johnson or any of the Tories did, but with those nightly conferences, they were there with their f*****g Handsmaid's Tale outfits on going along totally and utterly with everything!"
Denise has also blasted the government for not adhering to the same rules that everyone else had been expected to follow.
"How was it possible that no masks were worn in Downing Street?" she quizzed angrily, before admitting she was sceptical of wearing them herself.
The Loose Women panellist added she'd previously read literature suggesting they weren't an effective barrier against the virus.
She also claimed that doctors had been unable to cope with MRSA and that many of the Covid deaths reported were therefore actually deaths of people "with Covid".
Denise acknowledged she was "aware that we had to look after our loved ones, like we do with pneumonia", but that she felt the "scaremongering" had been too extreme, especially when some senior government officials had failed to follow the same rules as the public.
She concluded incredulously: "I've never felt so personally affected by anything in my life!"
The full Juicy Crack podcast episode starring Denise Welch can be heard here.
Source: Read Full Article