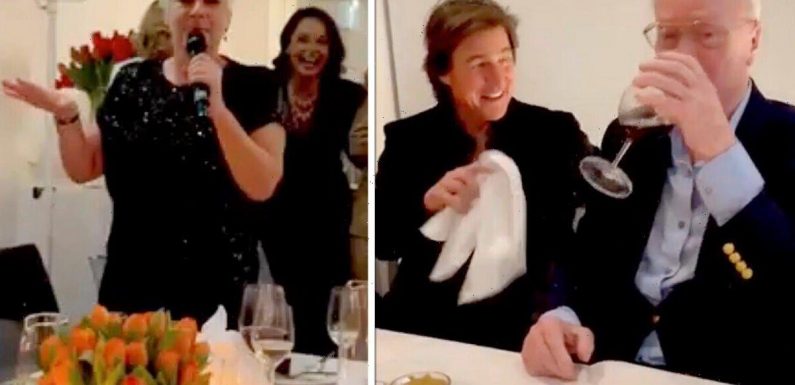 Denise Welch makes rude joke about Michael Caine at birthday dinner
We use your sign-up to provide content in ways you've consented to and to improve our understanding of you. This may include adverts from us and 3rd parties based on our understanding. You can unsubscribe at any time. More info
Denise Welch, is no stranger to a good event where she gets to let her hair down. The TV personality attended Sir Michael Caine's 90th landmark birthday bash in London, and Tom Cruise, 60, was also present to celebrate the special occasion.
Denise can be seen standing up to give a speech in an Instagram video, and the guests in attendance can all be heard laughing as the star tells a rather dirty joke about Michael and his wife Shakira.
"And only the other morning she said she heard a scream from downstairs, and it was Michael shouting, 'Shakira, look there's a parcel the Olympic condoms have arrived'," she began. "He said, 'I'm going to wear the gold one tonight', and she said, 'why not wear the silver and come second for once'?"
The television favourite captioned the post on Instagram, "Such an honour to be asked by Shakira to say a few words at Sir Michel Caine's 90th birthday!!! He enjoys a dirty joke, and it appears that Tom Cruise does as well!!! Excellent company and a fantastic evening."
In the video from the event, Tom Cruise, 60, is seen in fits of laughter at the dirty joke Denise made.
Fans found Denise's surprise speech amusing and rushed to the comments section to express their feelings.
One wrote in reference to Denise's husband's quip in the video: "Omg Denise Welch this is brilliant! I love Lincoln's comment at the end."
Another commented: "Pure gold. You are so funny!"
A third penned: "I mean honestly. You are the best Den."
"Totally bizarrely hilarious," another added.
While a fifth commented that Denise should get Tom Cruise on Loose Women.
"Get Tom on Loose Women he would love it. Looks like a good night," the fan said.
Denise later posted a selfie with Tom, as they can both be seen grinning at the camera, as she penned: "Me and Tom".
Don't miss…
Gary Lineker erupts at Elon Musk as son gets death threat[COMMENT]
Harry's 'not the brightest bulb' says Piers amid swipe at Meghan [LATEST]
Rebel Wilson unveils weight loss as she re-wears old gown to Oscars [PICS]
Comedian David Walliams was also present at the event and he later posted a snap of himself, Tom Cruise, and Michael Caine to his Instagram.
David also posted images of Sir Michael using the microphone to address the partygoers and a picture of his rainbow-coloured candle topped chocolate cake.
The former Britain's Got Talent judge wished the iconic Sir Michael Caine a happy 90th birthday in the caption and fans also left their congratulations in the comments.
Many other celebrities also sent their birthday wishes to the legend in the comments.
A number of guests also shared photos and videos from the party online, which appeared to be epic.
Just a few days prior, Tom chose to skip the 2023 Oscars despite the fact that his movie, Top Gun: Maverick was nominated for six honours, including the Best Picture Award.
He reportedly spent the night in an igloo rather than walking the red carpet for the 95th Academy Awards.
In the end, the movie only won one award—Best Sound—while Everywhere All At Once received the prized Best Picture honour.
Tom reportedly "knew" the movie wouldn't win an Oscar and chose to "get on with what he does best" as a result.
Source: Read Full Article