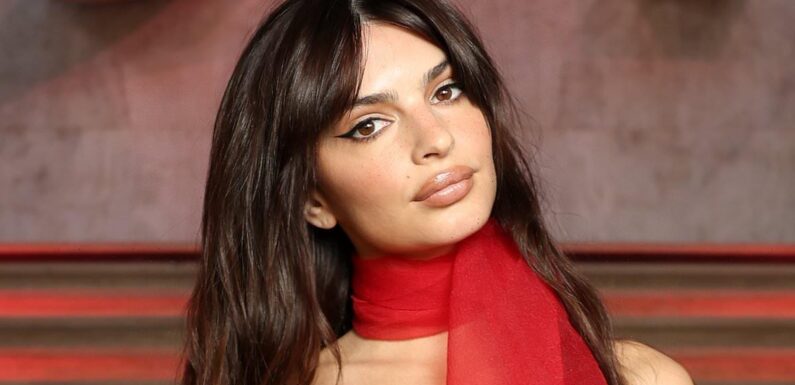 EXCLUSIVE – Emily Ratajkowski's VERY public kiss with comedian Stephane Bak was 'nothing serious': Model is still single and dating after her divorce but is enjoying 'having a good time' with a 'normal dude' in the wake of her Harry Styles tryst
Emily, 32, enjoyed a passionate PDA with Stephane, 27, in Paris earlier this week

Mother-of-one separated from her 36-year-old husband Sebastian in July 2022

Model is 'all about living her life' and is only 'expecting fun' with French actor

READ MORE: Emily's fun year of dating as she embraces life as a 'chic' divorcee
Emily Ratajkowski's many admirers can breathe a sigh of relief because the model is still very much single and dating – despite engaging in a very public steamy kiss with 27-year-old comedian Stephane Bak just days ago. 
While the passionate embrace – which came just months after she was seen locking lips with Harry Styles – may have led some to believe that the model and actress has found a serious beau, sources close to the 32-year-old insist it was 'nothing serious', insisting she is still single. 
According to insiders the kiss was 'nothing serious' and Emily is simply 'having a good time' with a 'normal dude' in the wake of her divorce from Sebastian Bear-McClard, 36.
Still, Emily looked smitten with the Franco-Congolese star as they kissed in the street in Paris, France, while clutching glasses of wine – and a bouquet of red roses – on Tuesday evening.
'If you are funny, you have a chance with Emily – and Stéphane is very confident, has a great sense of humor and is easy to get along with. It is just a good time,' a source told DailyMail.com exclusively.
Emily Ratajkowski, 32, is still very much single despite being pictured enjoying a very passionate kiss with actor Stéphane Bak, 27, in Paris this week
The model and actress, pictured here on October 24, is said to be 'having a good time'
In March 2023, Emily was spotted enjoying a tryst with Harry Styles in Tokyo
'It is nothing serious right now, she is having a good time and there isn't much more to it than them hanging out. They met via mutual friends and seeing where it goes.
'He seems to be all about it, and she likes the fact that he is sort of a normal dude and fame really hasn't taken over his ego. She's all about living her life and seeing who enters it and if something works out, fantastic. She's just rolling the dice and only expecting fun.'
DailyMail.com has contacted a representative for Emily for comment. 
Stephane shot to fame in 2012, aged 16, after being named 'the youngest comedian in France' thanks to his stellar stand-up routines in small clubs in Paris.
He was expelled from high school in 2011 and was later authorized by the French Department of Social Affairs to start working at the age of 14 – leading to his comedy career.
His acting roles include Christopher Barratier's Team Spirit, David Moreau's Alone, and Paul Verhoeven's Elle.
His most notable role came in Wes Anderson's recent film Asteroid City, in which he played a student alongside A-listers Scarlett Johansson and Tom Hanks.
His racy embrace with Emily comes seven months after she was filmed locking lips with singer and former One Direction star Harry, 29.
Emily separated from her husband Sebastian Bear-McClard, 36, in July 2022 and filed for divorce in September that year
According to a source, the Gone Girl actress is still single and just 'expecting fun'
Comedian Pete Davidson, 29, and Emily, pictured here in November 2022, were said to have dated briefly
Comedian Eric Andre, 40, posted this very saucy photo of him and Emily enjoying Valentine's Day together in February 2023
In an exclusive video obtained by DailyMail.com, the pair enjoyed a kiss while hidden behind a vehicle in Tokyo back in March.
The pair, who didn't seem to care who saw, also danced with each other as they sheltered under an umbrella from the rain.
The Gone Girl actress has been embracing the single life since filing for divorce from her film producer ex-husband Sebastian.
The couple, who share two-year-old son Sylvester, first split in July amid accusations that Sebastian was a 'serial cheater'. 
A source told Page Six at the time claimed he is a 'serial cheater', adding: 'Yeah, he cheated. He's a serial cheater. It's gross. He's a dog.' 
Following their split, Emily enjoyed a fling with comedian and actor Eric Andre, who posted racy naked snaps of them together on Instagram on Valentine's Day. 
She was also believed to have been dating Kim Kardashian's ex-boyfriend Pete Davidson back in November 2022.
A source told Us Weekly at the time that the actress and Saturday Night Live comedian were 'in the very early stages' of dating and really liked each other.
Source: Read Full Article