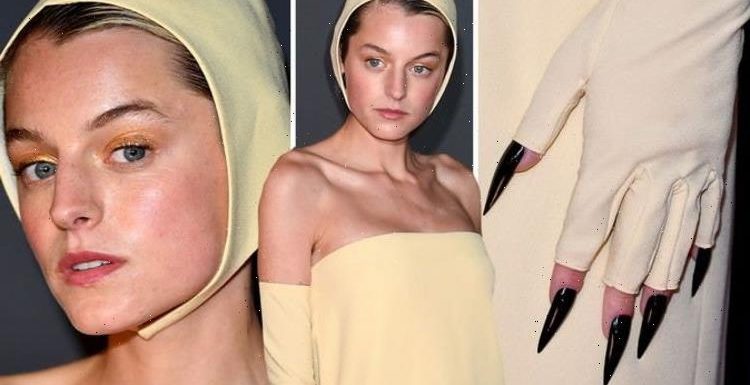 Emma Corrin, 25, didn't hold back when it came to her outfit for the 73rd annual Emmy Awards. The actress, who is nominated for her role in Netflix period drama The Crown where she played Princess Diana, rocked a custom yellow Miu Miu sleeveless dress with some "bizarre" added extras.
She paired a matching head cap and fingerless gloves with the ensemble, which showed off her daring black claw manicure.
Emma opted for natural make-up to compliment the neutral outfit, which featured subtle orange eyeshadow.
Taking to Twitter following her red carpet debut, fans was in awe of her choice of outfit as they gushed over the "crazy" "amazing" creativity.
One penned: "Emma's style is so crazy!!!"
We use your sign-up to provide content in ways you've consented to and to improve our understanding of you. This may include adverts from us and 3rd parties based on our understanding. You can unsubscribe at any time. More info
While another noted: "How does Emma Corrin pull off such wacky outfits and still look amazing?"
"Creativity is Emma Corrin at the Emmys 2021," a third stated.
A fourth giggled: "Can we just talk about Emma Corrin's outfit please."
"I never imagined this 'ski collection' as red carpet material but it looks good," a fifth said.
A sixth praised: "Emma is the best dressed by a mile!!!!"
But others weren't so impressed by the daring look.
"What is Emma Corrin thinking right now? Looks like a swimming hat," a seventh wondered.
Someone else agreed: "Emma Corrin's claws are something else….."
The cast of the hit series showed their support for on both sides of the pond on Sunday night.
Emma alongside Gillian Anderson, Olivia Colman, and Emerald Fennell wowed over at Soho House in London, while their co-star Josh O'Connor celebrated in Los Angeles.
He walked the Emmy red carpet in a Loewe suit, which sported an eye-catching black flower rather than a bow-tie.
Gillian, who plays Prime Minister Margaret Thatcher on the show, stunned in a white fringe crop top and matching maxi skirt.
The star's glossy blonde hair framed her face in romantic waves, as she beamed to the cameras.
Queen Elizabeth II actress Olivia, looked elegant in a navy blue and bright orange gown with cape, which she paired with strappy heels and a chic bun.
Emerald, who plays Camilla, shone bright in a glittering sheer dress, which featured lime green hems with lilac hearts and shimmering florals patterned throughout.
While The Crown is nominated for best Drama Series, Gillian and Emerald are also up for Supporting Actress in a Drama Series, while Emma and Josh are up for Lead Actress and Actor.
Source: Read Full Article