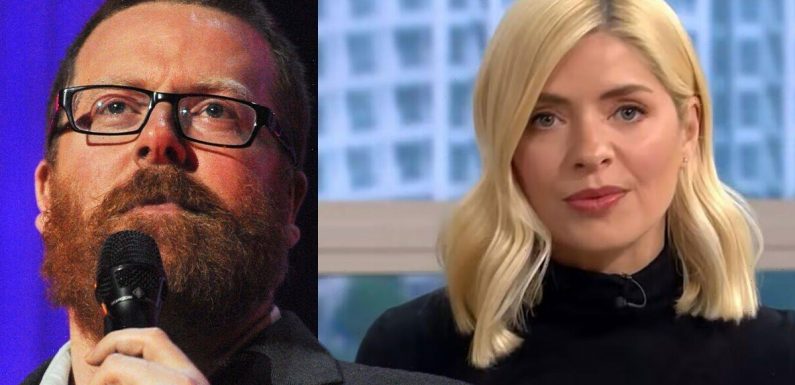 Frankie Boyle gives brutal take on Harry and Meghan's wedding in 2018
We use your sign-up to provide content in ways you've consented to and to improve our understanding of you. This may include adverts from us and 3rd parties based on our understanding. You can unsubscribe at any time. More info
Frankie Boyle, 49, is known for his very inappropriate sense of humour and this was shown during his performance at Latitude Festival last weekend. The comedian has come under heavy scrutiny after it has been claimed he made jibes about "raping and f*****g" Holly Willoughby along with other TV stars.
I look at it from both sides.

Frankie Boyle
Frankie reportedly quipped during his performance directed at the This Morning presenter: "I'd obviously kill her and rape her afterwards. I'm joking, I'd rape her first."
Since, it has been claimed he still supports the offensive joke after he was questioned about it at a Waterstones launch event for his latest book.
He said: "Can I just say, my routine about raping and f*****g Holly Willoughby was part of a very long routine about whether or not it's okay to do a joke about that, and I look at it from both sides, there are pluses and minuses."
He also made sure to add that the power of comedy is in the fact that it is in the "eye of the beholder".
Because of this, he added that believes himself to be a "mainstream" comic, according to Mail+.
Express.co.uk have contacted Frankie's representatives for comment.
About the joke, a spokesperson for volunteer campaign group FiLiA said: "We are horrified that some men in the entertainment industry continue to consider the abuse of women to be comedy material.
"There is nothing funny about male violence and seeking cheap applause at the expense of traumatising women speaks of low-quality material."
A statement continued: "We are grappling with a national crisis in which the police and the courts fail rape victims who are brave enough to come forward seeking justice.
"Women and girls around the country are not laughing. Instead, women are angry and scared for their safety."
This comes after the comedian recently admitted he has to stop himself from writing what he wants on Twitter due to fears of being cancelled.
He said: "I have become terrified of social media. I now think of things and just don't put them down.
"Sean Connery died and it was quite early in the morning when the news came in so I was one of the first people to see the news.
"I thought of tweeting, 'They've shaken him and he's not stirred'. Then I just thought 'No, I cannot'."
Frankie made a name for himself in 2005 on BBC's Mock of the Week.
The Glaswegian would be a regular on the panel show until 2009 when he left to work on other projects.
Since leaving, he has criticised the producers of the show for their avoidance of controversial topics.
One of his worst jokes includes his jibe directed towards Harvey Price, which led to Peter Andre getting his lawyers to write to Ofcom with a complaint.
Although it was decided by Ofcom that Channel 4 had breached broadcasting rules by transmitting the material in question no other action was taken.
Source: Read Full Article