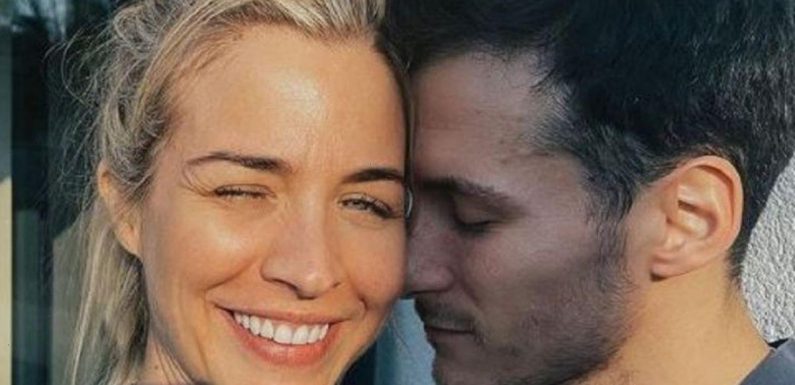 Gemma Atkinson grew up in Manchester, despite having a Scottish father, and she has joked that Mia – the daughter she shares with Strictly pro dancer Gorka Marquez – sounds exactly like a Mancunian herself. Gorka, on the other hand, is originally from Bilbao in Northern Spain.
Gemma, 38, shared a short video clip of her three-year-old daughter talking earnestly into a pretend phone while demonstrating that she already has a Manchester accent.
"Obsessed with playing 'preschool'," the proud mum captioned the footage.
She then added, with a laughter emoji, "She's gonna be mother hen to her little brother. The poor little fella!"
Picking out of one of her most accented words, "earlyehhh", and spelling it phonetically, she used a celebratory raised hands emoji, chuckling: "She's so Manc! Sorry Gorks."
READ NOW: Jeremy Clarkson hits back over Diddly Squat farm shop pricing claims 
She and Gorka met on Strictly Come Dancing several years ago and fell for each other – and now they are expecting their second child.
Gemma was born in Bury, Greater Manchester, where she attended school, and eventually launched her career aged 15 via a modelling agency in the area.
That agency landed her the first major acting role in her career, playing schoolgirl Lisa Hunter in the Channel 4 soap Hollyoaks.
Now a fitness influencer who can regularly be found lifting weights in the gym, even in the latter stages of pregnancy, Gemma has always had "Northern pride".
Gorka has not yet commented on how he feels about his daughter's distinctive Mancunian accent, which is already emerging.
Meanwhile, the couple have been focused on preparing for their son's arrival after Gemma announced her pregnancy earlier in the year.
A name has not yet been announced, although she joked that Mia already has an idea.
"We may need to do some negotiating on names, as so far she's adamant he's going to be called Barbie," she joked on Instagram.
Gemma is bravely preparing for the birth and hoping there will be no complications, after a terrifying experience during her first pregnancy which almost cost her life.
Mia was delivered via an emergency C-section and hours later, Gemma began haemorrhaging blood – but she has her fingers crossed that this birth will run much more smoothly.
Admitting to her nerves on Instagram, she shared: "Physically, I can do this but mentally, it's like hitting a wall in a workout.
"I need to just push through," she agonised, following a visit from her midwife, Rachel, with whom she has been doing positive affirmations.
Explaining why she has forked out for a private midwife, she rationalised: "I love our NHS but I know how stretched they are.
"With the strikes still happening, I felt uneasy at the thought of history repeating itself with my pregnancy and not enough staff to help."
She added: "I fully support their reasons for striking and they should absolutely be paid a hell of a lot more for what they do!"
The former Hollyoaks actress confirmed that while she intended to give birth in an NHS hospital, her midwife would be tasked with helping with "pre and post-care".
Source: Read Full Article