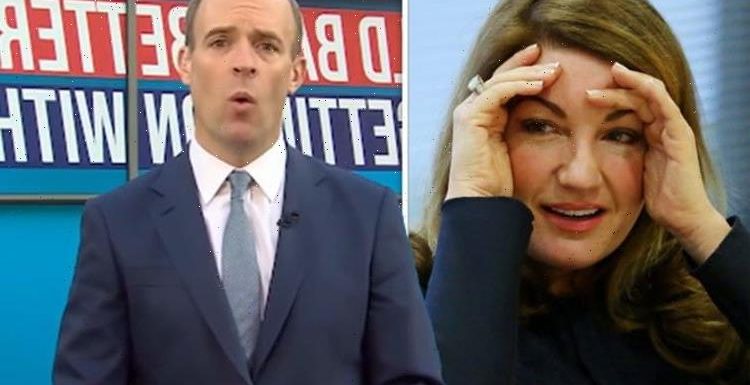 Dominic Raab grilled by Nugent over misogyny crime laws
We use your sign-up to provide content in ways you've consented to and to improve our understanding of you. This may include adverts from us and 3rd parties based on our understanding. You can unsubscribe at any time. More info
Baroness Brady, 52, found Dominic Raab's inaccurate claim that misogyny can be shown against men as well as women laughable. The Apprentice star also highlighted the urgent need to "stamp misogyny out" instead of getting caught up in semantics.
Brady, who is currently vice-chairman of West Ham United F.C., is a highly-respected businesswoman and has previously spoken on the topics of boardroom sexism, particularly in the sporting industries.
When she heard Raab speak on the topic of misogyny, she was not impressed by his poor understanding of the term and called for action against the vile behaviour that men show towards women.
The Justice Secretary was pressed on BBC Breakfast whether misogyny should be a hate crime in the wake of Sarah Everard's murder, but he seemed confused about what the term actually meant.
"Misogyny is absolutely wrong, whether it's a man against a woman or a woman against a man," he said.
The dictionary clearly defines misogyny as a dislike of, hatred of, or ingrained prejudice against women.
Therefore, the term cannot be used to describe hatred or prejudice towards men, which was a fact that escaped the Justice Secretary in what was a rather embarrassing moment of live TV.
In reaction to the blunder, Brady wrote: "Sorry, but I had to laugh at Dominic Raab's claim that misogyny can be shown against men as well as women."
She went on to explain how Sally Nugent had been interviewing Raab about the inquiry into the "systematic failures" that let Everard's killer Wayne Couzens stay employed as a police officer.
Brady shared how it was disappointing to a lot of people when the Justice Secretary appeared out of the loop.
She continued: "You'd think that if you get as far as Justice Secretary, you might know what misogyny is – that, by definition, it applies only against women.
"You might hope he would know its counterpart, the dislike of men, is called misandry."
However, the high-powered celeb was also pragmatic about the situation.
READ MORE…
Meghan Markle's 'ill-fitting' outfits slammed by Lady C [UPDATE]
Ulrika Jonsson calls out Gordon Ramsay for wanting more children [NEWS]
Bill Turnbull recieves blood transfusion amid cancer battle [UPDATE]
She explained that she was less interested in Raab's failure to grasp the concept of misogyny and more interested in tackling it.
"Let's not focus on the words," she penned.
"Let's focus on the issue – namely, how to stamp misogyny out."
Brady's thoughts on Raab were published in The Sun today, alongside opinions on social media and the damage it does to our mental health, as well as praise for Tom Daley's honest speech about his struggles with bulimia.
Many will recognise Brady from The Apprentice, where she advised Baron Sugar opposite Claude Littner for a number of years.
Alternatively, some football fans will also remember her as former Managing Director of Birmingham City F.C.
Aside from her time working in football and showbiz, the Baroness also sits in the House of Lords and has previously acted as Small Business Ambassador to the UK Government.
A new series of The Apprentice will broadcast on BBC One in early 2022 with former winner Tim Campbell standing in for Claude Littner, who cannot take part for medical reasons.
Source: Read Full Article