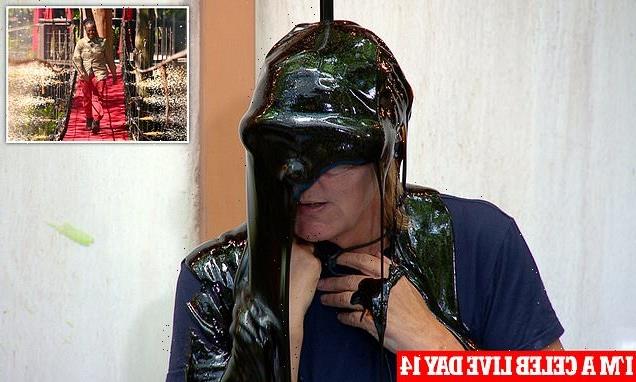 I'M A CELEB 2022 RECAP: Ant and Dec announce SECOND elimination after overjoyed campmates won 10 stars on Partners in Grime Bushtucker Trial
This was MailOnline's live blog for episode 14 of I'm A Celebrity… Get Me Out of Here! 2022:  
Host commentator
Tune in again tomorrow night for updates on the 15th episode… which will see ANOTHER celebrity voted out of the jungle!
The only likeable ones are Seann, Scarlette, Owen and Matt the rest are sour and miserable faced #ImACeleb
Yeah. You know what time it is👍🏻😊: #ImACeleb pic.twitter.com/KtgjIAsTef
Team Matt #ImACeleb pic.twitter.com/j9iofhlsf9
Boy George revealed he started his band Culture Club as a way of seeking revenge against an ex-boyfriend during Saturday's I'm A Celebrity… Get Me Out of Here!
The singer, 61, explained how his former flame was in a music ensemble and when they went their separate ways, George started a group of his own to 'annoy' his one-time partner.
Pop star George eventually soared to the top of the music charts around the world with Culture Club, but before the band, he tried his hand at stacking supermarket shelves when he was kicked out of school, and also took on a job in a hat shop.
Tensions have been rising in the Australian jungle due to the lack of food.
So the I'm A Celebrity campmates were delighted on Saturday when they managed to bag 10 stars in their latest Bushtucker Trial Partners In Grime, winning a full meal each after days of mostly rice and beans.
The trial saw the celebrities have to prove how well they have got to know each other by answering questions about each other, but with a gunk-filled twist in true I'm A Celebrity style.
Tomorrow night will see the next celeb DUMPED from the jungle!
Emosh! #ImaCeleb pic.twitter.com/WDUMNjYVhd
Matt got the first question wrong – but got Seann's dog name correct – Mildred Barrett!
And Seann got the second question right: Matt's MP constituency of West Suffolk!
But she gets the second question of his Hollyoaks character name (Romeo Nightingale) correct.
They bag themselves two stars.
Babatunde and Scarlette up next.
Arriving at the game show-style Trial, Ant explains: 'This is Partners In Grime. In this game show you will compete in your pairs. You'll be asked a question about your partner and if their response matches yours you will win a star.
'There are five pairs, so 10 stars to be won and each pair will have two chances to win. This is a Trial, of course, so there will be a few surprises along the way.'
Dec says: 'If you want to stop the Trial at any time just call out 'I'm A Celebrity… Get Me Out Of Here!' But that will end the Trial for you and your partner and you will lose the stars that you're playing for.'
When one answers a question, their partner has to put on headphones with music so they can't hear their answer.
The pairs are Seann and Matt, Sue and Mike, Jill and Owen, Boy George and Chris, Scarlette and Babatúndé.
Elsewhere, Seann made up with Chris. He said: 'I was having a moment yesterday and I was so sorry.'
Chris said: 'Yesterday's gone, don't worry. I wasn't even sure if you were joking or not, don't worry, it's done.'
Seann admitted: 'I was freaking out.'
Boy George having a moan. Shock horror #ImACeleb
Don't kick out the ones causing drama you'll be left with a borefest…..#ImACeleb
[email protected] looking GREAT at 7am
Meanwhile me at 7am:#ImACeleb #ImACelebrity pic.twitter.com/VMU9J3cGmZ
Charlene White has accused Matt Hancock of ruining her I'm A Celebrity experience, claiming she was forced to 'walk a tightrope' and could no longer 'laugh or joke' once he arrived in camp.
The ITV newsreader, who became the first contestant voted out on Friday night, said she had constantly thought about the 'grieving families' awaiting the Covid public inquiry and felt she would have done herself an injustice as a journalist had she not questioned the former Health Secretary on his reasons for doing the show.
The Loose Women anchor also admitted that she feared being sacked if she appeared in any way sympathetic towards Mr Hancock, 44, worrying that it would destroy her 'impartiality'.
The families of the I'm A Celebrity… Get Me Out Of Here! stars posed for a group picture shared to the show's official Instagram account on Friday.
They have been touching down in Brisbane ahead of the first eviction on Friday night – in which Charlene White was sent packing.
In the caption, IAC staff wrote: 'It's official… The Campmates' family and friends have arrived in the jungle! #ImACeleb.'
See if you can spot them here…
I'm A Celebrity's Sue Cleaver finds herself completely soaked in gloopy molasses as she struggles to win stars in the latest trial Partners in Grime.
In a preview for Saturday night's episode, the Coronation Street star is caked in the dark sticky substance as she tries to answer questions about Mike Tindall.
However, it looks as though the campmates may find themselves going hungry as Sue gets her first question about the rugby star incorrect.
Stay tuned for updates on the 14th episode of the 2022 series, where the campmates are to take on the Partners in Grime Bushtucker Trial…
Source: Read Full Article