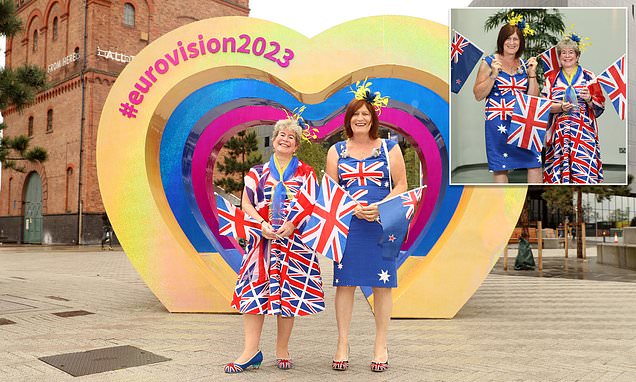 Is this Britain's biggest Eurovision fan? Woman, 58, prepares to attend her 12th final in Liverpool this weekend
Resplendent in her colourful outfit put together especially for Saturday, Sylvia Rock might possibly be Britain's biggest Eurovision fan.
Sporting a strappy Union Jack dress and Ukrainian-themed feathered fascinator and scarf, local government officer Sylvia will be one of the most suitably-dressed as she attends her 12th final in Liverpool.
Sylvia, 58, has admitted Eurovision is 'an addiction' which has taken her all over Europe and cost many thousands of pounds.
Her first contest was in Latvia in 2003, where Britain's representative, Gemini, infamously scored 'nul points'.
In more recent years, Sylvia has travelled to Dusseldorf, Baku, Malmo, Copenhagen, Vienna, Stockholm, Kyiv, Lisbon and Tel Aviv, as well as Turin, last year.
 Sylvia Rock, 58, (left) is preparing to go to the Eurovision finals in Liverpool this weekend
 Fellow superfan Fiona Guest, 62 , (left) accompanies Sylvia Rock to the Eurovision finals
READ MORE: Scouse commentator is selected as an alternative narrator for the Eurovision final in Liverpool after a seven-week search by the BBC's local radio station
Joining her clocking up the air miles is her old friend Fiona Guest, who she met at the University of London in the 1980s and now lives in New Zealand but still refuses to miss out.
Fiona, 62, who has accompanied Sylvia to all the contests except the one in Kyiv in 2017, is donning an identical Ukrainian fascinator – but will be wearing a made-to-order dress created from an Australian flag.
'There's a rivalry between New Zealand and Australia but it's the nearest country taking part that's local to me,' she explained.
Slyvia's trusty Union Jack dress has accompanied her to many events, having been bought for the Copenhagen contest in 2014, while the fascinator was specially purchased for this year's contest online.
Speaking before the first semi-final today, Sylvia – who is attending all three televised live shows – said: 'It's important to remember why this event is being held in Liverpool this year. 
'Having been at the contest in Kyiv in 2017, it's been heart-breaking to see what's been happening over there.'
The pair admit getting tickets this year was 'the most difficult it's ever been', despite trying to buy tickets using nine phones and computers between them when they first went on sale.
Sylvia, from Kenilworth, Warwickshire, failed and Fiona only secured one ticket – but luck was on their side as they later managed to secure tickets to the two semi-finals and the final through the fans' ballot.
Sylvia (front centre) with other Eurovision fans for the grand final in Kyiv, Ukraine, in 2017 
Sylvia (second right) in Baku, Azerbaijan, for the Eurovision 2012 final
Explaining their dedication to Eurovision, Sylvia said: 'It's not just the shows, it's the atmosphere and the people – we've met so many new friends. 
'We've also been to some places we'd never have visited, like Baku (capital of Azerbaijan, which hosted in 2012).'
Fiona added: 'For me, because of the distance involved I make it a long holiday around Europe.'
Sylvia said she has been a fan since she was a girl and remembers 'dancing around the kitchen with my mum' in the 1970s.
Sylvia (front centre) at the Eurovision final in Vienna, Austria, in 2015
Sylvia at the Eurovision song contest finals in Malmö, Sweden, in 2013
Of her travels, she said Baku – where she wore a Union Jack dress and red, white and blue fascinator – was the 'best time'. 
'Walking across the main square, all the locals kept stopping us, we were like A-list celebs.
'I'm not nerdy, I just love it…live music is wonderful.'
Fiona, an IT trainer who moved to New Zealand in 2016, describes friendships formed with fellow fans as like having a 'second family'.
Despite the cost, she says attending each year is 'non-negotiable'.
Source: Read Full Article