The 'Girls Trip' star is accused of getting under the knife after she flaunts perkier derriere in her tight pants.
AceShowbiz –
Jada Pinkett Smith still looks hot in her mid-40s and she may partly owe it to her plastic surgeon. The "Gotham" alum was recently spotted flaunting her butt, which looked perkier than ever, in her tight pants, prompting speculation that she may have got butt implants.
The transformation was apparent as the 46-year-old star has been known for having a very flat body. While the perky butt looked good on her, not all think that she went under the knife to enhance that part of her body.
Instead, many think that the wife of Will Smith might just use butt pads to get the illusion that she's got bigger ass. "Maybe she's wearing a pair of those 'Booty-Pop' panty briefs???" one commented on a picture of Jada's perkier butt.
Another agreed and added, "It actually looks like booty pads. The one you put under ur jeans and it looks real weird." Someone else thinks that the picture might be photoshopped, "If they didn't photoshop the pic it would look like the same butt."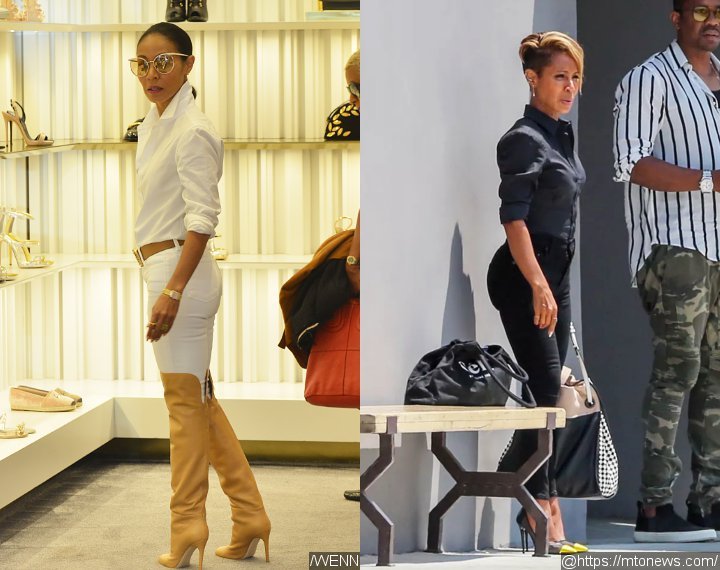 Another, however, believes that Jada might have got butt implants. "She did. She has the same 'My legs don't connect to my ass' s**t Kim Kardashian has," the commenter argued, accusing Kim's famous derriere of being fake as well.
If Jada did get butt implants, it wouldn't be the first cosmetic surgery that she underwent to enhance her looks. The mother of two went under the knife to get cheek implants about a decade ago, which many said didn't make her look better.
Jada has also admitted that she recently underwent vaginal rejuvenation treatment for bladder issues. While she did it for health reason, she's enjoying the side benefits of the procedure. "One of my girlfriends got it done. She's like, 'I promise you, you're gonna feel a difference.' She says, 'I know it sounds kooky,' (and) she was right…!" she said on her "Red Table Talk Facebook Watch" series.
"I was telling my mum, I actually had it for my bladder issues, which completely went away after three treatments," she went on sharing. "When I tell you my yoni (the spiritual name for vagina) is like a 16-year-old, I'm not kidding. It looks like a little beautiful peach!"
Source: Read Full Article