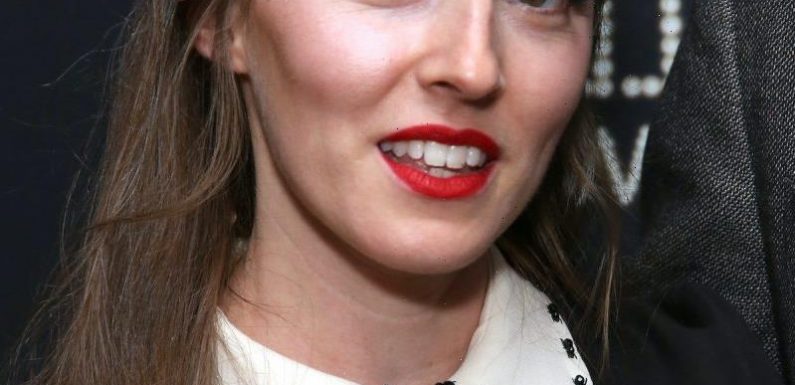 Art continues to imitate life as comedian John Mulaney's wife Anna Marie Tendler shared a stunning photograph that almost resembled a painting, titled, "Ferocious in Bloom."
Fans quickly latched onto the image of pale pink and white peonies surrounded by a strong amethyst crystal rock and tarot cards. An Amethyst crystal is meant to create calm and peace, especially for those who are in pain. A fan asked about the cards and the meaning behind one next to the vase. "Strength," Tendler replied. The card on the other side of the vase is the "Lovers" card. Tendler's signature style is washed across the image, playing with shadows and light. She also graciously shared a few "behind the scenes" shots of how she built the striking photograph. She featured the flowers in bloom, candles, and stones featured in the image.
Anna Marie Tendler is communicating her pain and story through her art
While Tendler and Mulaney have not released any further statements since announcing they planned to divorce, Tendler has shared her journey through her artwork. Even prior to the couple's announcement, Tendler posted artful images to her Instagram. She deactivated her account during the weeks prior and after Mulaney went to rehab. Mulaney announced in December he was entering a treatment program for drug and alcohol abuse.
Tender's Instagram prior to Mulaney's announcement was filled with some art, but mainly photos of the couple and friends in their life. When Tendler returned to Instagram, she dropped her married name and slowly began to remove photos of Mulaney. She re-built her account with her artwork, shot mainly in an eccentric home crammed with furnishings from bygone days.
https://www.instagram.com/p/CPeYu5QhP_P/
Photos shared before the couple's divorce announcement were more cryptic, but still showed Tender's pain and suffering. However, once Mulaney and Tendler went public with their news, Tendler's photo series became more apparent as she methodically and artfully told her side of the story.
John Mulaney and Anna Marie Tendler's divorce did not appear a mutual agreement
The couple's individual statements about the divorce indicated that it was Mulaney who ended the marriage and not Tendler. "I am heartbroken that John has decided to end our marriage," Tendler's spokesperson shared with Page Six. "I wish him support and success as he continues his recovery."
She has shared photos of her tearful face and any images where she is featured, she is alone looking haunted. Only hours before the divorce announcement, she posted about Mother's Day, cradling the couple's dog Petunia. "Happy Mother's Day to all the women who have chosen unconventional paths of motherhood, and to those for whom the unconventional paths have chosen them," she captioned the image as she sat alone in what appears to be a child's bedroom.
https://www.instagram.com/p/CPPIQ2HBsiX/
After the announcement was made, her next image was a self-portrait of her saging her home. This was followed by a dinner for one photo where she is photographed sitting alone at a table that is set for two people. Mulaney has remained silent in the media and social media.
Source: Read Full Article