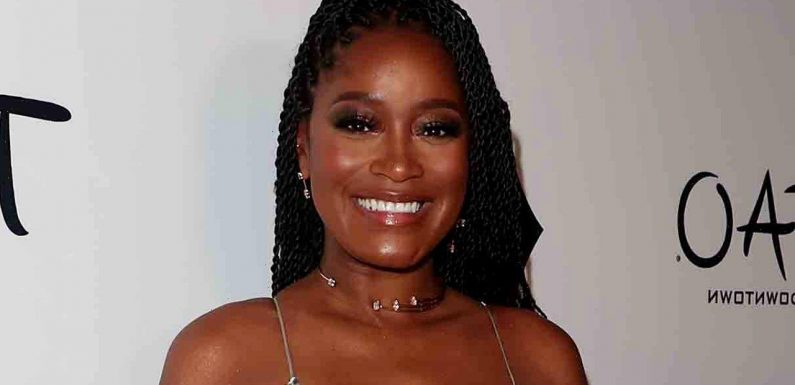 In addition, the 'Nope' actress' boyfriend/baby daddy Darius Jackson turns to his social media platform to offer fans a closer look at the unborn baby with an ultrasound photo.
AceShowbiz –Keke Palmer is every bit the glowing mom-to-be. The Emmy-winning actress, who is pregnant with her first child, looked extravagant when walking on a red carpet at the 2023 New York Film Critics Circle Awards.
On Wednesday night, January 4, the "Akeelah and the Bee" actress graced the red carpet in a sparkling dress. When posing for photos at TAO Downtown in New York City, the 29-year-old star sweetly cradled her growing pregnant belly. She'd be honored at the event with the Best Supporting Actress award for her role in Jordan Peele's "Nope".
Just before the award ceremony, Keke sent her fans into a frenzy with a cryptic tweet that seemingly gave a clue about her baby's gender. "It kills me when guys are disappointed that they are having a girl, like they aren't the reason for that genetic outcome lmao. Also, baby girls are a blessing," she wrote, prompting many to believe that she's having a baby girl.
Keke Palmer seemingly hinted that she's expecting a baby girl.
Keke's boyfriend and father of her child, Darius Jackson, also offered fans a closer look at their unborn baby with an ultrasound photo. "To 2022, thank you for giving me a family [red heart and folded hands emoji]," so he captioned his Instagram post, which included a bunch of selfies and images from throughout the year, ending with the ultrasound of the baby.
Keke announced that she and her boyfriend Darius are expecting their first child together during her opening monologue in the December 3 episode of "Saturday Night Live". "There's some rumors going around, people have been in my comments saying, 'Keke's having a baby, Keke's pregnant,' and I wanna set the record straight – I am!" she said before debuting her pregnant belly.
More recently, Keke enjoyed a babymoon with Darius. On January 3, she shared a bunch of their vacation photos. In the caption of the post, she opened up about learning how to rest as she begins to take things easy. "i'm really proud of myself for resting this trip. i am antsy by nature. i love having a schedule, even on vacation. i learned to at least schedule things leisurely so i have something to complete that's on brand with the theme of the season. which is, rest," so she wrote.
You can share this post!
Source: Read Full Article