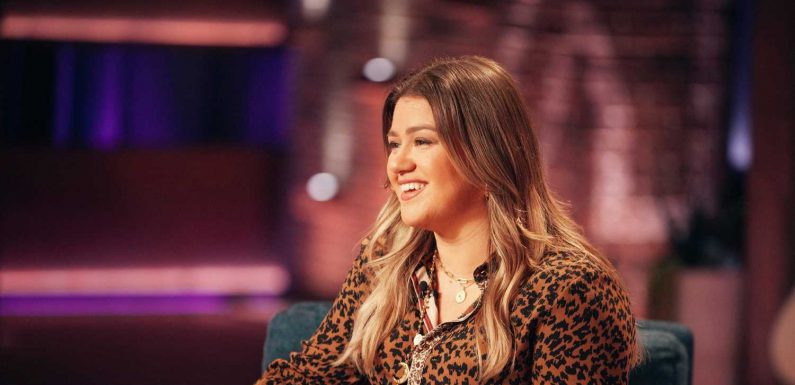 'Kelly Clarkson Show' lands coveted 'Ellen DeGeneres' slot
Despite rumors suggesting Tiffany Haddish was being groomed to take over Ellen DeGeneres' coveted daytime talk show slot on NBC, the network announced on May 26 that it will fill the void created by Ellen's 2022 departure with Kelly Clarkson's eponymous show. "'The Kelly Clarkson Show' has earned its dominance in daytime by hitting every benchmark for success since it premiered as the most-watched talk show in seven years," NBC said in a statement. "The hourlong program, hosted by Grammy Award-winning artist and America's original idol, Kelly Clarkson, features a mix of celebrity guests and everyday people doing extraordinary things in their communities." The news comes just weeks after Ellen, sounding somewhat beleaguered in the wake of her show's toxic workplace scandal, announced she's done with daytime talk television. As The Hollywood Reporter points out, Kelly's show is produced and owned by NBC's "syndication arm," unlike the Warner Bros. Television-owned "Ellen DeGeneres Show." Now in its second season, Kelly's Daytime Emmy Award-nominated series was renewed last year through 2023.
RELATED: Talk show hosts' biggest scandals, feuds and controversies
Kim Kardashian reveals she failed the 'baby bar' exam
Turns out Kim Kardashian West hit a major obstacle on her path to taking the California bar exam. In a new teaser for the next "Keeping Up With the Kardashians" episode, Kim tells her sisters Khloe Kardashian and Kourtney Kardashian she failed the first year law exam required of anyone pursuing a four year, rather than a three year, course of study. "So you guys, I did not pass the baby bar," Kim says in the new clip. Another tidbit shows Kim's mentor, Jessica Jackson, telling her she scored 474, just shy of the 560 she would have needed to pass. "That's extremely close on a test that most people are not taking in the middle of a pandemic," says Jessica, an attorney and the co-founder #cut50, the criminal justice-focused advocacy group where Kim's been interning, according to CNN. "I am a failure," Kim says, reminding her sisters she "six weeks straight, 10 to 12 hours a day" studying. "The fact that I spent all that time away from my kids," she says. "Like I can't do it again, I don't have time." The full episode airs on May 27.
RELATED: Kim Kardashian's biggest career moments
Howard University names its college of fine arts after alum, Chadwick Boseman
More posthumous honors for Chadwick Boseman arrived this week, following a win-heavy awards season for the late actor, who died last year after quietly battling colon cancer while filming some of his most critically acclaimed performances. This week, Chadwick's alma mater, the prestigious Howard University, announced its new fine arts program will be named the Chadwick A. Boseman College of Fine Arts in the actor's honor. Chadwick counted his Howard professor, actress, singer and director, Phylicia Rashad as an early mentor, and she's been named as the college's new dean. "I am extremely pleased that Howard University has chosen to honor my husband in this way and elated that Ms. Rashad has accepted the role as Dean," Chadwick's widow, Simone Ledward, told ET in a statement. "Chad was a very proud Bison — both Howard and Ms. Rashad played integral roles in his journey as an artist," Simone continued. "The re-establishment of the College of Fine Arts brings this part of his story full-circle and ensures that his legacy will continue to inspire young storytellers for years to come." Chadwick was diagnosed in 2016 with Stage III cancer. He died on Aug. 28, 2020 at age 43.
RELATED: Where to stream 20 of the best Academy Award-winning films
Jennie Garth says '90210' taught her to be 'threatened' by other women
From 1990 until 2000, Jennie Garth played Kelly Taylor on "Beverly Hills 90210." And while she's remained friends with some of her former castmates, she now realizes the soapy teen drama fostered an unhealthy attitude about other women — and it lasted well into her adulthood. "A lot of what happened on that set shaped us in all directions," Jennie, 49, said this week on the "9021OMG" podcast she hosts with fellow "90210" alum, Tori Spelling, according to People. "But I think as a young girl… [the show] brought out a super competitive part of me being in that environment of being judged because of my looks or how I looked in an outfit," Jennie explained. "It was just a different day and age and it gave us young girls a lot of mixed messages. I, for many years, struggled with [it]. If I'm honest, I think [the show] kind of taught me to be threatened by other girls be threatened by other women [and] be more competitive because I wanted our costars' approval or attention," she continued. "It messed with me on a deeper level," she added, "and not until later in life that I kind of think it wasn't ever about the other girls — and why did I ever make the other girls an enemy in my mind?" The original show, of course, was full of "cat fight" narratives, stereotypical "good girls" like Donna Martin (Tori Spelling) and "bad," untrustworthy girls like Valerie Malone (Tiffani Thiessen) — maybe not the healthiest storylines and characters to take on, full-time, from age 18 until 28. Jennie concluded that she and Tori, who's said she was bullied for her looks while on the show, "are always working through those messages as we grow older and trying to be better people and figure it all out."
Emmy Rossum and Sam Esmail welcome their first child
Guess who quietly became parents this month? Yep, Emmy Rossum announced this week that she and her husband, Sam Esmail, have welcomed their first child together. "5.24.21," Emmy captioned a gorgeous set of black and white photos showcasing her very pregnant belly on Instagram on May 25. "On a sunny Monday morning, at 8:13AM, we welcomed our daughter into the world." In a second post from what appeared to be the same photo shoot, she noted the pics were taken, "two weeks before our daughter was born." The "Shameless" star and "Mr. Robot" creator, writer and director have one more reason to celebrate this week, too — their four-year weding anniversary is just around the corner on May 28.
Rachael Kirkconnell gave Matt James an 'ultimatum' before they got back together
Matt James, who starred as the first Black "Bachelor" in franchise history — then ended a romance with his final rose recipient after discovering her history of racially insensitive social media posts — has finally explained why he took her back. Kind of. "She was like, 'If you're going to make this work, let's do it. But, if you're not going to make it work, I'm going to let you do your own thing,'" Matt said of Rachael Kirkconnell on the May 25 "Pomp" podcast. "That's really all I needed. It was an ultimatum that I needed," he continued. He did not mention where the couple has landed regarding the racist undertones in Rachael's posts that showed her attending an antebellum-themed party and sharing a QAnon infographic, among other things. (Rachael apologized publicly in February and said in a statement she was, "learning and will continue to learn how to be antiracist.") Now that they're back together, Matt said things have "been great," explaining, "it was … a commitment that we made to each other that we were going to work on the relationship" and acknowledging that he had not been doing that the same way she was. "There were rough patches in our relationship [and] we actually broke up for a moment. We're back together [now]," he added. "Everything we've been through, everything she's been through, she's stuck right by my side. She's continued to have a positive attitude. It's one of the many things I love about her."
Seth Rogen weighs in on cancel culture in comedy: 'If you've said something terrible … confront' it
The cancel culture debate continues … Following recent remarks from Donald Glover, Chris Rock and Billy Crystal about the phenomenon's negative effects on comedy, movies and TV, Seth Rogen argued that as society changes, it's on performers to be honest with themselves and the public if and when they offend someone. "I think there are certain jokes that for sure have not aged well. But I think that's the nature of comedy … Jokes are not things that necessarily are built to last," Seth said this week on "Good Morning Britain," per HuffPo. "But in my Twitter I've never made a joke that's outwardly horrific in some way, and if you have, I would question why you did that. Saying terrible things is bad, so if you've said something terrible, then it's something you should confront in some way, shape or form. I don't think that's 'cancel culture,' that's you saying something terrible, if that's what you've done." Seth may not have made a "horrific" joke on Twitter, but he has copped to having made serious and even offensive mistakes onstage and on camera. In an interview with The Sunday Times earlier this month, the actor distanced himself from longtime friend and frequent collaborator James Franco after actress Charlyne Yi accused him of enabling James' alleged sexual misconduct. He also apologized for a "terrible" joke he made on "Saturday Night Live" about allegations his then-friend James had propositioned a minor on Instagram. Speaking to "Good Morning Britain," Seth suggested, "If you've made a joke that's aged terribly, accept it. And if you don't think it's aged terribly, then say that."
Marilyn Manson wanted on arrest warrant in New Hampshire
An arrest warrant has been issued for Marilyn Manson in New Hampshire. On May 25, the Gilford Police Department posted a notice on Facebook about the warrant for the musician, whose real name is Brian Warner. It said he's wanted, "… for two counts of Class A misdemeanor Simple Assault stemming from a 2019 incident at the Bank of New Hampshire Pavilion," and explained that the "alleged assaults involved a videographer." The police said Brian, along with "his agent and legal counsel have been aware of the warrant for some time and no effort has been made by him to return to New Hampshire to answer the pending charges." The police also noted that the, "alleged assaults are not sexual in nature as has been asked by several other media outlets due to a number of other allegations made against Mr. Warner." In a statement to People, the singer's lawyer chalked the alleged assaults up to Brian's habit of being "provocative on stage, especially in front of a camera." The attorney also said he and his client "pursued" the misdemeanor, "after we received a demand from a venue videographer for more than $35,000 after a small amount of spit came into contact with their arm." That version of the incident differs substantially from the accounts of three concert-goers including a security guard People spoke to. According to those witnesses,Brian's alleged assaults began with spitting repeatedly at the videographer, who is a woman, then escalated until "he got within two to three feet of her and hacked a giant snot rocket at her, not the camera." Said Brian's lawyer: "This whole claim is ludicrous, but we remain committed to cooperating with authorities, as we have done throughout."
Alyssa Milano urges fans to get vaccinated, details 'long-hauler' COVID-19 battle
Moe than a year after she tested positive for COVID-19, Alyssa Milano is still battling severe "long-hauler" symptoms. That's why she recently filmed a PSA in collaboration with the Creative Coalition in which she urges fans and viewers to get vaccinated to protecttheir loved ones. The clip shows Alyssa, 48, rehashing her ongoing experiences with shortness of breath, heart palpitations, brain fog, exhaustion and "aches and pains that feel like they're on a skeletal level," according to the Daily Mail. She goes on to the symptoms became less intense after her first dose of the vaccine. Alyssa got her second dose late last week. "The vaccine is completely safe for people who have had COVID and I think it's really important that everyone, including those who have had COVID, get vaccinated," she says. "This virus is like nothing I've ever experienced in my life and impacted every part of my health, from my mental health to my physical health … In order to avoid that happening to you or people that you love, please get vaccinated and please once vaccinated follow your state guidelines and protocol, and keep people that you love safe."
Source: Read Full Article