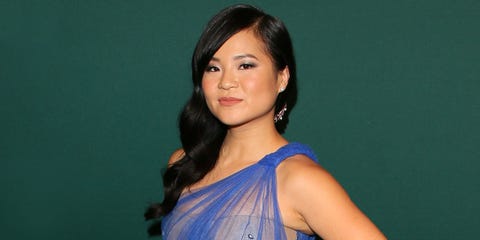 Kelly Marie Tran is speaking out for the first time since abruptly leaving social media following an obscene amount of racist and sexist comments over her role as Rose Tico in Star Wars: Episode VIII – The Last Jedi. In an open letter published in The New York Times Tuesday, Tran, who became the first Asian-American actress to have a leading role in a Star Wars film in 2017, says the bullying led her to actually start believing what the trolls were saying was true. "Their words seemed to confirm what growing up as a woman and a person of color already taught me: that I belonged in margins and spaces, valid only as a minor character in their lives and stories," she writes.
In June, Tran quietly deleted all her Instagram posts without an explanation, but her co-stars John Boyega, Mark Hamill, and director Rian Johnson were quick to come to her defense.
If you don't like Star Wars or the characters understand that there are decisions makers and harassing the actors/ actresses will do nothing. You're not entitled to politeness when your approach is rude. Even if you paid for a ticket! ??‍♂️
What's not to love?#GetALifeNerds pic.twitter.com/k1sa0X1qpg
On social media a few unhealthy people can cast a big shadow on the wall, but over the past 4 years I've met lots of real fellow SW fans. We like & dislike stuff but we do it with humor, love & respect. We're the VAST majority, we're having fun & doing just fine. https://t.co/yhcShg5vdJ
At the time, Tran also received support from other celebrities, including Cher and Margaret Cho.
Seriously, fix your fucking life if you do shit like this. This isn't fandom, its not loving a thing. It's harassment. It's abusive behavior done by sexist, racist man babies. https://t.co/MpyhSMuu1h
THIS GIRL IS A FORCE TO BE RECKONED WITH AND THERE WILL BE NO SLANDER AGAINST HER NAME. #KellyMarieTran pic.twitter.com/dbe1saJlDi
I look forward to the hundreds of awesome things she will make over the course of her long career. #TeamTran
Last year I had the distinct pleasure of meeting the beautiful #KellyMarieTran at Star Wars Celebration. You would be hard pressed to find a more genuinely kind & sweet soul. I can assure you that if this is the kind of person you feel the need to harass it is you who is empty. pic.twitter.com/clGZFSe9PT
i ♥️ #kellymarietran and her incredible work in The Last Jedi.
Tran's other co-star, Daisy Ridley, deleted her Instagram account in 2016 after facing criticism over comments she made about gun control in the U.S. While some fans were in support of her words, others called her out for starring in a movie franchise that often includes scenes of violence with guns and weapons. "It's not good for me, personally," Ridley told Glamour in December 2017. "I'm just not equipped for it. I'm super sensitive—not too sensitive—but I really feel things."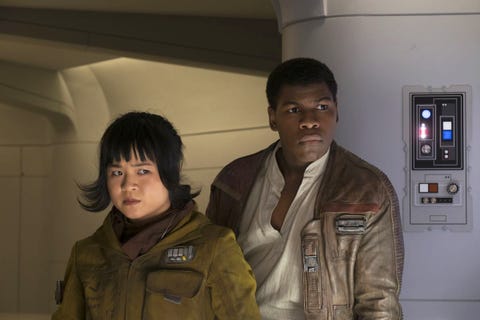 Stream It
In her letter, Tran says the online harassment "reinforced a narrative" she had heard her whole life: of not belonging and not being "good enough" because she was different. "And that feeling, I realize now, was, and is, shame, a shame for the things that made me different, a shame for the culture from which I came from," she writes. "And to me, the most disappointing thing was that I felt it at all."
Tran recognizes that she is "not the first person to have grown up this way," and is already looking ahead to a world "where children of color don't spend their entire adolescence wishing to be white." She continues, "I want to live in a world where women are not subjected to scrutiny for their appearance, or their actions, or their general existence. I want to live in a world where people of all races, religions, socioeconomic classes, sexual orientations, gender identities and abilities are seen as what they have always been: human beings."
Tran is slated to reprise her role as Rose in the upcoming J. J. Abrams-directed Star Wars: Episode IX, out in 2019.
Read her full letter here.
Source: Read Full Article