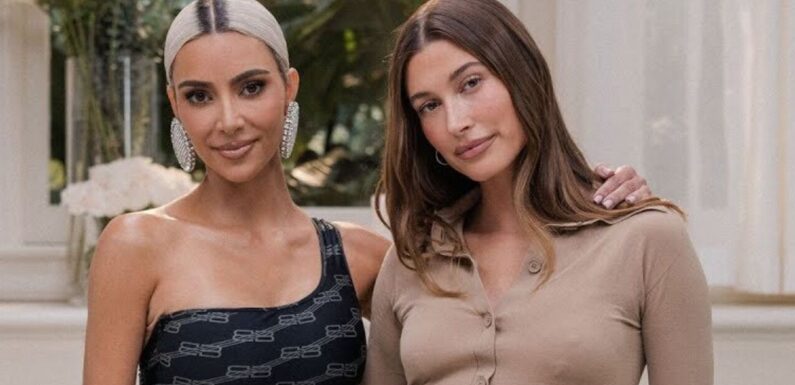 The 'Kardashians' star and the Rhode beauty founder play a game 'Truth or Shot' where they quiz each other on their love lives during a drinking game.
AceShowbiz –Kim Kardashian and Hailey Baldwin have both admitted they have had sex on planes. "The Kardashians" star – who shares four children with ex-husband Kanye West – featured on the Rhode beauty founder's "Who's In My Bathroom?" YouTube series and, during a drinking game called "Truth or Shot", they were quick to quiz one another about being part of the so-called mile high club.
"Have you ever joined the mile high club?" Kim asked Hailey. The 26-year-old model – who is married to Justin Bieber – quickly replied, "Yes." Kim said, "Samesies."
But the SKIMS founder was shocked when Hailey said she already expected her answer. She said, "I was gonna say I don't even need to ask you that." Kim questioned, "Why don't you need to ask me that?" Hailey replied, "You own a plane."
The host's answer put Kim at ease because the 42-year-old reality star laughingly admitted she thought she was developing a reputation. She said, "I thought you were just saying like, 'Of course, you're a wh**e.' "
During the segment, Kim also admitted she preferred having "make-up sex" over "angry sex." She explained, "Isn't that like the best? Because it's like you missed each other, and you're passionate and you are making up."
While the Hulu personality has been single since her romance with Pete Davidson came to an end, Kim admitted she's got a crush on someone else but refused to say who. Asked by Hailey who her current celebrity crush is, Kim replied, "I almost want to take a drink because I kinda want it to come true."
And Kim opted to take a shot of tequila instead of revealing his identity. Hailey said, "So, she has a crush she just doesn't want to say. That's cute for you."
Kim admitted back in 2016 she'd had sex on a plane. In a Q&A on her website, she was asked if she was a member of the mile high club and said, "Am I? Yeah. But like the private. I don't think like a public plane…It would have to be an international flight. It was an international, night flight when no one's like around."
You can share this post!
Source: Read Full Article