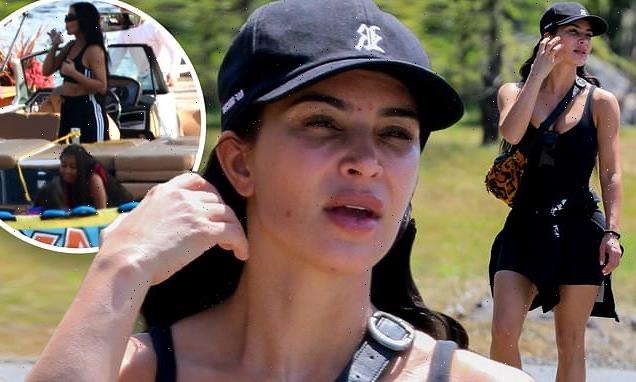 Kim Kardashian unfiltered! Reality star reveals her REAL complexion in rare makeup-free outing on holiday in Idaho with daughter North
Kim Kardashian made the rare move of going makeup-free while vacationing in Idaho with her daughter North West.
The normally glammed up 42-year-old star – who shared a bizarre Instagram post on Saturday – was stripped down, showing her bare complexion.
The beauty, who shares four children with ex-husband Kanye West, donned a black baseball cap and fitted black athleisure. 
The busy SKIMS mogul took time off to enjoy herself in the state's Coeur d'Alene, known for its water sports.
Kardashian was joined by friends as she treated her firstborn child to a boating day on the city's eponymous lake. 
Bare! Kim Kardashian made the rare move of going makeup-free while vacationing in Idaho with her daughter North West
Stunner: Despite not wearing a lick of cosmetics, Kim looked beautiful with her carefully-shaped eyebrows framing her visage
Simplicity: The normally glammed up 42-year-old star was stripped down, showing her bare complexion
North, who turned 10 last month, wore her curly dark hair in long box braids that flowed down her back.
The tot was seen enjoying herself on the boat in pink shorts and a sleeveless black shirt.
After walking a trail with her friends in black shorts and a black tank top, with a sweatshirt tied around her waist, Kim changed into a different look.
Her second fashion-statement was a pair of black Adidas track pants with a matching sports bra.
Despite filing for divorce from Kanye in February 2021, Kim still supports her ex by wearing shoes from his Yeezy collaboration with Adidas, which she demonstrated during the outing.
Kim boarded the boat with a black tote bag set over her shoulder, and she wore large black shades.
It comes after the bombshell recently revisited a pivotal moment in her life while speaking to Vogue Italia for its July cover story.
The multihyphenate recalled passing the 'baby bar,' formally known as the First-Year Law Students' Examination, which was documented on Hulu's The Kardashians.
Style: The beauty, who shares four children with ex-husband Kanye West, donned fitted black athleisure
Accessory: Kim added large black sunglasses for her day on the water
Device: Kim was distracted for a moment as she looked at her phone
'That's one of my favorite episodes too. My daughter was there with me,'  Kim told the publication, explaining how it helped her seem relatable in daughter North's eyes.
'For a long time it was difficult for her to understand why I was studying all the time. She saw me fail and cry. She saw how I was no different than her when she was worried because of a test,' the superstar said.
She added, 'But when she saw me cry from joy, I knew she understood how important that achievement was to me personally.'
In addition to North, Kim shares Saint, 7, Chicago, 5, and Psalm, 4, with Kanye.
'You are only allowed to take the baby bar a certain amount of times – this was the last time I could ever take it – so if I don't [pass], then this law school journey is over for me,' the influencer said before passing the exam.
The Keeping Up With the Kardashians alum revealed in late 2021 that she had achieved the feat in a social media post.
'OMFGGGG I PASSED THE BABY BAR EXAM!!!!' she wrote to her hundreds of millions of fans.
'Looking in the mirror, I am really proud of the woman looking back today in the reflection,' she added.
Squad: Kardashian was joined by a group of female friends
Relaxed outfits: The women coordinated in spandex and hats
Trek: The ladies were seen walking along a long, winding road
Technology: At one point everyone seemed to busy themselves with their phones
Kardashian admitted that she had 'failed this exam three times in two years' in a rough patch on her 'law school journey.'
'I got back up each time and studied harder and tried again until I did it!!!' said Kardashian, who registered with the California State Bar in 2018.
She noted, 'I was told by top lawyers that this was a close to impossible journey and harder than the traditional law school route, but it was my only option, and it feels so so sooooo good to be here and on my way to achieving my goals.'
Kim and her firstborn child share a close-knit bond, and even share a TikTok account together.
One of their recent posts was a fun and light-hearted 5-second clip shared with their 16.2 million followers on the app on Sunday.
The bombshell captioned the clip: 'Sunday mornings be like… With me and my Bff.'
It featured a mashup of Kim and her daughter mouthing along to a trending sound called 'they trunna be subway surf.'
Athletic-wear: Kim made a change as she sported a matching Adidas sports bra and pants
The mogul took a phone call while relaxing on the small boat
Conversation: Kardashian held her phone to her ear
Beauty: The mother-of-four displayed her timeless beauty as her long dark hair cascaded around her
Kim recently made headlines for feuding with older sister Kourtney Kardashian, 44, on their hit Hulu show The Kardashians.
The sisters had an emotional confrontation on Thursday's episode of the series about Kim 'stealing' Kourtney's Dolce & Gabbana wedding looks when she partnered with the fashion house shortly after the Italian nuptials.
To make a point, Kim highlighted that Andrea Bocelli performed at Kourtney's 2022 wedding to Travis Barker, after he had already sang at her and ex-husband Kanye West's wedding in 2014, which was also in Italy.
Taking to Instagram on Friday, Bocelli weighed in on the situation by sharing a clip from the episode and writing, 'Dear @kimkardashian and @kourtneykardash, I'm so flattered that you both love my voice and I'll always be happy to sing to you.'
Source: Read Full Article