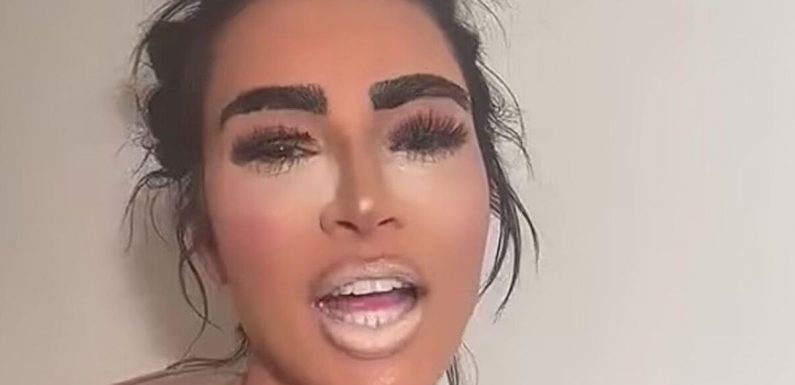 Kim Kardashian gives herself a 'British chav makeover' on TikTok
We use your sign-up to provide content in ways you've consented to and to improve our understanding of you. This may include adverts from us and 3rd parties based on our understanding. You can unsubscribe at any time. More info
Kim Kardashian, 42, has taken over TikTok with her joint account with her daughter North West, nine, with whom she shares with ex-husband Kanye West, 45. However, one of her latest videos in which she transforms into a "chav" has upset many, including Ulrika Jonsson, 51, who took to her latest column to slam the Hollywood star.
To see her so flippantly make a joke!

Ulrika Jonsson
Kim left many of her fans in hysterics as she disguised herself in layers of poorly-applied makeup with large drawn-on eyebrows and heavy concealer.
However, Ulrika was not taken into fits of laughter from the video but instead was insulted by Kim's "cruel and ungrateful" portrayal of the TikTok "chav".
Ulrika called the video "insulting" as many young girls "emulate" the influencer, leading them to go to "any lengths to achieve" this.
She continued: "To see her so flippantly make a joke of how some women apply their make-up seems cruel and a tad ungrateful.
"Not every woman out there has the luxury of a make-up artist at hand the second she wakes up.
"Nor are they followed around by a film crew that can create perfect lighting", Ulrika concluded in her Sun column.
Kim has since responded with her reasoning for completing the trend, admitting that she lost a bet against her daughter North.
Social media user @itss_hayleyy wrote along with a picture of Kim doing the TikTok trend: "This is the last thing I thought Kim Kardashian would do on TikTok."
Kim, surprised many as she hastily replied on Twitter: "Me too! The bribes and bet losses I have going on with North are unreal!"
North boasts a huge TikTok fan base due to her own unusual makeup videos and lip syncs, including seeing herself transform into her father using her special effects makeup skills.
This is not the first time Ulrika has taken to her column to talk about Kim and her ex-husband Kayne West.
She admitted that she was holding a lot of sympathy towards Kanye as his marriage to Kim came to an end.
She wrote in her Sun column at the time: "This was a reminder of how horrendous those early days after a break-up can be.
"There will be a decent chunk of people preparing to navigate that same landscape of trying to behave in a civil manner while still wanting to rage at their ex, and continuing, in the short term, to share the territory that was once the family home.
"And it is difficult. Emotionally but perhaps more so physically and domestically."
Ulrika's comment came over reports at the time that Kanye celebrated his daughter's birthday at the opposite side of the garden to the Kardashian family.
The former couple are parents to North, nine, Saint, seven, Chicago, five, and Psalm, three.
Since their split, Kim publicly dated Pete Davidson after meeting him when she hosted SNL, with the couple beginning their relationship in October 2021.
The couple however split after nine months of dating, with sources confirming at the time that it was due to busy schedules and the struggles of a long-distance relationship.
Kanye has had a few public romances since Kim, reportedly with the likes of Irina Shayk, Julia Fox and Chaney Jones.
He also reportedly recently "married" Yeezy architect Bianca Censori, two months after his divorce from Kim was finalised.
Source: Read Full Article