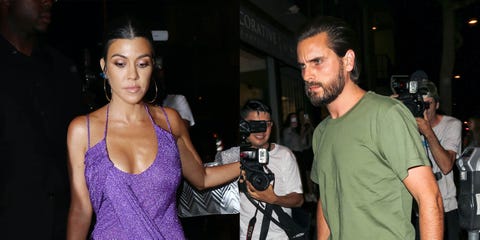 Kylie Jenner's 21st birthday party was unforgettable for a number of reasons.
From Kylie's custom-made LaBourjoisie jumpsuit which was covered in Swarovski-crystals, to Kendall Jenner's little black PVC dress, the Kardashian-Jenner clan celebrated in style. And following the news that Kourtney Kardashian has split from her boyfriend of 18 months, Younes Bendjima, she was last night reunited with her ex, Scott Disick.
While fans of the former couple shouldn't start getting their hopes up too high, it's clear that other members of the Kardashian family are still holding out for a Kourtney and Scott reunion. In a telling Snapchat, Khloé shared footage of Disick and Kardashian sitting together, along with the caption, "a girl can dream." Basically, she's ready for this family to give it another try:
A girl can dream ?#kourtneykardashian #scottdisick
A post shared by Khloe Kardashian (@khloesnapchats) on
Kim also teased that Scott and Kourtney might have some unfinished business in another video of the pair. Kim can be heard describing them as "just like an old married couple" as they sit next to one another while both on their cell phones. Neither responds, but Kourtney seems to laugh nervously about the idea:
Get Back Together ?? @kimkardashian #kimkardashian
A post shared by Kim Kardashian Snapchats ? (@kimksnapchats) on
However, despite partying the night away together without Disick's other half, Sofia Richie, anywhere in sight, apparently a romantic reunion isn't on the cards, like, at all. A source told Us Weekly recently that even though "people will inevitably try to spin it and say he'll try and get back with her, they aren't going to."
thank you for all of my birthday wishes
A post shared by Kourtney Kardashian (@kourtneykardash) on
For now, fans of the former flames will just have to wait and see what happens.
Source: Read Full Article